Gables Seniors Bid Farewell
COVID-19 did not allow seniors to have their usual celebrations before they graduate; however, Student Activities made sure their last year at Gables ended well, hosting a drive-through commemorating their achievements, while maintaining the traditional festivities of a senior's final year at Gables.
The event kicked off on May 20 with Senior treat day, which was incorporated into the drive-through rather than being held on a separate day. Thanks to Ms. Camacho, every student received a cake jar. The next event in the drive-through consisted of seniors showing off their college acceptances.
"The senior drive-through celebration was very nice. I really appreciate the way it was set up to celebrate our senior year in a Covid friendly way in a year where I did not expect any celebratory events. I went to the celebration with Daniel Fernandez, Michaela Torres and Madeline Cohen. We all got together after school and decorated our cars to show off our colleges. Although we are attending rival schools, we decorated one car half with University of Miami colors and half the car with Florida State University colors," senior Marissa Gagliano said.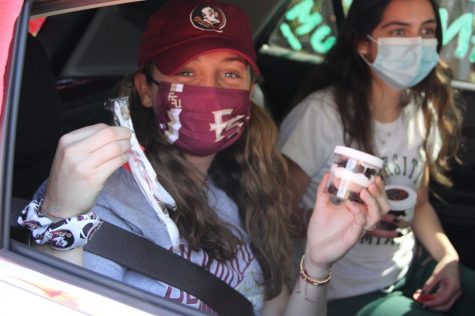 The college signing involved seniors writing their college on a pennant, decorating their cars and, of course, taking pictures to commemorate the occasion. This event allowed students to display their pride in their college achievements through the end-of-year celebration.
"I thought the senior event was a good idea the way it was organized because I was able to receive my senior treat and my superlative 'Worst Case of Senioritis' while minimizing the chances of contracting COVID. I am pretty upset that I am graduating since I started to like school the way it was during COVID. I feel like I did not make enough memories because of the lack of events and I am missing out on activities like Prom and Grad Bash," senior Sophia Weigel said.
Superlatives were the next activity for seniors to enjoy. Prompts were answered earlier by the senior student body on who is most likely to become, for example, the next teacher at Gables. Predicting each other's futures was an activity for peers to bond over, as they move on to the next phase of their lives, bringing their time at Gables to a close.
"It is hitting me more now that I am graduating in a few weeks and my four years here have gone by so quickly, in a good and bad way. As soon as I started appreciating Gables and the friends I have made over the years, especially during senior year, the year sped up and instead of thinking I have all this time to complete things on my high school bucket list, I ask myself 'how many tasks can I complete on my bucket list before I graduate?'," senior Sophia Weigel said.
The drive-through finished off with the seniors' awards ceremony, which usually takes place in the auditorium. Despite the change in setting, the festivities continued and the graduating class was still thoroughly rewarded for its hard work and commitment. Seniors were able to be recognized this year with a range of awards, and students with a weighted GPA in the top 5% also earned a medal.
"It was a blast working the Senior Drive-by. Being able to see everyone again, even if it was a quick 'hello', was still very nice. Putting it together was even more fun because I was able to walk from station to station, taking pictures of all the seniors as they drove by! Even though it was very tiring, the event turned out really nice and I was happy to work it," senior Nicolas Musa said.
The event was a celebration of Cavalier seniors and their accomplishments, ending the year on a high note for the graduating class of 2021. Despite the challenges of attending school virtually in their final year, these seniors persevered and are off to a novel future, pursuing the many interests and passions they discovered at Gables.