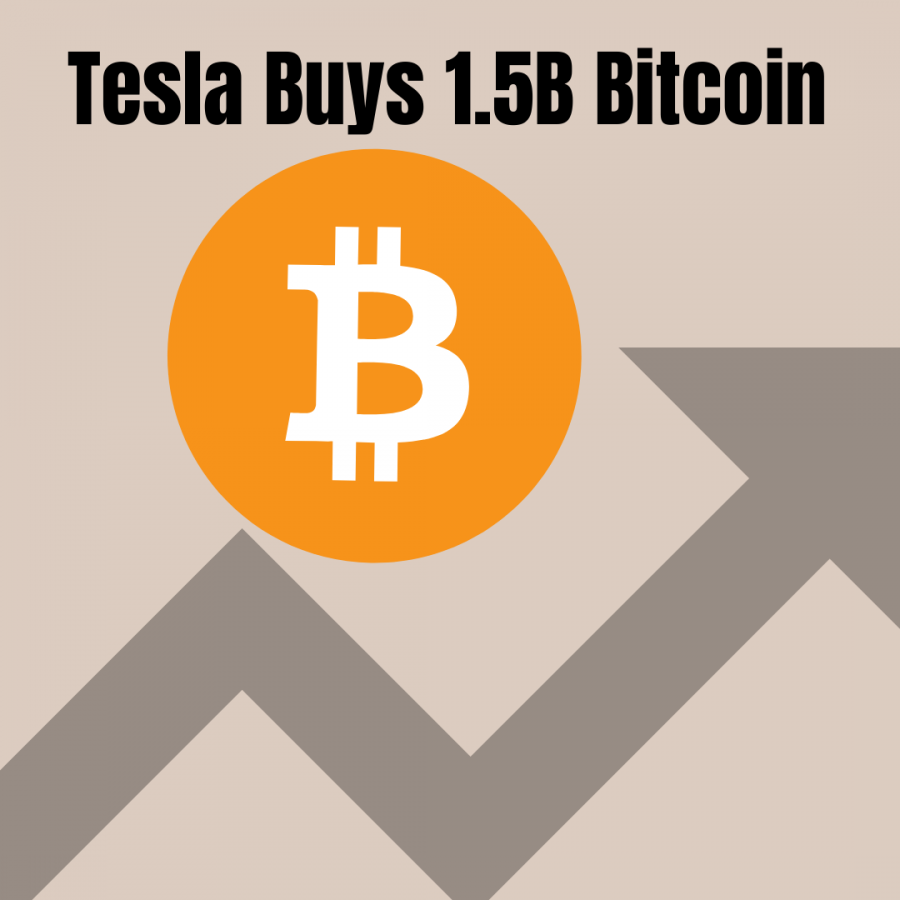 Massimo Aguila
Tesla announced it has recently bought over $1.5 billion worth of Bitcoin. This caused prices to promptly skyrocket to more than $46,000 per bitcoin, an increase of just under $11,000 in the past week. Tesla also announced that it would begin setting bitcoin as an option of payment for their products. Elon Musk is credited with stock rises in companies like Signal and Tesla, among others, and even the cryptocurrency Dogecoin.
Elon Musk, the Chief Executive Officer of Tesla and wealthiest person in the world, has a tremendous influence on the stock market. With a large following on social media, most notably Twitter, any statement he makes can cause stocks to rise and fall. He not only manipulates stocks, however, but also cryptocurrency; something Elon has been outspoken about in recent months, calling it the 'future of the world.'
"Elon's tweets really cause volatility in the stock market, whether it is causing a stock to go up or down. I have seen some of what he has said on social media and how that is reflected on different companies," sophomore Marcos Algeciras said.
According to Tesla's most recent filing in 2020, the company had roughly $19 billion in free-flowing capital, making their investment in bitcoin a significant portion of this on-hand cash and a possible cause of concern for investors. This concern may have been reflected in the stock market as Tesla shares dropped around $33 after the announcement. Accepting cryptocurrency as payment for their vehicles would make them the first large automaker to do so.
Although Musk is not the only celebrity celebrating cryptocurrencies, he is most often considered to be the face of the volatility in the market. Even with Dogecoin, a cryptocurrency that was initially made as a joke, he has been known to tweet positively about it and cause hundreds of thousands of people to invest in it. This, in turn, skyrocketed the price of the cryptocurrency to a high of $0.08 when he said he bought Dogecoin for his new-born son.
"Some people see Elon as a visionary for trusting in Bitcoin, after he invested $1.5 billion through Tesla into Bitcoin. Personally, I think there is a lot to be seen on the security of cryptocurrency," sophomore Maria Montelongo said.
Although $0.08 may seem like very little, compared to previous lows, that is more than a 12,000% increase since it first started. This means that if someone had invested $100 into Dogecoin, when it reached $0.01 for the first time, they would have made $700 in that short period. Other celebrities like Snoop Dogg and Gene Simmons, along with Redditors on the WallStreetBets page, have made a target price for Dogecoin of $1. If this goal were to be achieved, it would turn that $100 investment into nearly $9,900 profit.
For now, Tesla has yet to announce when exactly it will begin accepting cryptocurrencies, but it did reveal that this option would be limited in any early release functionality on their platform. This means that while crypto is becoming a greater aspect of day-to-day life, it has yet to reach the level of use comparable to physical money. Many supporters like Elon Musk himself, continue to suggest and advocate for a future in which digital currency is normal for an average transaction like buying groceries or paying for gas.
[powr-twitter-feed id=b0090589_1613848830096]