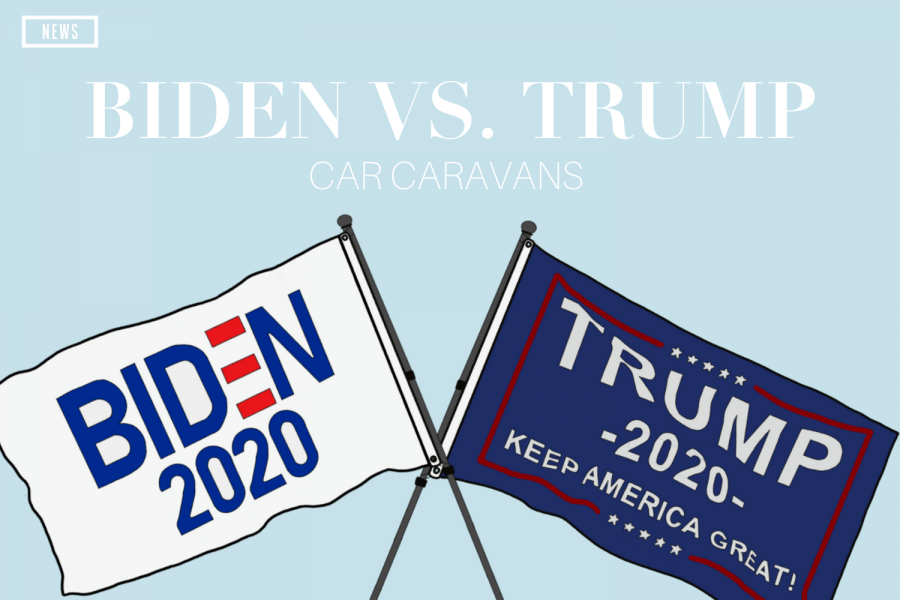 Anthony Abrahantes
Miami-Dade streets were blocked with Pro-Trump caravans all over the district in the past week, concentrated from the City of Miami all the way to Downtown. Thousands of drivers flocked to the streets with Trump 2020 and other depictions of flags, to take part in the large movement on the streets. Biden-Harris cars were also seen around the city, though generally in much smaller groups.
"Black Americans for Trump", "Women for Trump", and most commonly, "Latinos for Trump" flags were seen throughout the fleet of cars. People chanting "four more years" and public speakers talking about 'Florida going red' filled its entirety.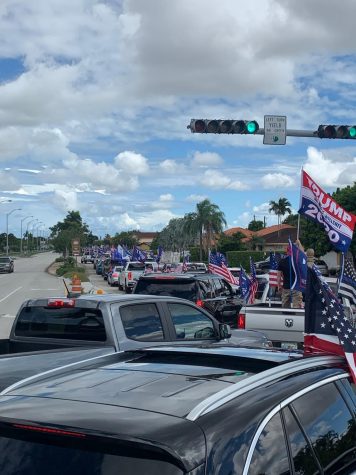 Events were also set up in Tamiami Park, the Fairgrounds, where people demonstrated their support for Trump. Early voting began Monday, Oct. 19, which most likely added to this election excitement and brought more people to these demonstrations to display their support.
"The caravans caught me off guard. It was pretty amusing to see what people are doing to show support for political candidates. They sounded bells, horns and chanted slogans which really brought a lot of attention to them," sophomore Diego Gomez said.
The groups were tremendous in size, each caravan containing thousands of cars, which caused hours of delays for major streets like 8th Street, 24th Street, 117th Ave and 112th Ave. Drivers would frequently stop to take pictures, chant and talk to people on the sides of the road.
The lines of supporters went on for miles on each road and caused lots of noise pollution, being heard for blocks. Honking was heard constantly by those driving by to show support for those on the other side of the road in the convoy, who often had Trump 2020 flags of their own.
Most of these events were organized via Facebook groups, like South Florida For Trump, where tens of thousands of people gathered the details of where to meet and at what time.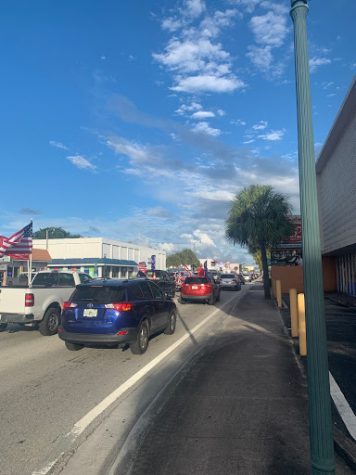 Biden-Harris cars were also present but were overshadowed by the Trump rallies that contained around 5-25 cars, possibly due to lack of organizational reach or simply lower turn-out compared to the Trump-supporting Cuban-American fleets of cars.
With the Biden-Harris caravan, Donna Shalala, a U.S. Representative for Florida's 27th congressional district since 2019, was made an appearance. Shalala is currently running against Republican Esteban Bovo for her position.
Despite Shalala's support, the Miami Police Department estimated that there were around 30,000 Trump-Pence cars, around 1,200 times larger than the biggest Biden-Harris caravan.
President Donald Trump's numbers among Hispanic and Latino voters have improved since his election in 2016 based on new polls, although the numbers include small samples of voters.
According to a study done by the Florida International University, the vast majority of Cuban-Americans say they are going to reelect President Trump across the country. The question is whether the Latino vote will be enough to maintain the Floridian numbers of 2016 that allowed Trump to win the state over the historic democratic majority of dense urban areas.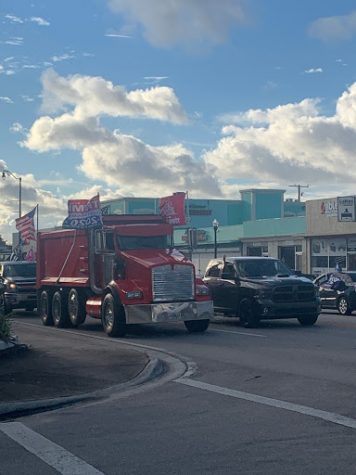 "The Trump caravans were all over Miami Dade and really demonstrate the election excitement growing among voters as Nov. 3 draws closer. It is obvious we will continue to see these groups from both sides in the coming days," senior Jemily Cabrera said.
With election excitements growing, it is reasonable to expect more of these convoys, both Pro-Biden and Pro-Trump in the coming weeks before the election. With this, drivers can expect more possible traffic delays on major Miami-Dade roads.
As of Oct. 18, only 17 days are left until election night on Nov.3 and it is doubtful that displays of support will do anything but increase.