Audrey Simon
Due to the coronavirus causing the world to go into a mass quarantine, many school events such as the Florida Scholastic Press Association convention had to be canceled. However, this quarantine would not stop FSPA from praising the thousands of students who worked hard all year to supply schools with up to date news and memorable yearbooks. So, they held a virtual convention from April 20-23 with informational videos. They announced everyone who won through a live stream on YouTube, Zoom or through Instagram live.
FSPA gives out multiple kinds of awards to high school students throughout the state. Some are given based on the entire publications, while individual recognition is awarded for stories, poems, infographics, spreads, photos and podcasts. With the individual awards, there are three types of awards that the writers can receive, All-Florida, Excellent and Honorable Mention.
Here at Coral Gables High School, we have four dedicated publications that all received of these three awards. First off, praise was given to CavsConnect itself, the school's online news site that releases up to date information for all its readers. Congratulations also went to the Cavaleon, who creates the school's yearbooks with unforgettable memories from throughout the year. Also awarded was Highlights, who put together the school's newsmagazine, publishing four amazing magazines every year. Lastly, Catharsis, who put together a literary magazine filled with beautiful poems and pictures, was honored with recognition as well.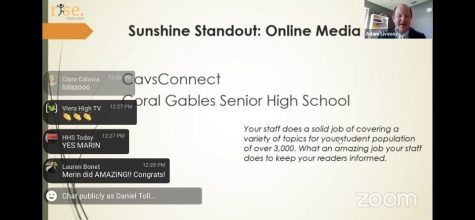 This 2020 school year, CavsConnect received both All- Florida and Sunshine Standout. These are two of the highest awards a publication can receive. Receiving All-Florida status means that they are one of the best online news sites in the entire state of Florida, and receiving Sunshine Standout means that they were the best of the best out of all the online news sites.
It was an especially great year for Cavsconnect since it has been almost three years since they last achieved All-Florida status, making this year one to remember. In addition to being All-Florida status, they also received an abundance of recognition for its writers, with almost 40 individual awards taken home. With three of the awards receiving All-Florida status as well, Sports Game Coverage by Daniel Toll, a Student Profile Story by Sofia Cruz and an Infographic by Natalie Abrahantes.
For their 2019 yearbook edition, the Cavaleon was rewarded All-Florida, confirming that the CGHS yearbook staff is nothing but exceptional. As well as receiving All- Florida recognition, they also received a number of individual awards. Gaby Freyre won All-Florida for her yearbook copy and writers Daniel Fernandez, Ariadna Torres and Daniela Romero won All-Florida for their Student Life Spread. Additionally, Samantha Correa and Daniel Fernandez received All-Florida for their Student Life Module.
"It was an honor to be part of the yearbook and all our hard work has culminated in the award. It really exemplifies how dedicated we are to making a quality book and all the time and effort we put into it," sophomore Jasming Senel said.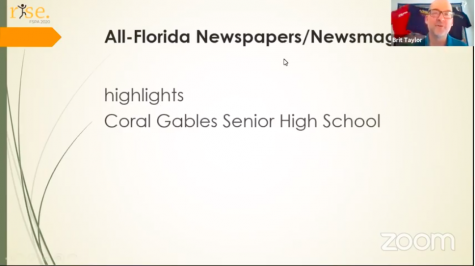 Highlights continued their All-Florida streak yet again by winning All-Florida for the second year in a row. Furthermore, they won many individual awards as well. Arianna Pena won All-Florida for her Newsmagazine Feature page and Sara Ebrahimi won All-Florida for her Commentary Off-Campus. Moreover, writers Addys Plata and Emma Vela won All-Florida for their General Feature Story.
"I am very lucky to be part of such an amazing family like Highlights. Although we did not end on a happy note this school year, it brings me happiness that all our hard work throughout the year paid off and we won All-Florida once again," sophmore Marta Rodriguez said.
Unfortunately, this year Catharsis was not awarded All-Florida status. However, they did receive a number of individual awards. They received All Florida for Deadline Poetry by Miguel Hernandez, a separate Deadline Poetry by Chloe Grant and a Literary Magazine Spread by Ollie Ramirez. Devon Rall received an excellent for their Deadline Poetry. Lastly, there was Thomas Morcillo and Isabella Rodriguez who received an Honorable Mention for their Literary Magazine Spread.
It has been an amazing year for the Gables publication community, with three out of the four publications receiving All-Florida status. This was thanks to the hard work and dedication of the writers and teams. As a result, each spectacular publication has helped Coral Gables students in their own wonderful way. Be sure to congratulate these hardworking students for their amazing achievements.