A Fond Farewell for Ms. Chappell
After teaching Cavaliers for twenty years, Ms. Chappell will be leaving to enjoy a well-deserved break from the school system. She will be retiring as a Gables teacher and will spend her official last day as a teacher on Friday, Feb. 28. This school will certainly miss her once she moves on, but in the meantime is focusing on appreciating all that she has done for her students.
Ms. Chappell is the Business Technology teacher instructing students in her Digital Design, Digital Information Technology, and Job Preparatory Skills classes. Located in room 6202, she taught her kids to hone their technological abilities. Over the years, her talents have provided students with the information they need to attain proficiency in various programs, and in some cases even attain nationally recognized technological certifications.
"From day one, I enjoyed each and every class of Ms. Chappell's. I appreciate the way in which she helped me learn Adobe Illustrator and Photoshop which is one of the subjects I have always wanted to learn. I want to thank her for all the wonderful work she has done to help us all and I wish her the very best for your future endeavors," senior Alejandro Ospina said.
For about thirty-two years, Ms. Chappell has been working in the school system. However, she had no idea that her path in life would lead to a career in education. When she was first a student-teacher in college, she decided that teaching just was not the job for her. However, an unexpected turn of events throughout her professional career inevitably led to her long employment as a schoolteacher. In this way, Gables was earned one of its most valuable and committed teachers.
"
I feel sad that Ms. Chappell is leaving because she has been here for twenty years and is a wonderful teacher. We will miss her."
— senior Kevin Llanes said
Ms. Chapell loves her department and fellow teachers. She has enjoyed the bonds formed with her coworkers and appreciates the community that Gables offers. Working for the Business Management and IT and Communication Arts, Film, and Digital Media academies have taught her many things. She appreciates the collaborative efforts of colleagues that make this school the special place that it is. Now that she is departing from her position, Gables can recognize how impressive her contributions have been.
Although it is sad to see her go, Ms. Chappell will move on to the next chapter of her life with excitement. First and foremost, she plans to get surgery on her injured foot for a previous injury. Her next step will be to sell her home and leave Miami, escaping the hectic city and stressful traffic. She hopes to move to the more relaxed life of her home state, North Carolina. If anything, she will try to find some work to keep her occupied. Her replacement has already been handled as well as part of preparations. For the past few weeks, Mr. Pico has been training with her in order to get ready to take over her classes starting next week.
"Ms. Chappell is the type of person that goes out of her way to help you. She is spectacularly organized and loved by everybody dearly. I met her when I started working for Gables about twelve years ago, and we have been friends ever since. She is one of the kindest people I have ever met," Mr. Cruz said.
Once she is gone, Gables will most certainly note Ms. Chappell's absence with sadness. Having worked at three high schools and several middle schools, she maintains that students here are exceptionally respectful, a quality that can be hard to come by. The impact she has made by helping Cavaliers will not be forgotten any time soon. Staff and students alike wish her the best of luck in all future endeavors.
About the Contributor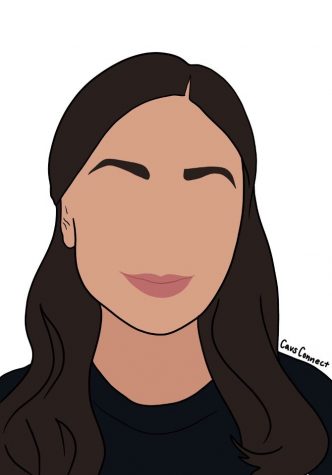 Sofia Cruz, CavsConnect News Editor
Sofia Cruz is a sophomore in the International Baccalaureate program and is a second year staff member, returning to CavsConnect this year as News Editor....