Why Gables? An Inside Look At Everything CGSH Has to Offer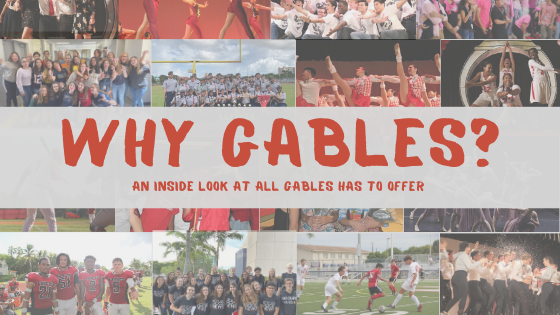 Opening its doors in 1950, Coral Gables Senior High School (CGHS) has welcomed thousands of eager students who ready for an educational path unlike any other. The home of the Cavaliers was the first high school in Florida to adopt the International Baccalaureate (IB) program, and is still the only school that offers a variety of five language courses to choose from.
Running on an eight-period day, students have the ability to explore their interests by choosing from a wide variety of electives, while still taking classes in the core curriculum. Today, Gables has a total of eight academies to choose from, offering some of the most advanced programs in the county. 
Home to the globally renowned International Baccalaureate academy, Gables aims to create internationally-minded individuals, providing students with the fundamental aptitudes and information to become principled, open-minded and knowledgeable high school graduates. By fostering a safe learning environment, which supports the needs of the diverse student population, the program has continuously proven to be successful.
In the 2018-2019 school year, 74% of students scored between four and seven points on the standard level and higher level assessments. With a total of 1,169 subject entries for 279 candidates, the average amount of points earned by students who were awarded the diploma was 29, out of a minimum requirement of 24.
The academy's caliber of excellence is further demonstrated by the plethora of scholarships awarded to the graduating class of 2018-2019, including one National Merit Scholarship Winner, two National Hispanic Scholarship Winners, one Quest Bridge Scholar, 24 Coral Gables Community Foundation Scholarship Recipients, 12 Rotary Scholarships Recipients, one Silver Knight Award and one honorable mention amongst many other distinguishable honors. 
"The IB program has allowed me to mature as an individual and as a student. The coursework has begun to increase my abilities and has helped me to manage my time and organization. My writing abilities have grown tremendously since my freshman year, I now know how to write a proper research paper, which is something I was completely unskilled at before starting high school" junior Lisbeth Arrieta said.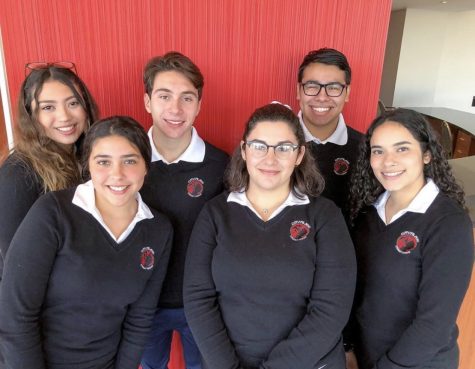 Operating under the National Academy Foundation (NAF), the Academy of Finance (AOF) is a pioneer in preparing high school students for college. NAF's Academy of Finance interfaces high school students with the realm of business enterprise, banking and credit, financial planning, insurance and economics.
In order to promote the exposure of students in the workforce, the academy facilitates students in the process of getting an internship. Through the Summer Youth Internship Program, all AOF students are provided with a paid summer internship to further their business-related career goals. This program is currently led by Mrs. Natasha Lopez, recipient of the National Academy Foundation award.
Gables is also home to other academies such as Business Management and Information Technology (BMIT), Design, Education and Hospitality (DEH), Health, Public Service and Law (HPSL), Visual and Performing Arts (VPA) and Communication, Arts, Film and Digital Media (CAF&DM).
The CAF&DM academy is home to the school's four publications – CavsConnect, The Cavaleon, Catharsis and Highlights – all of which allow students to express themselves through writing, photography and digital design.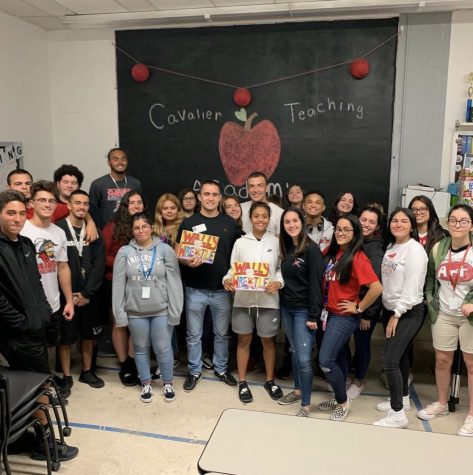 For students who are in search of a career-orientated education, Gables's Teaching Academy and Pre-apprentice program, offers a glimpse of the teaching and construction work fields, respectively.
 The teaching academy provides students with the necessary tools to pursue a teaching career in the future. The partnership between Miami-Dade County Public Schools and Miami-Dade College (MDC) grants participants with opportunities such as Dual Enrollment courses and support in the college admission process.
Similarly, the Pre-apprentice program presents students with a view into the construction industry and the four main areas available: electrical, plumbing, air conditioning and dry wall construction. This program is relatively new, as it has only been running for three years. However, the program's impact is undeniable.
Through labs, students are able to get a hands-on experience of what the construction setting is really like. Furthermore, the recent implementation of a web-based program allows for familiarization with blueprint and foundation structure reading.
The program allows those who have graduated to join a trade school. These facilities pay hourly rates while providing two to three night classes, so participants are able to receive 40-45 semester credits and receive their AA degree.
"My main goal is for this program to continue growing. Every year, there is something new, whether it be the new textbooks we received last year, or the curriculum that was provided to us this year. Not only does this program allow students to get a glimpse of the construction field, it also grants them the opportunity to graduate with the Occupational Safety and Health Administration (OSHA) certification, a safety requirement needed to get any job," Lead Teacher Mr. Padron said.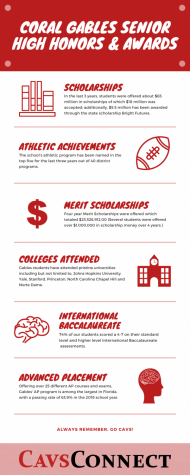 For those students who would like to get a head start in their career by obtaining college credits in high school, Gables offers a wide array of Advanced Placement (AP) and Dual Enrollment (DE) courses.
The AP program provides high school students with an opportunity to take college level courses and exams, while earning credits. There are numerous advantages for students who take an interest in AP. For example, the program allows students to discover new interests, study compelling and challenging topics and gain college credit.
Currently offering 25 different courses in areas such as computer science, the fine arts, foreign languages, mathematics and the sciences, Gables's AP program is among the largest in Florida. Last year, a total of 1,176 students were registered to take an AP exam and a total of 2,326 tests were taken. With a 63.9% passing rate, last year showed a remarkable increase in examination scores.
In collaboration with Florida International University (FIU) and Miami-Dade College (MDC) Gables is able to offer its student body with the opportunity to earn credits in two separate educational institutions. 'Cavaliers Conquer College' is a new MDC college acceleration path, which allows students to get ahead in their career path with a potential AA degree, while concurrently completing high school requirements. Instead of attending their seventh and eighth period at Gables, these students get transported to the college campuses, where they study.
After the school hours, all of Gables's extracurricular activities come to life. Currently home to over 40 clubs, Gables has an activity for everyone. The assortment of clubs enables students to experience more of what Gables is about, and facilitates new pathways for everyone's specified interests. 
Another one of Gables biggest strengths is the athletic department. Gables is home to more than 20 sports including badminton, wrestling, football, soccer and basketball. The school's athletic program has been named in the top five for the last three years out of the 40 district programs. Gables's athletic department has proven to be a force to be reckoned with from the very beginning, as it is home to four former Olympians, three Super Bowl champions and other professional athletes who commenced their careers at Gables. 
Gables works diligently to ensure that each student has a memorable high school experience, whether it be through the excellent academic opportunities, the continuous strengthening and creation of programs or the plethora of extracurricular activities. Every student attending Coral Gables Senior High has the opportunity to find their own creative outlet, which will propel them closer to their lifelong aspirations. At Gables, the opportunities are endless in making everyone's experience not only unique, but seemingly unforgettable.