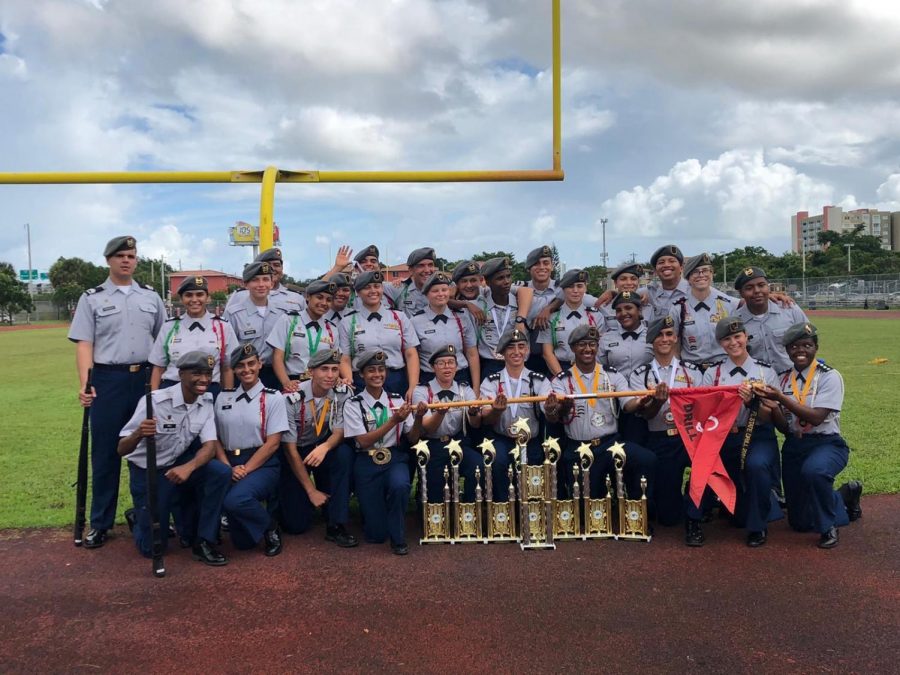 Annie La Roche
The Junior Reserve Officers' Training Corps had its first drill competition of the year and showed off their talented team skills. On Saturday, Oct. 26, the JROTC members competed against other schools at Miami Jackson Senior High School. They demonstrated their military service abilities in a set of judged events and did a stellar job, winning third place overall.
At the competition, there were multiple contests known as regulation drills, group displays where the entire team competes as a whole and is judged together. These matches emphasize communication, teamwork, unity and trust in fellow cadets.
They competed both unarmed and with rifles, being evaluated on how in sync and clean the whole group was. They also participated in marching and performance movements, contests judged mainly based on the team's ability to perform the standard military march as expected.
Once the scores were decided, the Cavaliers were announced to have been placed third as a group.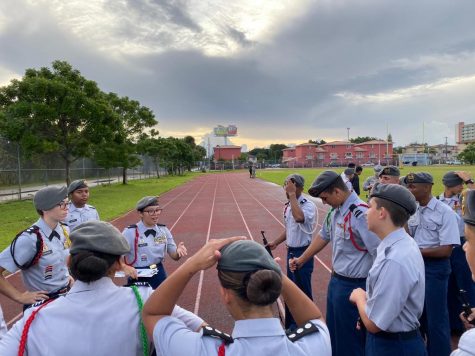 "The whole experience is very fun, you meet a bunch of great people and help better yourself through a bunch of challenges and exercises," freshman Jon Trueba said.
There were also solo events where individual cadets performed on their own. These competitors would do things such as exhibition drills, where they spin rifles in a specific manner and are awarded points for technique.
Our Cavaliers did a great job in these rounds. Six cadets won trophies for their outstanding individual presentations.
In the Armed Individual events, First Lieutenant Ana Rodriguez won first place, Command Sergeant Major Luis Rizo won second place and Staff Sergeant Raymond Giffune won third place.
In the Armed Dual event, Captain Gabriel Armendariz and First Sergeant Angel Ferrera won third place together. In the Unarmed Knockout drill, First Lieutenant Steven Gonzalez was awarded the second-place prize and Private Insignia Jazlynn was given third place.
"Overall, we placed third and only had one week to practice, so we did pretty well. Individually, many of our cadets received first and second place," senior Annie La Roche said.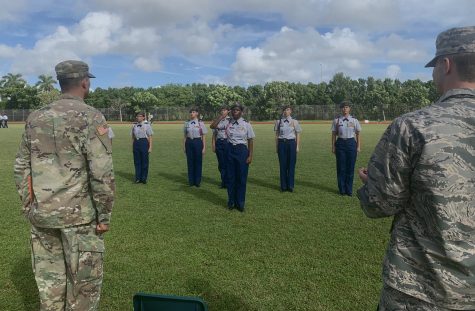 Throughout these drill competitions, the events generally remain constant. However, the rules and regulations sometimes differ according to the school. For this reason, it is crucial for these Cavaliers to practice enough so that they can follow these specifications and do well in their matches against other high schools.
At this competition, our JROTC students demonstrated what their hard work and wholehearted effort could manifest itself into.
Though they were pressed for time in preparation for this competition, the gables JORTC did exceptionally well.
It is clear that they possess a natural talent for these events, and as the year glides by, and they get to rehearse more, they are sure to secure first place overall.