Future Cavaliers Take a Tour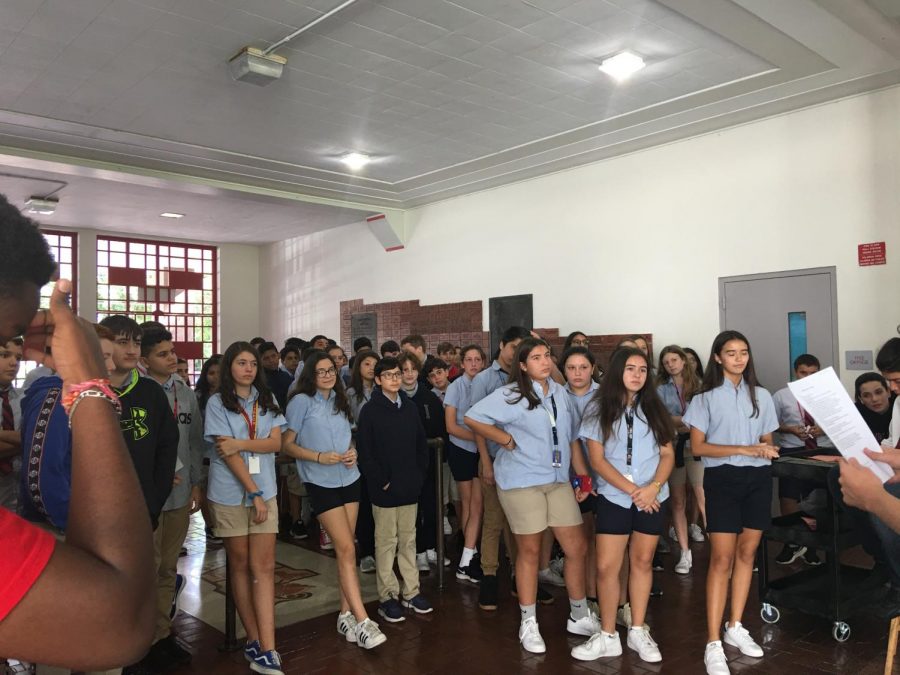 With high school magnet applications officially opening on Oct. 1, eighth-graders from local middle schools began to look into their future high school homes. Coral Gables Senior High started giving tours to the 8th graders who are in this position to give them the information they need to figure out what high school is best for them.
On Oct. 3, Coral Gables Senior High opened its arms to these students and warmly welcomed the Coral Gables Preparatory Academy eighth-graders with a two-hour-long educational tour around campus, hoping to guide them into becoming our Cavalier freshmen class of 2024.
"The main purpose of the tours is to give the future freshmen classes a look of what life is like as an everyday Coral Gables Senior High School, as well as giving them all the information on academics, activities, sports and more," senior August Field said.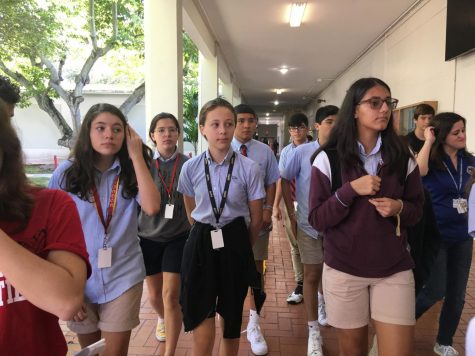 With roughly 80 kids to tour, the Student Activites staff had planned carefully to make sure that each of them was given the best experience throughout the tour.
The day began with a quick speech from Alexander Sutton, the Student Council president, that touched upon subjects such as the ongoing construction, academics, electives and clubs available here at Gables.
Alexander was followed by our assistant principal, Mr. Evans, who gave a motivational speech to explain what Gables has to offer academically and otherwise, and what being a Cavalier is truly all about.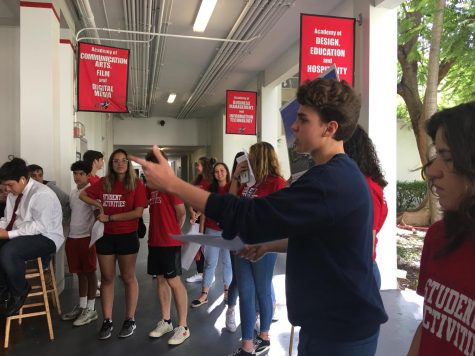 The large crowd was then divided into groups of nine and ten kids, with two tour guides each to make the tours as engaging as possible for the listeners.
Each group of kids was taken into different classrooms around the school and given important information about their future classes, electives, and their freshman year altogether.
They were able to visit core subject classes, such as the sciences, where chemistry teacher Ms. Kiely and biology teacher Mr. Molina greeted them. Many of the groups were also able to visit the Coral Lab and learn of how it was created and how students have been taking care of it since its inception.
The tours also led the kids into classes such as Theater and Ceramics where they were able to take a look into the arts department of Gables.
As the month of October progress and November comes, Coral Gables is expecting two more schools to come tour the school; Ponce De Leon will be on campus Oct. 14, and G.W. Carver Middle will be here on Nov. 26.
"I remember when I was the one being led around this campus last year and saying to my friends that this was going to be my high school in a couple of months and well, here I am" freshman Bertha Mendoza said.
Let's welcome the future class of 2024 as they tour around our school. Go Cavs!
About the Contributor
Jeannette Perez, Staff Writer
Jeannette Perez is a freshman in the International Baccalaureate (IB) program at Coral Gables Senior High. She looks forward to joining the Lady Cavalier...