College-Bound Cavs Learn About Their Future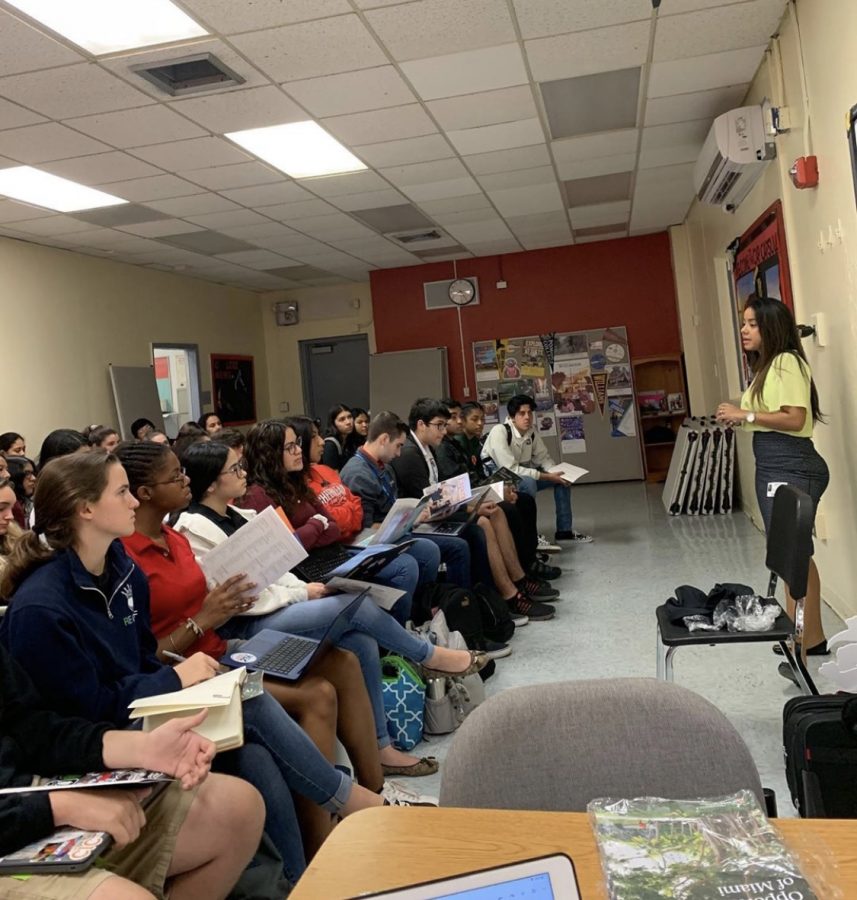 As students' high school years come to an end, many find themselves dubious as to what the next step in their educational career is. In efforts to dissolve the unnecessary boundaries that keep students from broadening their options in the college application process, CAP advisor Mrs. Driver reached out to colleges from all over the nation to request that they conduct presentations about their school at Coral Gables Senior High.
So far, Ms. Driver has been able to confirm a total of 27 colleges, including Tufts University, University of British Columbia, University of Miami and John Hopkins University, all of which were on campus the week of Sept. 16. These hour-long presentations allow students to not only learn about new colleges but also to ask college advisors questions pertaining to that particular campus.
Tufts University  
Ranking 32nd in the United States, Tufts University is home to 11,449 students. Its mission is to create a collaborative environment for students to partake in research, generate ideas, and innovate in the face of complex challenges.
Tufts offers the best of both worlds by blending the feel of a liberal arts college with premier research courses that appeal to students interested in studying hard sciences. 
With campuses in Boston, Massachusetts and France, Tufts attracts students, faculty and staff from all over the world.
In terms of admission, Tufts undergraduate admissions program offers Bachelor of Arts (BA), Bachelor of Sciences (BS), Bachelor of Fine Arts and Bachelor of Fine Arts in Interdisciplinary Arts as well as other programs in the graduate and pre-college admissions.
This particular college does require excellent SAT/ACT scores and well as a stellar grade point average (GPA), as its acceptance rate is 14.6%. Tufts released the mean ACT and SAT scores for accepted students showing an increase in scores from recent years, the mean SAT score was 751 in math and 726 in reading while the mean ACT score was 33.5.
"This presentation allowed me to reflect on what I am personally looking for in a school. Although I don't believe Tufts College is for me, it is a fantastic school and the presentation was informative and worthwhile," junior Chloe Grant said.
University of British Columbia 
The University of British Columbia is consistently ranked among the 40 best colleges globally and as one of the top 20 public universities in the world.
Since opening their doors in 1915, their motto has been Tuum Est, meaning "It is yours." These three simple words are the declaration all students uphold as a member of this college community. They vow to shape a better world through commitment and support, this being one of the many reasons as to why the University of British Columbia has maintained its status quo.
With an acceptance rate of 52.4% in 2014, those accepted to this college and following the American school curriculum must submit an SAT composite minimum of 1,600 or ACT minimum of 25 plus the writing component with a minimum of 10. 
University of Miami
Established in 1925 during the real estate boom, The University of Miami (UM) is now known as one of the top research universities in the world.
With 11 schools and colleges serving both undergraduate and graduate in more than 180 majors, students all over the United States are competing for a spot in this prestigious school.
UM is constantly searching for students who demonstrate academic talent, have a strong foundation for college curriculum, uphold high morals and take education seriously in order to have a student body filled with well-rounded individuals prepared to succeed in their secondary school experience.
Ranked 57th in the whole nation UM does have high academic standards for all applicants as the 75th percentile SAT score is 1410 while a typical ACT score is 28-32. 
"I have always had many questions about the intricacies of college applications so this presentation was extremely beneficial as it gave students a more in-depth look at to what UM wants to see from applicants as well as a description of the wide array of majors offered and the financial aid programs," junior Natalie Falls said.
John Hopkins University 
Founded in 1876, John Hopkins University (JHU) was named after its first benefactor, an entrepreneur who contributed an astonishing 7 million dollars towards the university's establishment.
Nowadays JHU is among the top ten schools in the American Association of Universities ranking.
JHU is home to some notable alumni including Madeleine Albright, John Dewey and Lady Gaga, among others.
A typical SAT score for students in 2016-2017 was a 690-770 in the reading component and a 710-800 in the math. Similarly, the ACT scores are also held a high standard as the average score is 32-34.
Being recognized as one of the most prestigious Research Universities around the globe, it is no secret that JHU receives over 30,000 applicants all eagerly awaiting a spot at this university.
By being provided with the opportunity to learn about a wide variety of colleges, students will have greater peace of mind as they embark along the path of college readiness before graduation.