Hurricane Dorian: The Aftermath in The Bahamas
Hang on for a minute...we're trying to find some more stories you might like.
On Memorial Day weekend, hurricane Dorian struck The Bahamas with catastrophic wind speeds of up to one-hundred eighty five miles per hour. The category 5 hurricane demolished homes and neighborhoods, causing major flooding and at least 20 deaths. More damage was done when the hurricane stopped in its path, staying on the island for about forty-eight hours before eventually moving north off the coast of Florida.

"I think it's very upsetting considering the fact that most of my family is from Puerto Rico and Dorian could've hit there. I hope that the affected families can rise up stronger and the island can be back to its beautiful aura," junior Shannon Maldonado said.

The amount of damage will not be an easy fix, nor will it be inexpensive. According to The Guardian, the repairs are set to cost up to billions of dollars.

The island's state is not something that can be easily repaired – the damage is so bad that a source said that the island looks "like a bomb went off." The construction of The Bahamas' infrastructure will likely have to be completely redone with years of intensive construction work.

In response to the humanitarian crisis that has risen after the natural disaster, rescue teams have been dispatched and are searching for Bahamians stuck in flooded areas or stranded in their damaged homes. First aid services are also traveling to the island to treat the approximately seventy-thousand people that are in immediate need of medical attention.

The Bahamas have historically been a huge tourist spot, especially for those who are cruising. As a result, many cruising companies are monitoring their private islands, the people and marine life.

Raysa Fernandez, an employee at Royal Caribbean, said that their ship, The Empress of the Seas, has gone a step further. The boat was sent out to the island with many beneficial items, such as food, water and generators to aid in the hurricane relief effort. They also delivered 10,000 meals and continue to cook and deliver food to people in need. In addition, the company has donated one million dollars to aide Bahamian people get back on their feet.

The relief effort has also touched Coral Gables High; here, different clubs like The National Honor Society (NHS) and Gables Earth are accepting donations as well.  

"Gables Earth is currently accepting general supplies which include batteries, flashlights, trash bags, buckets paper towels, disposable cups and cleaning supplies in room 2109 (Kiely)," senior Arianna Rodriguez said.

The accepted donations vary from food to hygiene products to baby supplies, depending the club. The NHS club will be accepting medical supplies and hygiene products in rooms 9318 (De Armas) and 9320 (Landsea) until Sep. 20.

Cavalier students are highly encouraged to assist those in need and donate to one of the ongoing on-campus supply drives for the victims of Hurricane Dorian.

[powr-twitter-feed id=147e26aa_1567870434782]
About the Writer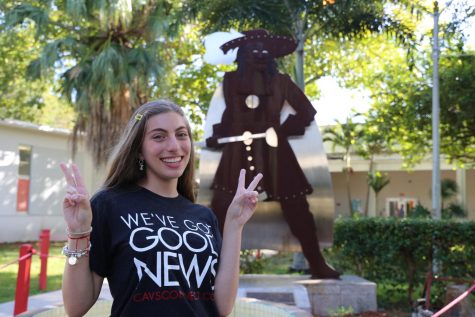 Emma Garcia, Staff Writer
Emma Garcia is a senior in the International Baccalaureate (IB) program at Coral Gables Senior High. As a staff writer, she hopes to write meaningful articles...