A Warning and a Wake-Up Call: The Loss of the Okjökull Iceberg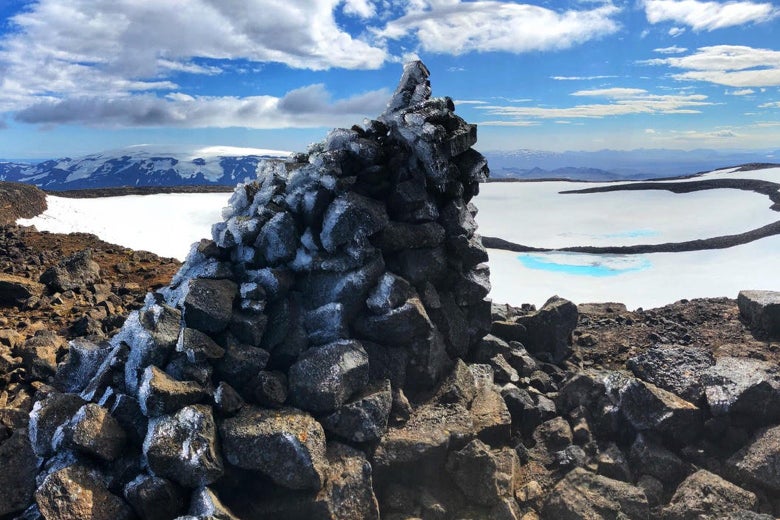 On Aug. 18th, 2019, a number of scientists held a funeral for the first iceberg lost due to the consequences of climate change. The iceberg, given the name of Okjökull (Ok Glacier), was a glacier in western Iceland on top of the volcanic mountain called "Ok". The glacier that once stretched approximately 15 square kilometers is now nonexistent.
Okjökull was actually first pronounced "dead" four years ago in 2014 by Icelandic geologist Oddur Sigurdsson as it was too think to be considered an iceberg, but it was not until now that it officially melted away, making the seriousness of the issue even more evident.
Iceland's Prime Minister – Katrin Jakobsdottir – and former United Nations High Commissioner for Human Rights Mary Robinson, along with dozens of researchers and civilians, hiked the treacherous mountain to the site of where Okjökull once stood.
In that same location, a funeral was held in memory for the glacier. During the ceremony, a plaque was installed with a written message titled "A letter to the future." Andri Snaer Magnason is the author of the memorial, and on it, he powerfully wrote:
"Ok is the first Icelandic glacier to lose its status as a glacier.
In the next 200 years all our glaciers are expected to follow the same path.
This monument is to acknowledge that we know what is happening and what needs to be done.
Only you know if we did it."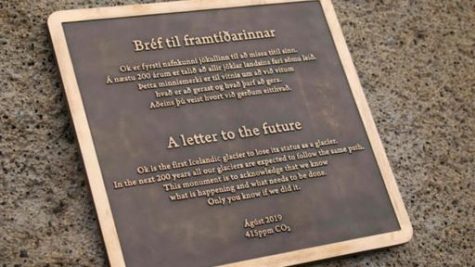 Under the message, "415ppm CO2" is written, was also inscribed to acknowledge the record level of carbon dioxide in our atmosphere from May of this year. Anthropologist Cymene Howe from Rice University hopes that by marking the iceberg's passing, others can be aware about the harmful effects happening to the glaciers.
Iceland's glaciers are losing about 10 billion tons of ice every year, and it is also happening in several other locations as well. A new piece of research, published on April 8, 2019, shows that the Earth's glaciers have lost over 9,000 gigatons of ice since 1961. Iceland has more than 400 glaciers; it's predicted that by 2200, all of them will have disappeared.
"I think that people are slowly destroying this planet and it is not worth it because it is the only planet we can live in. I feel bad because so many natural landscapes are deteriorating because of these climate changes. We really need to think fast before it is too late," sophomore Esperanza Barrios said.
Today, it is possible to visit the site. The Un-glacier Tour, developed by Anthropologists Cymene Howe and Dominic Boyer, gives you the opportunity to hike to the top of Ok mountain to see the glacial remains of Okjökull. At the top, visitors are be able to see three other glaciers and a shield volcano.
Although Okjökull is the first well-known glacier to officially lose its status, there can be many more with that same future.
"I believe that this is an on-going problem that is not really being acknowledged towards the people. People must know how serious this is and that this can affect us all. Climate change should be something that we should discuss with each other to inform one another about what's going in the world we live in," sophomore Kaylah Clethen said.
Even though it was too late for Okjökull, there's still time to take care of the rest of them and, as a planet, we should do so promptly to preserve whatever natural beauties we have left.
About the Contributor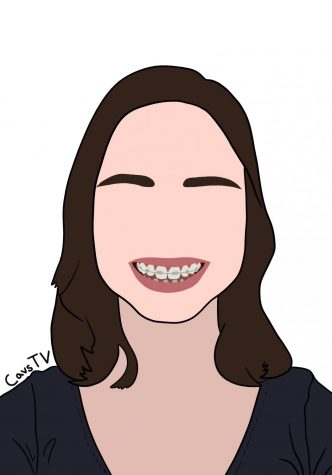 Amanda Perez, CavsTV Staff
Amanda Perez is currently a sophomore in the International Baccalaureate program at Coral Gables Senior High. This is her first year as a staff writer...