A Prestigious Partnership: Cocoplum Scholars
Hang on for a minute...we're trying to find some more stories you might like.
Coral Gables Senior High School has long maintained a reputation for graduating extremely talented and intelligent students. These students are enrolled in Gables' academically rigorous programs and hope to attend prestigious four-year universities in order to complete their studies. Unfortunately, many of the students at Coral Gables demonstrate significant financial need which limits their choices and opportunities. However, the homeowners of Cocoplum are seeking to change that through a scholarship.
Every year, Matthew Martinez, president of the Cocoplum Homeowner's association, organizes a new philanthropic initiative with Cocoplum's philanthropic committee. Their new initiative seeks to help Gables students by creating scholarships and mentorships. Martinez envisions a "two-step" program: students who win the scholarship will not only win the money, but they will also have the opportunity to intern and work alongside some of the donors who live in the Cocoplum community.
Cocoplum is an affluent community, home to some of the most successful professionals in Miami, many of whom own their own business. Along with the other members of the philanthropy group, Martinez will reach out into the Cocoplum community, not only asking for donations but also seeking potential mentors for the scholarship recipients. Students will greatly benefit from the mentorship program as they will learn and acquire valuable professional experience which has become essential to succeeding in today's workforce.
"Connecting the [Cocoplum] community to the high school students is important because once you create that tie, it is everlasting," president of the Cocoplum Homeowner's Association Michael Martinez said.
High achieving students will be invited to apply for the scholarship and their applications will then be reviewed by several selection committees from both the school and the Islands of Cocoplum. In order to qualify for the award, students must be rising seniors who demonstrate outstanding achievements both within the realm of academics and extracurriculars. Once the scholarship recipients are selected, they will be invited to attend a celebration in honor of their award, and meet those who donated to the fund. After the students' first year of college, the partnership will officially begin between the student and the local Cocoplum business for the mentorship.
"It's a great opportunity for Gables students to not only get scholarship dollars for continuing education but also to get internships with major corporations that are based here in Miami before, during and probably after they go and get their Bachelor's degree," principal Adolfo Costa said.
Thanks to the initiative between Martinez, the school and the philanthropic committee of the Islands of Cocoplum, students at Gables will have a new opportunity to pursue their careers and attend their dream schools. The scholarship application will open around April and is open to any senior who feels that they are qualified and competitive applicants.
About the Contributor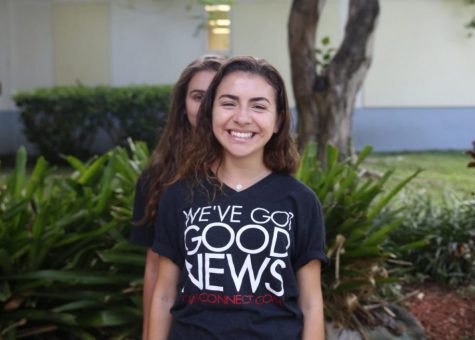 Natalia Rodriguez, Reviews Editor
Natalia Rodriguez is currently a senior in the International Baccalaureate (IB) program here at Gables, and is excited to continue editing for CavsConnect...