Nobel Peace Prize Recipients Fight Against Sexual Violence
The 2018 Nobel Peace Prize was presented to Denis Mukwege and Nadia Murad on Oct. 5 by Berit Reiss-Andersen. The honor is given annually to people who have worked to promote peace globally and have made a lasting impact on communities and countries. Both of the awardees have been working to end crimes of sexual violence and help victims of these crimes heal, as well as promote awareness of the global fight against sexual violence.
"
These nominees are different than those of the past because their cause (sexual violence) resonates with many, particularly right at this moment. They have done extraordinary things and deserve this award."
— Sophomore Wilson Villarraga
Nadia Murad was a victim of a human trafficking expedition carried out by the Islamic State of Iraq and the Levant (ISIS), an extremist terror group. She was abducted from her community after refusing to convert to Islam along with nearly 6,500 others. Murad was sold in an auction and was abused physically and emotionally. She was able to escape and ended up in Germany, but she knew women were still being taken and abused in the Middle East.
She began telling her story around the world, hoping that her speaking out and writing a book would give hope to women that went through the same thing. Her voice gained international attention for her bravery and strength in the midst of horrible circumstances.
"I do believe that it is important to advocate against sexual violence because many people don't understand the harm that is caused by sexual harassment and I believe society needs to be aware of that," freshman Karina Carpintero said.
Denis Mukwege is a doctor from the Democratic Republic of Congo. His expertise in gynaecology has allowed him to perform surgery on tens of thousands of women who were victims of rape over the course of more than 20 years.
His work in this area began when he treated an assault victim who had been both raped and shot in her thighs and genitalia. This showed him that he could not sit idly by while women were being made victims of such horrendous acts.
Now, he helps every woman he can, sometimes completing 10 surgeries in a day. Mukwege's dedication to his work has made him a role model for doctors and a savior for patients.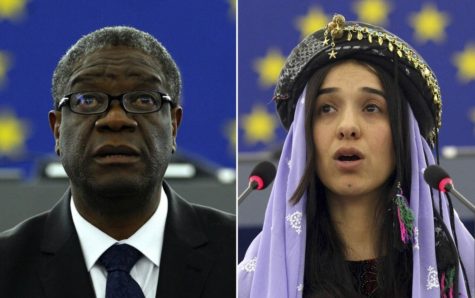 Both Denis Mukwege and Nadia Murad have made a significant difference in many people's lives this past year, and this award does not even begin to describe the gratitude that both his patients and her survivors feel. Their legacies will never be forgotten and their work will be engraved in history.