Going for the Gold: Awards Ceremony
Hang on for a minute...we're trying to find some more stories you might like.
Nothing quite compares to the annual Coral Gables Awards Ceremony, which took place this past Tuesday on April 24. The Awards Ceremony celebrates every student that has achieved excellence throughout their career at Gables. Heartfelt speeches and scholarships are among the distinguishing characteristics of such a momentous event.
The first awards given out were the department awards, designed to recognize excellence within specific subcategories of each department at Gables. For instance, within the Fine Arts Department, awards were given for Chorus, Theatre and Visual Art to Veronica Devarona, Sarah McClusky and Andrea Muñoz, respectively. The awards were presented by Ms. Barrow, who didn't fail to keep the audience engaged with her wit, all the while delivering deeply personal speeches to each of those students.
"It felt amazing to be up there in front of all of my friends and parents. After all these years in Gables, it's an honor to be recognized by all my teachers for all of my hard work," senior Alyssa Lamadriz said.
Next up were the Athletic Awards presented by Mr. Romero, the athletic director. Our amazing student-athletes have proven their excellence on and off the field, a feat that is becoming harder every day. Cavan Wilson and Brianna de la Osa both won the Scholar Athletic award and have the distinct honor of having one of the highest grade point averages for student-athletes in the entire county. Abigail Flores and Joel Izaguirre both won the Athletic award for demonstrating their athletic prowess across multiple sports.
Last up were the grade level awards. The awards were announced in increasing order of grade level. The awards in each grade level varied, but all included a Principal's award for a male and female student; the male and female Student of Distinction and the bronze, silver and gold awards, awarded to the students with the three highest GPA's. The male Freshman of Distinction, Miguel de la O, was recognized for his academic excellence, evidenced by the fact that he is the only freshman at Gables taking AP Calculus. The juniors, in addition to these awards, received book awards, given by several universities to students who demonstrate the core values of the school. Alain Perez, for example, received the Cornell Book Award and along with it a book written by famed scientist Bill Nye, Cornell alumni. The seniors received scholarships presented by a variety of organizations. Chief among these scholarships was the City of Coral Gables Award given to Valeria Gutierrez.
"Every Awards Ceremony I've been to has been special in its own way. This year I'm saying goodbye to some of my closest friends in the senior class; sharing a stage with them on such an occasion is unforgettable," junior Alain Perez said.
During the final part of the ceremony, Principal Costa gave an inspiring speech about the talent and dedication of Gables students. With such a high caliber of students, they will no doubt go out into the world as leaders and proud Cavaliers.

About the Writer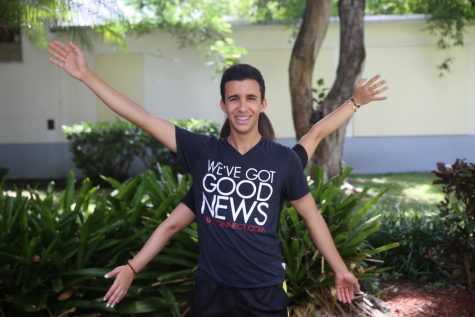 Pablo Hanono, Staff Writer
Pablo Hanono is a senior in the International Baccalaureate (IB) program at Coral Gables Senior High School. This is Pablo's second year in CavsConnect, and hopes to add his personal touch to the site though his writing. In addition to Cavsconnect, Pablo is a board member of the Model United Nations club and an active member of the IB Honor Society, National Honor Society and the Future Business Leaders of America (FBLA). He is passionate about politics and business and hopes to be a lawyer in the future. His involvement off campus reflects this, as he is a member of the Miami-Dade Teen Democrats and was a fellow for the 2016 Hillary for America campaign. During his free time he enjoys going to the gym and sunbathing on Miami Beach with friends. He is looking forward to his senior year and looks to hone his writing skills through Cavsconnect.