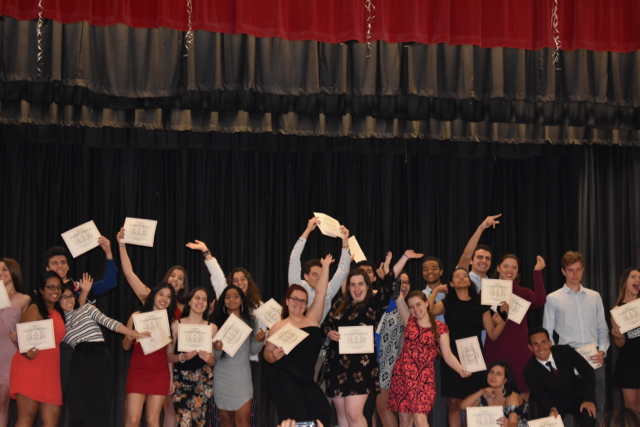 On the evening of Apr. 10, over 200 seniors and their families joined in the auditorium for the Elsa Glazer Award Ceremony. Elsa Glazer was a beloved counselor at Coral Gables Senior High who was known for encouraging students to strive for academic excellence. This award is given in her memory and honors seniors who have maintained a GPA above 3.5 for their entire high school careers.
The event began with music played by Figure It Out, a band made up of five of CGHS's own talented students. The band was followed by the presentation of the colors by the Gables Color Guard. Afterward, Linda Robertson, a writer for the Miami Herald and an important member of the Coral Gables PTSA, gave a welcoming speech and set the stage for Jennifer Moon, Glazer's daughter, to share some words with the audience. Moon told the audience about her mother's caring nature and the love she had for all of her students. "What my mom wanted more than anything else was for you to succeed and be proud of yourselves," said Moon. Moon was sure that Elsa Glazer would be extremely proud of all of the students who worked hard to receive the award on Tuesday.
"It felt great to be recognized for the effort I put into maintaining my grades for the past four years and learning more about who Elsa Glazer was made it more meaningful," said senior Valeria Gutierrez.
Following Moon's empowering words came the evening's keynote speaker Dave Barry. He is a Pulitzer Prize-winning humorist who is well known around the country and happens to be a Coral Gables resident. Barry mentioned that his daughter is also a senior in high school, so he recognizes the amount of work it takes to maintain an 'A' GPA over four years. He made painfully true comments about how expensive college can be, causing the audience to laugh nervously about bills to come. Following this reality check, Barry shared words of wisdom with the audience. Although he made a point to say that the older he gets the more he realizes that he knows nothing at all, Barry shared a list of things he knows to be true:
The one thing that unites us all is that we all believe we are above average drivers.
Nobody is normal.
You should not confuse your career with your life.
A person who is nice to you, but rude to the waiter is not a nice person.
Nobody cares if you can't dance well, you should get up and dance anyway.
After the speech, Assistant Principal Diaz called the award recipients to the stage to collect their certificates and pose for a picture. The PTSA provided snacks and drinks for students and their families to enjoy following the event.