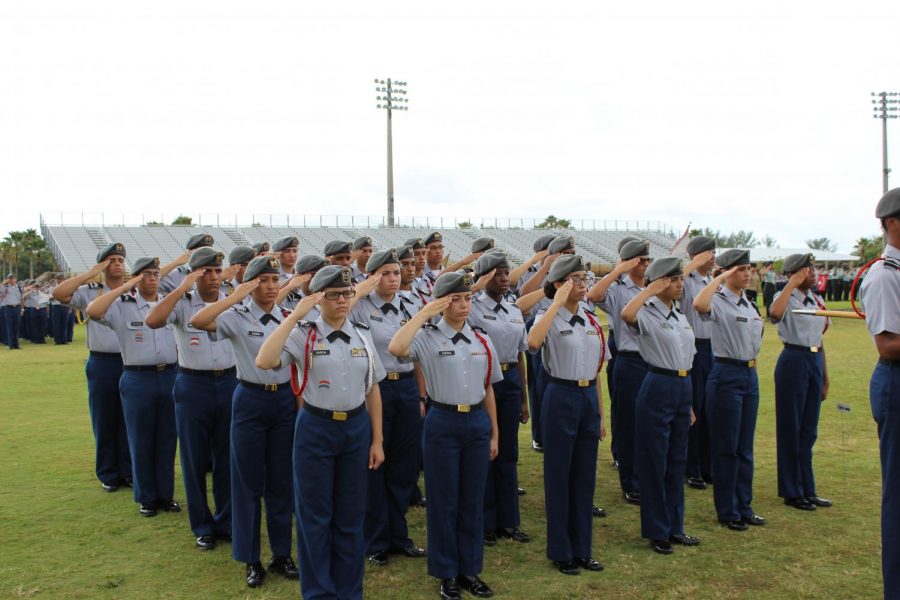 JROTC
On Dec. 9, the Senior Army Instructor, Vidal Chavez, led the Junior Reserve Officer Troops (JROTC) to victory in two categories at a competition. It included 18 different categories, with the most competitive being: armed platoon, unarmed platoon, platoon exhibition and color guard for both males and females. The female troops earned a second place title in overall performance, while the males earned the first place title of competition, with all categories being accounted for.
"They actually did better than expected under the conditions. The weather was definitely a factor. Suddenly it would turn cold and it was raining, but they kept it up, they went out there and performed, and they did extremely well," Senior Army Instructor Vidal Chavez said.
JROTC is a program that trains students to become successful cadets and better citizens. It has become a major part of many schools, and Coral Gables Senior High is no exception. The cadets competed from 5:30 in the morning to noon in the rain and cold.  Their training and dedication were certainly on display as they put everything on the line. Throughout each class and practice that students participated in since the start of school, they sharpened their skills in areas such as marching in time while holding rifles, all while adjusting to being in a group with unfamiliar faces.
"Overall, everyone did well. We have been practicing since the beginning of the year. We tied for first place overall, but it was a minor miscalculation in the score, but we beat all three schools. We're just trying to keep [our] reputation and I think we were able to accomplish that," senior and Battalion Commander Harley Moreira said.
Not only does JROTC stress militaristic values to students – things such as morals, patriotism and citizenship –  but it also stands for camaraderie, and respecting both superiors and one-another. In all, staff and students can only hope that the program continues to flourish at the school and that it keeps teaching important values and fosters a sense of ambition and determination to create a better future for America.