Prince Harry and Meghan Markle, A Royal Engagement
It's official! The British crown revealed Prince Harry of Wales and American actress Meghan Markle's engagement last Monday, Nov. 27. It all started with a blind date, which was reportedly set up by Markle's close friend, Markus Anderson. From there, the relationship took off. They had been dating for 16 months prior to Prince Harry popping the question, but he has been quoted as claiming that he knew she was "the one" the moment he met her. Before proposing, however, Harry had to ensure that his grandmother, the Queen of England, approved of his girlfriend. Markle reportedly attended Buckingham Palace for a private tea with the Queen.  As evident by news of the engagement, the Queen must have approved of her grandson's choice.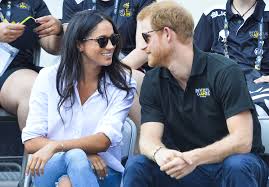 Meghan Markle is 36 years old and was born in Los Angeles, California. She is the child of an African-American yoga teacher and white cinematographer and has thus worked very hard to become the recognized actress, model and humanitarian that she is today. Markle is most famous for her role as Rachel Zane on the drama series Suits. She first met Prince Harry last summer and they have held a long distance relationship since then. Their first public outing took place this September at a Paralympic competition, Invictus, for wounded veterans. Harry has a personal connection to the event as he is a strong advocate of veterans, having served two tours in Afghanistan in 2008.
Markle has been racially discriminated against for her African-American heritage. The royal family has historically been composed of white, mostly British individuals, and many people did not agree with Harry's decision to date someone who breaks this tradition.  Harry has condemned what he perceived as "racial undertones" of his fiancé.
"Meghan is one of my favorite actresses, and it makes me excited to see her relationship with the Prince finally reaching this level," sophomore Yazmin Quevedo said.
Meghan plans on becoming a citizen of the United Kingdom and she will also join the Church of England. There was a law that royal family would lose their place in line for the throne if they married a Catholic, but it was amended with the Succession to the Crown Act of 2013, so Prince Harry will remain fifth in line. Meghan was married once before, but the Church of England has changed its stance on divorce and now allows divorcés to remarry.
"I think they belong together and I can't wait to see pictures of the wedding. I admire Meghan's resilience before criticism of her racial and ethnic background.  Being half-black and of non-royal blood, in an institution so historically dominated by white royals cannot be easy," junior Angelle Garcia said.
The happy couple will be wed in St. George's Chapel at Windsor Castle in May. From there on, they will be known as the Duke and Duchess of Sussex. Citizens of the United Kingdom are very excited about the wedding and ceremony which will be streamed on TV at a later date.