Newborn Kidnapped in 1998 Found Alive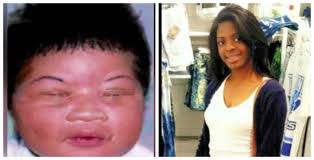 Kamiyah Mobley thought she had experienced a fairly normal life growing up in Walterboro, S.C., but after 18 years she found out the woman acting as her mom was never really her mom.
In 1998, a child was kidnapped from the hospital hours after being born. Only visible on a grainy hospital video, the kidnapper was never found and only one picture of the infant was taken.
Since the kidnapping, 2,500 tips came in on the case and since late last year the Jacksonville Sheriff's Office received the tip from the National Center for Missing and Exploited Children that led them to Walterboro. Walterboro, a small town with a population of 5,000, had not come up in the investigation until an 18 year old girl, with a different name than the girl kidnapped, contacted them because she had a hunch.
"
If I was Mobley I would be very upset with the woman that took me from my family. I would be a bit hesitant to speak to my birth family because after so much time I would wonder what they'd think about me. But most of all I would want to understand why this woman took me and deprived my family of raising me."
— senior Melanie Montenegro said
After being found, a DNA sample was taken from Mobley that resulted in a match from that of the girl who was abducted. Since she is now an adult, she will decide whether or not to be reunited with her birth family. Her birth family lives in Jacksonville, Florida where both her father and grandmother are very eager to finally meet her.
The woman who raised the child as her mother was 51-year-old Gloria Williams. She worked the Department of Veterans Affairs' hospital in Charleston, South Carolina and continued to act as Mobley's mother and an active member of the community. Williams was arrested early Friday for  kidnapping and interfering with custody. After her first court appearance, she was denied bond and waived her right to an extradition hearing. Now, she must return to Jacksonville and await sentencing.
"I [cannot] imagine how the girl feels, I'm sure she's torn between backing up the woman that raised her and her actual parents. It was like she was living a lie," freshman Matthew Enriquez said.
This traumatizing event has been crazy for Kamiyah Mobley but, she is receiving counseling and finally spoke to her birth family via FaceTime. She is excited to meet her birth family but worried about who she thought was her mother.