Cavaliers of Verona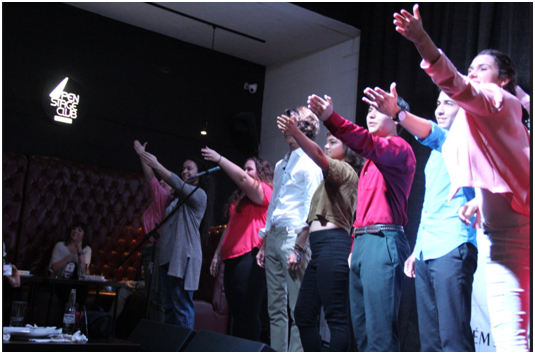 On Saturday, Nov. 14, a group of students who have partaken in drama throughout their years at Gables produced and performed Two Gentlemen of Verona by William Shakespeare, a play directed and stage managed by two of our own Cavaliers, Evan Caldwell and Lady del Castillo, respectively.
The cast consisted of sophomores, juniors and seniors that all enjoy theater and performance. The play was a performance of one of Shakespeare's comedies that deals with turbulence that occurs when one falls in love. With the actors seemingly effortlessly portraying the cycle of friendship and infidelity portrayed in the play, the crowd was left in awe.
"I was amazed with the actors' performances and it couldn't have been better," senior Joseph Villafañe said.
Two Gentlemen of Verona is a Shakespearean comedy that follows the degradation of the long-term friendship between Valentine and Proteus, the "gentlemen" of the title, who fall in love with the same woman – Sylvia, the Duke of Milan's daughter. Sylvia, meanwhile, is promised to vain Sir Thurio. To make matters more complicated, Proteus is engaged to Julia. The play is the genesis of the modern "bromantic" comedy.
The play was performed with songs interspersed to provide commentary and a fun opportunity for the actors, including Alexis Clay and Erica Alonso, to show the audience their diverse talents. The cast also included Redmond Willis, Carlos Guerrero Jr., Vic Lopez, Daniel Andrade, Giselle Vera, Maria C. Estrada, Marta D'Ocon, Tania Nieto, Victoria Fernandez and Bryan Tucker, some of them playing multiple characters.
"All of the actors and Evan and I wanted to offer an affordable yet creative interpretation of Shakespeare for the Gables community and students," del Castillo said.
Beyond enriching these students' acting experience, thecast was able to offer entertainment to the audience as well as aid to people in need through their collections, donating all of its profits to HOPE Worldwide – specifically, the Sihanouk Hospital Center of HOPE (SHCH) in Phnom Penh, Cambodia. Established in 1996, the SHCH is one of the leading non-governmental hospitals. Their mission is "to provide for the further education and clinical training of medical professionals, while delivering high-quality, free medical care for the poor and disadvantaged in Cambodia."
"My late uncle was heavily involved in the charity, and so I decided to direct a play and donate the ticket proceeds to honor his legacy of charitable contribution. Earlier this year, in February, I did Macbeth, which also benefited HOPE Worldwide, as my CAS Project. It was so successful that we were determined to do another production,"  Caldwell said.
The production was well-received as the crowd stood and cheered the actors' intense songs and monologues.
About the Contributor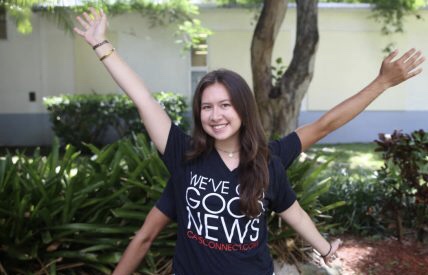 Maria F. Estrada, Editor-in-Chief
Maria Estrada is a senior in the International Baccalaureate program at Coral Gables Senior High who loves a good debate and cup of coffee. As her role...