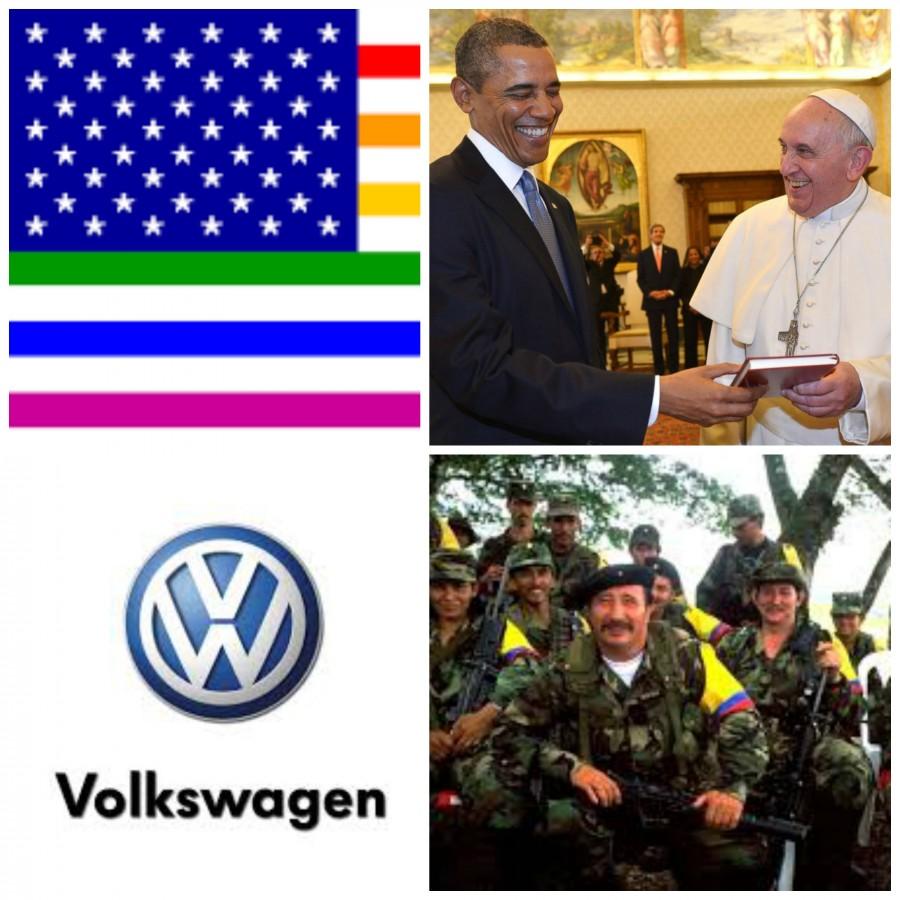 www.picmonkey.com
International Affairs
Pope celebrates mass in Cuba with Fidel Castro
"Pope Francis celebrated mass in Cuba Sunday before hundreds of thousands of worshipers in Havana's Revolution Square. ".
Pope Francis arrives in Washington D.C., for U.S. tour
"Pope Francis arrives in Washington, D.C., today for the start of his historic U.S. tour. President Obama and Michelle Obama will greet him at Joint Base Andrews in Maryland. The pope will hold a formal meeting with President Obama on Wednesday and address a joint session of Congress on Thursday.".
Indigenous leader in Guatemala who opposed palm oil factory is murdered
The 28 year old was shot outside a local courthouse a day after the factory was ordered to be shut down. The factory was polluting nearby rivers with pesticides.
Hungary approves use of non-lethal weapons against refugees
" The new law allows Hungarian troops to use rubber bullets, tear gas, smoke and flash grenades, and net guns against refugees.".
Colombia gov't and FARC announce breakthrough peace talks
"the ongoing peace talks to end the five-decade conflict that has killed more than 200,000 people.." "he agreement, brokered in Havana, establishes peace tribunals and a reconciliation commission. It is expected to be signed within six months. .".
Domestic Affairs
Volkswagen accused of evading pollution rules
"Volkswagen has apologized and halted the sale of certain diesel cars in the United States following reports it illegally installed software to evade standards for curbing pollution. The Environmental Protection Agency ordered Volkswagen to recall half a million vehicles after finding it installed the devices in a deliberate bid to avoid emissions rules.".
Obama nominee would be the 1st openly gay civilian to lead army
"President Obama has nominated Eric Fanning as secretary of the Army. If confirmed by the Senate, Fanning would become the first openly gay civilian to lead a branch of the U.S. military.".
Los Angeles declares 'State Of Emergency' over homelessness
"In Los Angeles, California, Mayor Eric Garcetti and members of the City Council have declared a "state of emergency" over homelessness and vowed to dedicate $100 million to address the issue. ".
TSA defends agents who detained transgender woman for 'anomaly'
"Back in the United States, the Transportation Security Administration is defending its treatment of a transgender woman who says she was detained for 40 minutes at Orlando International Airport, harassed, repeatedly patted down and instructed not to record the ordeal, all because a full-body scanner flagged her penis as an "anomaly.".