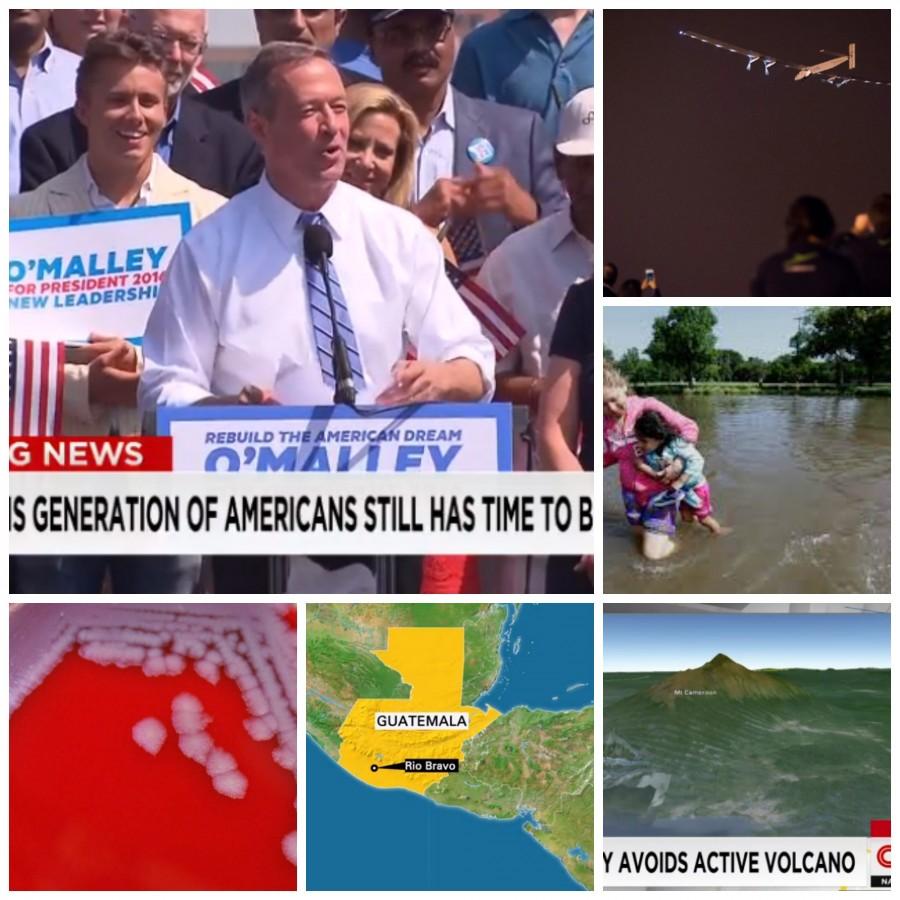 www.cnn.com
International Affairs
Mob burns teen girl alive
A girl in Guatemala was burned alive after she was accused of being involved in the death of a taxi driver earlier this month. The burning of the girl is one of more than 20 killings of the same sort.
Singapore airlines jet loses power in a storm
"A Singapore Airlines Airbus A330-300 with more than 180 passengers on board temporarily lost power to both of its engines as it passed through a storm". The flight landed in Shanghai without complications.
Air France plane had near miss with Africa volcano
"Air France Flight 953, a Boeing 777 with 37 people aboard, was on a short evening journey from Equatorial Guinea to Cameroon on May 2 when it steered off its planned route to avoid thunderstorms.". The flight's "pull up" alarm sounded when the flight got dangerously close to Mount Cameroon.
Heat wave strikes India
"India is experiencing Loo winds, hot and dry westerly gusts from Pakistan and northwest India which dries out the region". The heat is expected to stay for the next few weeks until the monsoon rain arrives.
Solar Powered plane to begin Pacific Flight
"Solar Impulse team is attempting to fly around the world powered only by the sun. Plane sets off from China at early Sunday, heading for Hawaii — a journey expected to take 130 hours"
Boko Haram kills at least 13 in northeast Nigeria capital
"Twenty-six people were killed and 28 injured Saturday afternoon in a suicide bomb attack inside a mosque in Maiduguri, the capital and largest city of Borno state, Aderemi Opadokun".
Domestic Affairs
Live anthrax accidentally shipped by U.S military to 9 states
Officials in a base in South Korea were surprised to receive live anthrax rather than safe samples. The samples were also sent to 9 other states. Anthrax is still being heavily studied due to its potential to be used as a biological weapon.
Former Maryland governor Martin O'Malley enters 2016 presidential race
"Martin O'Malley aims to present himself as a progressive alternative to Hillary Clinton".
$50K in reward offered for information on boy who disappeared 5 years ago
Seven-year-old Kyron Horman disappeared 5 years ago but the police is still offering a reward for information on the case.
Flood disaster declared in Texas
President Obama declared the Texas flood a major disaster."In all, 37.3 trillion gallons of water have fallen over the state of Texas in the month of May, the National Weather Service said. That translates to 8 inches of water over the entire state".
Pearl Harbor Memorial closed after accident
"A dock to the USS Arizona Memorial in Pearl Harbor, Hawaii, was damaged.World War II memorial will be closed for at least a week".