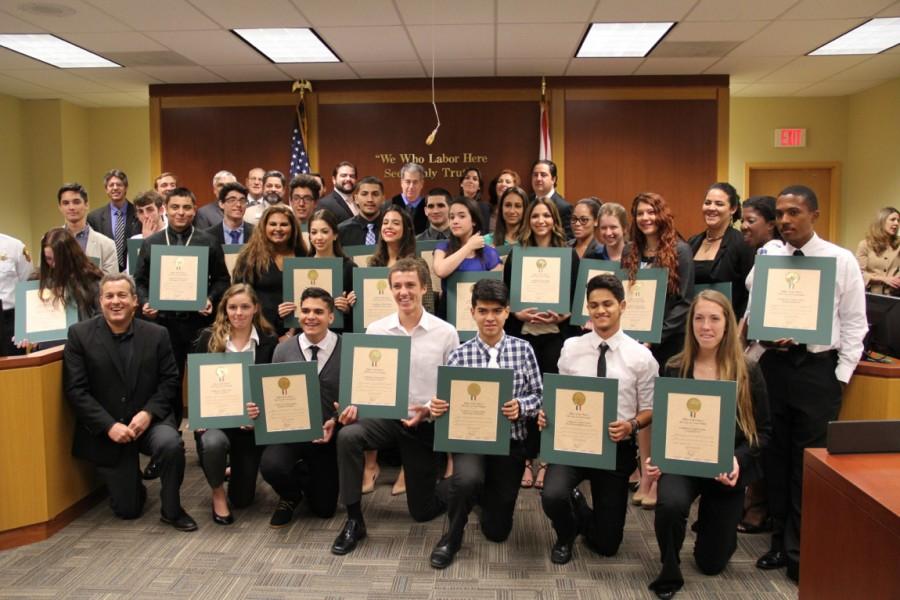 On Friday, May 1 Academy Leader of Health Science, Public Service and Law (HSPSL), Julio Garcia, took a group of approximately 20 students to the Coral Gables Courthouse for a mock trial.
The trial was run to simulate a real-life trial as closely as possible. The students in Garcia's levels 2-4 classes (civil law, constitutional law and court procedures, respectively) had been preparing a cyber bullying and aggravated assault case since February. Six students in total were the lawyers in the case- three plaintiffs and three defendants. Six other students were witnesses- three for the prosecuting side and three for the defense. The trial began with opening arguments for both sides. Then, each side had the opportunity to directly examine or cross examine each of the witnesses. Finally, closing arguments were delivered. Coral Gables County Judge for the Civil Division Don Cohn resided over the case and gave feedback, along with several other county judges, to the students.
"I think it [the mock trial] is a great opportunity because students get a better opportunity to practice law. It can be difficult, but if it's something that you like, it's worth going after," senior Helen Montiel said.
The President of the Coral Gables Bar Association, Blake Sando, was also in attendance with several members of the Board of Directors of the association. Sando announced two scholarships for an essay contest that was open to Coral Gables students, which asked students to evaluate the Magna Carta and its importance to them. Senior Teague Scanlon won the second place award with a $500 prize and senior Helen Montiel won the first place award of $1,500.
"I'm very happy that I ended up receiving this cash prize, because I wasn't looking forward to writing the long essay on the Magna Carta, but figured that I should just do it because it might pay off, and boy did it pay off, because 500 dollars to write an essay in a couple hours is one of the best deals I've been a part of," senior Teague Scanlon said.
After the jury of the county judges deliberated, they announced that the defense had won the case and again congratulated the students on preparation and professionalism. Immediately following a pizza party, students returned to school in time for the final block of the day.