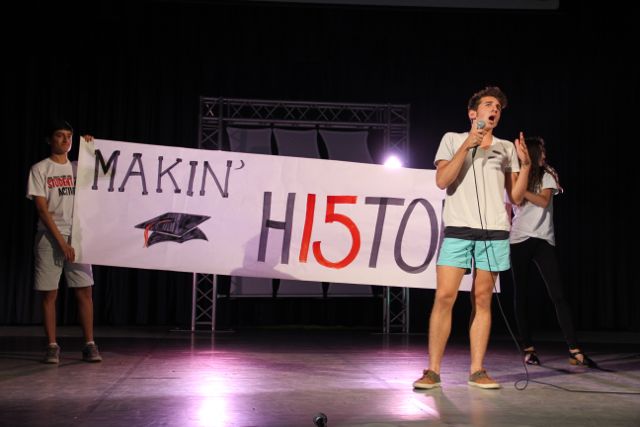 On Nov. 7, the auditorium was filled with seniors ready to celebrate their class's success. Anyone attending was told to wear white in order to blend in with the glow theme. The school rented black lights to make everything appear white and help "light up" the crowd. The students held glow sticks and clear plastic spheres were tossed in the air and throughout the crowd, seeming as if there were a concert occurring.
"It was a cool experience. I liked being together with my class, to just have fun and let loose. Although we'll all go our separate ways in the future, we are fortunate to have the opportunity to have a great time while we are all together," senior Michael Green said.
Performances at the pep rally included the Gablettes, S.W.A., our cheerleading squad and Gables Color Guard. However, these performances weren't the same as the ones in other pep rallies. All of the cheerleaders performed and then the senior cheerleaders entered the stage for a performance of their own. The Gablettes had a special "sweetheart" performance, in which each girl was accompanied by two boys in a one-of-a-kind Hawaiian dance.
"The pep rally was fun. I had a great time with my peers celebrating how much we've accomplished as a whole. The MCs did a nice job with keeping the crowd on their feet and being able to crack jokes at any time," senior Ron Leiferman said.
Its exclusiveness is what makes the annual senior pep rally most successful. Only those in the senior class have the opportunity to enjoy the spectacular performances. The pep rally wouldn't have been possible without the help of some sophomores and juniors, who spent the day setting up and making sure it ran smoothly. Stay tuned for Class of 2016's senior pep rally next year!