Climate March 2014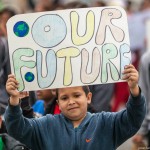 On Sunday, Sept. 21, more than 400,000 people took part in the Climate March in New York City. This was just days before the scheduled United Nations Climate Summit, in which more than 120 world leaders would come together to discuss how to address climate change. Participants at the march wanted to raise awareness about global warming.
The march began at 11:30 a.m. at the Columbus Circle, just off of Central Park, and turned out to be the largest climate march in history. At one point it even stretched four miles long!
"I was very happy to hear about how many people attended the Climate March and I'm sure, as a whole, we can help prevent global warming by taking better care of our planet, Earth," sophomore Alex Rabell said.
The people who took part in the march were dressed up and carried signs with everything from "There is no Planet B" to "I'm sure the dinosaurs thought they had time, too."
There were 1,500 groups representing their varied interests, including the scientific community and religious organizations. A group of about 500,000 concerned students took part in the march and grandparents also participated out of concern for their legacy.
"I really care about the future of our planet and I wish I could have participated in the march," sophomore Ari Alcalay said.
The next march is in Washington, DC on Sunday, Sept. 28.