Click here for Out-of-State College Tour information!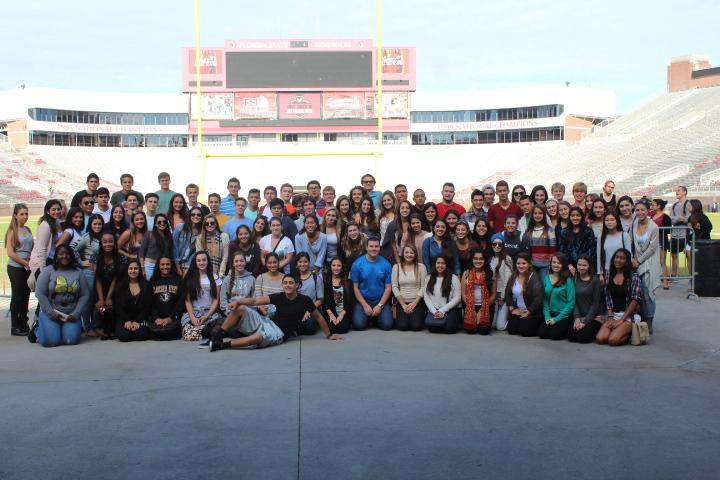 Dates: Monday, Nov. 10 (6 a.m.)- Saturday, Nov. 15 (11 p.m.)
Cost: $610 (CASH). There was a $200 down payment last spring. If your son/daughter did not pay that deposit, he/she may not attend, as the trip is already filled. There are no more spots left.
Collection Dates: Sept. 23 and 24 during both lunches in Activities.
Head Chaperone: Ana Suarez
On all field trips, the ratio of chaperones to students is always at least 1 to 15. The group of 55 students will always stay together with the chaperones. Chaperones are all school personnel (no parents).
Meals: 11 meals are included. The meals that are not included are a Pit –Stop dinner on Tuesday night, Brunch on Emory's campus on Wednesday, Pizza on Thursday afternoon, Bistro-style lunch on Friday afternoon, Grill dinner on Friday evening, and 2 Pit-Stop meals on the drive back home.
Hotels: Springhill Suites by Marriott in Gainesville, FL., Hampton Inn-Atlanta-Georgia Tech-Downtown in Atlanta, GA., and Hampton Inn & Suites at Chapel Hill in Chapel Hill, NC.
Restaurants: Cracker Barrel, Boardwalk Bowl Entertainment Center, Gator Dining, Fresh Foods (FSU), Cox Hall Market (Emory), HobNob, Lily's Pizza, Pit Bar-B-Q, Parker & Otis, and R & R Grill.
Schools: UF, FSU, UCF, Emory University, Georgia Tech University, NC State University, UNC at Chapel Hill, and Duke University.
What's included: 11 meals, all transportation, all hotel-related costs.
Criteria: No more than 19 tardies and 9 absences, no indoor/outdoor suspensions, minimum 3.0 GPA, no outstanding school fees.
On either of the 2 collection dates (Sept. 23 or 24), the students must bring the $410 in cash, along with the signed field trip form and the signed parental agreement contract, both of which can be found under "News Briefs."