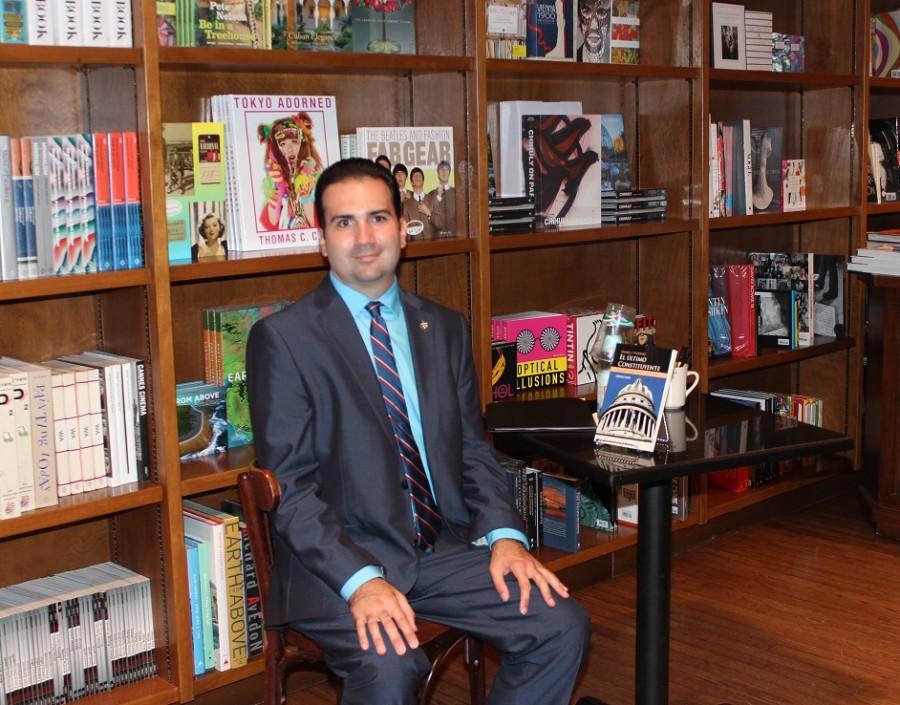 Albany Muria
On August 5, 2014, Class of 2002 alumnus Daniel Pedreira presented his highly-appreciated book El Ultimo Constituyente:: El desarrollo político de Emilio "Millo" Ochoa" at Books and Books in Coral Gables. Fans, family, friends and politicians attended to show admiration for Pedreira's work.
The book El Ultimo Constituyente is a biography on Cuban Senator from the 1940s. He was the last living signer of the 1940s constitution. It also elaborates on the role of  Ochoa being the founder of two political parties who served as a sort of "senior statesman" within the Cuban exile community.
The overpowering adoration for Cuban politician Dr. Emilio Ochoa in the store lit up the atmosphere throughout the event. The night was filled with anecdotes, fans and a rising author.
Congresswoman Ileana Ros-Letinen took time out to share her thoughts about Pedreira's success. She also discussed how Pedreira's book covered the essence of Dr.Ochoa's humbleness and patriotism for his country.
Pedreira's former spanish teacher and Gables' IB Spanish teacher, Ms. Verazain, attended the event to show support for her dear ex-student.
"Daniel is the kind of kid that was always older than his years. He was always in pursuit of the history of Cuba. He kept in touch after he left Gables. I am extremely proud of everything [Daniel] has accomplished and I know we will see more from him," said Ms. Verazain.
A handful of other Gables alumni attended the event, many of which showed support to their friend Pedreira. Most of them weren't surprised that Pedreira published his own book.
"We always knew Pedreira would publish a book. It was something about trying to preserve Cuban history. We are very proud of him," said Class of 2002 alumna Ela Hernandez.
Later in the night, Ochoa's son-in-law shared a few memories of his time with Ochoa.
To conclude the night, Pedreira signed books and met his fans.
For many, it was an honor to attend Pedreira's book presentation. The night had an elated and respectful presence. Some were able to share their thoughts and inquiries, which Pedreira was happy to answer.