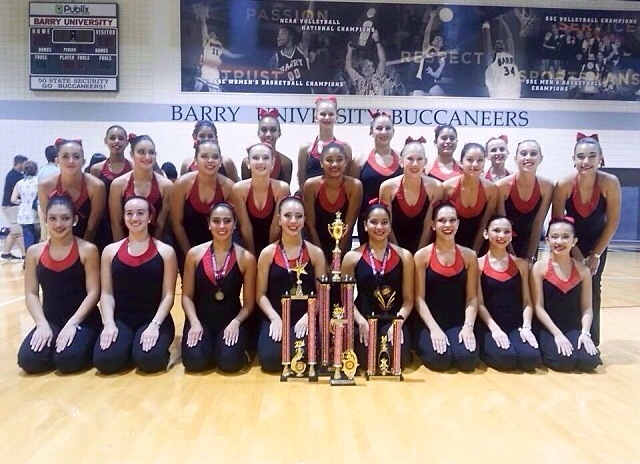 Mo Marmesh
We all know that the Gablettes spend long hours during the school year practicing their techniques and getting better. What most people don't know, however, is that they work hard during the summer as well.
During the summer, the Gablettes practice every Tuesday and Wednesday for five hours each day. The practices, which are held by assistant coaches Chris Medina and Veronica Montes Childs, all focus on different goals. This summer, the primary focus is on technique.
"The assistant coaches aren't doing anything differently than [coach] Mo did – they're still pushing us  hard" said co-captain  Carolina Cabello.
In addition to their regular practice, there are two different camps that the Gablettes go to during the summer; ADA (American Dance Alliance) and NDA (National Dance Alliance). At ADA, all members of the team spend three days bettering their techniques, learning new tricks, learning how to pick up choreography quicker and improving their overall performance. On the first day of the camp, the Gablettes learn and perform a routine, which is then evaluated. Over the course of three days, the team learns and perfects three dances for an evaluation on the last day. NDA is very similar to ADA; however, only veteran team members can attend.
"My experience at ADA was definetly the most difficult dance experience I've ever faced, but also the most beneficial one for me to grow as a dancer," said sophomore Gablette Melissa Rodriguez.
Even this year's summer candidates join in on the training; they will be practicing with the team for the rest of the summer and  have their final evaluation at the end of it. After their final evaluation the new recruits officially become part of the Gablette family.