Kicking Her Way to the Top
Every year one lucky Gablette is a recipient of the Alysia Wilson scholarship. Out of the three seniors that applied this year, senior Dayde Moreno was awarded this scholarship on May 19, and will be attending Florida International University in the fall.
Moreno was escorted down the halls to the front of the school by her fellow Gablettes, her mother, and coach Mo Marmesh where they met with Alysia Wilson's brother, father, and close friend. Usually, Lynn Wilson, Alysia's mother, presents the scholar with a check and plaque to commemorate what they have done to benefit the dance group. Every year they look for someone who embodies their daughter's love and spirit for this dance team.
"When I first entered Gables I had no confidence, it was a new school. It was like I was in a whole new world and just wanted to know where I fit in, but then I was able to meet the team and I saw how the girls bonded; they're together all day everyday. It's just nice to be part of something and it teaches a lot because it's very demanding. You have to be dedicated; you have to put everything into it. There's no holding back at all for anything. Those are life lessons that you can take with you for future jobs and you learn how to work with other people because it's
a very big team effort," Moreno said.
Alysia Wilson was a former Gables alumnus and Gablette that graduated in 1986. She was diagnosed with Neural Endocrine cancer in 2010, and passed away 12 months later on May 30, 2011. This was also the same year that the Gablettes were celebrating their 35th anniversary in which Alysia had submitted her favorite Gablette memory to be added to the "memory book." All former Gablettes submit one of their favorite memories and it is then shown in a powerpoint during their anniversary dinner. Everyone close to Alysia had known that the Gablettes held a special place in her heart. For this reason, her mother, Lynn Wilson, wanted to keep her daughter's spirit alive and had started the Alysia Wilson scholarship.
"I think it's really exciting to have any type of scholarship for dance; this family, during a sad time, went out of their way to help the girls on the dance team and it's pretty amazing that they do something like that," coach Mo Marmesh said.
This was the fourth year that this scholarship was implemented. Every Gablette senior that meets the requirements is allowed to apply. The requirements include a 500-word essay on how being a Gablette has changed their lives, what it has meant for them, and what they plan on doing in the future for the program. Also when applying, the applicant has to include their weighted, unweighted GPA and any other activities they are involved in such as clubs. After the essays are sent, applicants are eligible for two different scholarships, the Alysia Wilson scholarship and the Gablette alumni scholarship. The essays are then read by alumni who choose which Gablette will be the recipient.
"After I graduate, I plan on coming back and being my coach's assistant. I want to teach the returning and new Gablettes far beyond what I've learned and push them to grow in order to keep strengthening the program. I just want to be there to motivate them and support them, not just as someone who was their teammate, but as an alumni," Moreno said.
Joining the Gablettes is a rigorous task. First, all the students wanting to tryout must submit a teacher recommendation form from all teachers and their most recent report card. After checking their GPAs and conduct grades, the auditions start. The auditions are judged by a Gablette alumni panel. If they met all the requirements and get a high enough score in their dance audition, the candidates then take part in the summer training. At the end of the summer, they have their final tryout, and that is when someone finds out whether they made it onto the team or not.
"I think Dayde deserves the scholarship because she has exemplified hard work since she first stepped foot into the dance room and has been nothing, but a role model for the team," coach Mo Marmesh said.
About the Contributor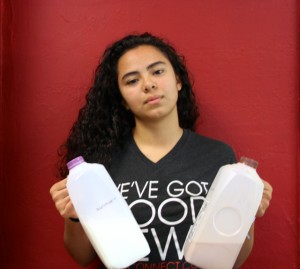 Kelsy Pacheco, Sports Editor
Kelsy Pacheco is a junior in the IB program at Coral Gables and cannot wait to see what this year awaits. She is happy to once again join the CavsConnect...