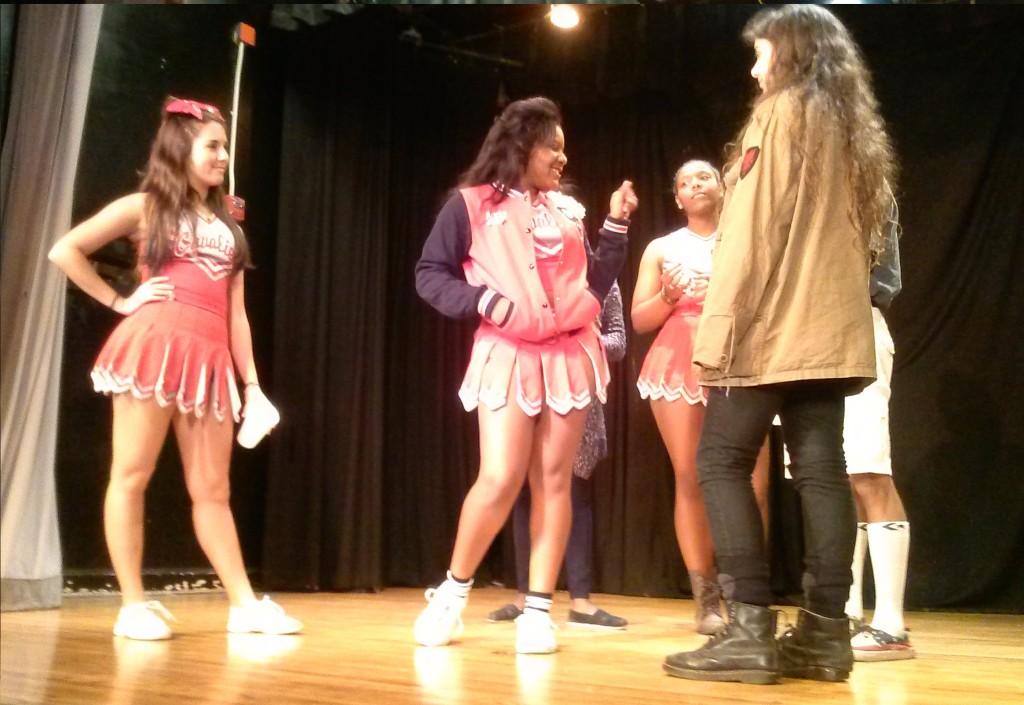 Camilo Bacca
On Tuesday January 28, 2014, the CGHS Troupe will be presenting the show Aliens vs. Cheerleaders. This comedic one act tells a story about alien invaders who come to invade earth, but encounter resistance with some butt-kicking cheerleaders. Troupe 0476 has been practicing intensely to perform , and it is encouraged to attend to show support to the very talented actors in the cast. The show will be premiering at 6:30 PM in the drama room, and will have a cost of five dollars.  
"The thespians will be putting on a production of Aliens Vs. Cheerleaders.  Its a comedy. Its a spoof. It is a lot of fun. We've got aliens. We've got cheerleaders. We've got cool kids. We've got nerdy kids. Its a wonderful time, and I think you would all really enjoy. Please come and see it," drama teacher, Mrs. Barrow said.
The show is all student-directed.  Senior Jeselle "Coffee"Ballesteros, who is also Drama Club president, successfully directed the production. Aided by Barrow, Jeselle managed to put on this show.
"Directing the play was tons of fun. I love my cast. They're all super funny and cooperative. Although we got of task here and there, getting back on the ball wasn't a problem. Directing wasn't at all what I expected. The show is very funny, cute, and very entertaining. I think the audience will really enjoy the show. It's really worth it," said Ballesteros.
It tells the story of evil aliens invaders who come to Earth to invade the planet. In the pursuit of total conquest, they encounter the cheerleaders who are not so willing to surrender their planet. It is humorous story filled with jokes, puns, and even a little romance. The actors are very proud of the result that they have been working towards since last year. Even members from the art club pitched in to build the set and props for the show.  The show suffered some minor setbacks, and was originally set for a earlier date, much to the relief of the cast who welcomed the opportunity to improve.  On Thursday 23, 2014, the cast completed its last successful dress rehearsal.  Now, after much rehearsing and practice, the show is ready for an audience.
Senior Keren Ferrales, who is playing a young teenage girl captured by the extraterrestrial marauders said "It's a really cool show and its very funny. The cast has worked very hard on it. The cast is just about ready to perform because it's been so long. We've been trying to get this off kicking and finally started. It has been delayed a while, just so we can feel stronger, but it's good to go. The director is really proud of it. I can't wait for the show!"
Please come out to support the CGHS Thespians! We hope they break a leg!