Award Recipients 2019-2020
Department Awards
Language Arts Award:

Daniella Berrospi

Mathematics Award:

Lia Sanchez-Ramirez

Science Award:

Yazmin Quevedo

Robert Schneider Social Studies Award:

Manuel Nuñez

DAR History Award:

Melanie Giquel 

Family & Consumer Science:

Gisela Casas

Vocational Education:

Maidany Perez

Fitness Education Award:

Nicolas Moyano

Business Technology Award:

Vyacheslav Lazurenko

BMIT Business Award:

Christian Garcia

ELL Department Award:

Liet Rodriguez

Exceptional Student Education Award:

Pablo Perez
Fine Arts Awards
Dance Award:

Chris Caceres

Arion Music Award:

Cody Kilcoyne

ET Cook Award:

Zack Sosa

Chorus Award:

Kerly Soto

Drama Award:

Jorge Valero

Visual Art Award:

Allyson Turino
Foreign Languages Awards
Harold Trip Memorial French Award:

Gregoire Winston

Kathe P. Wilson Memorial German Award:

Bernardo Andrade

Marguerite Reynolds Memorial Italian Award:

Kluivert Suquino

Richard Gray Spanish Award:

Diana Monteagudo

Spanish for Spanish Speakers Achievement Award:

Carolina Yero

Foreign Languages:

Carolina Aguilar
Quill & Scroll Awards
Yearbook Award:

Christopher Brazda

Newspaper Award:

Alexandra Torres

Literary Magazine Award:

Ana Rodriguez

CavsConnect Award:

Daniel Toll
Athletic Awards
Dave Lawrence Award:

Angelina Bonilla

Jack McClosky Award:

Dimitris Biamby

Outstanding Athlete Award (Male):

Colin Wilson

Outstanding Athlete Award (Female):

Natalie Puntonet

Scholar Athlete Award (Male):

Braulio Gonzalez

Scholar Athlete Award (Female):

Ayelen Escaurido
Freshman Awards
Freshman Bronze Scholar Award:

Marta Camps-Gonzalez

Freshman Silver Scholar Award:

Maria Cestero

Freshman

Gold Scholar Award:

Aniela Lopez

DIRIGO:

Ariadna Torras

Rookie of the Year:

William Hudson

Perseverance Award:

Alejandra Torruellas

You Make My Day:

Mia Cabrera

Principal's Freshman Award (Male):

Rafael Sans

Principal's Freshman Award (Female):

Isabella Morales

Freshman of Distinction (Male):

Parker D'Alemberte

Freshman of Distinction (Female):

Sofia Cruz
Sophomore Awards
Sophomore Bronze Scholar Award:

Olgamaria Estrada

Sophomore Silver Scholar Award:

Laura Delgado

Sophomore Gold Scholar Award:

Lenny Roque

DIRIGO:

Melanie Estrada & Nataly Leiva

Kiwanis Club Award:

Lauren Gregorio

Rising Star:

Joshua Johnson

Wellesley Club Award:

Jana Faour

Rick Gonzalez Cavalier Spirit Award:

Darren McQueen

You Make My Day:

Eva Trochu

Above and Beyond:

Jasming Senel

Principal's Sophomore Award (Male):

Jose Fernandez

Principal's Sophomore Award (Female):

Maia Berthier

Sophomore of Distinction (Male):

Julian Mesa

Sophomore of Distinction (Female):

Sabrina Bonavita
Junior Awards
Junior Bronze Scholar Award:

Alexandre Chevalier

Junior Silver Scholar Award:

Malika McKenney

Junior Gold Scholar Award:

Filippo Grassi

Harvard Award:

Aya Hamza

Smith Award:

Samantha Correa

University of Pennsylvania Award:

Nicolas Musa

Princeton Award:

Chloe Grant

Bryn Mawr Award:

Imgard Bonheur

Sewanee Award:

Stephanie Monroy

UVA Award:

Chase Bagnall-Koger

George Washington Award:

Irene Martinez

UNC Award:

Isabella Rodriguez

DIRIGO (Male):

Daniel Fernandez

DIRIGO (Female):

Sofia Rebull

You Make My Day Award:

Peter Kellogg

Cavalier Spirit:

Christian James

Student Activities Award:

Jeyra Rivero

Principal's Junior Award (Male):

Andres Arzola

Principal's Junior Award (Female):

Natalie Abrahantes

Junior of Distinction (Male):

Olbin Gil

Junior of Distinction (Female):

Sara Rabell
Senior Awards
Senior Bronze Scholar Award:

Luis Gonzalez

Senio

r Silver Scholar Award:

Joaquin Bierman

Senior Gold Scholar Award:

Braulio Gonzalez

You Make My Day:

Jimena Romero

American Legion Gold (Female):

Lianet Ariz

American Legion Gold (Male):

Chris Brazda

DIRIGO (Male):

Rodney Michel

DIRIGO (Female):

Ketty Dones

Cavalier Spirit:

Jesse Zambrano 

Joan Reitsma Community Education Award:

Bowen Murley

Above and Beyond:

Adriana Ramirez

Norm Anderson Leadership Award:

Ayelen Escaurido

City of Coral Gables Award:

Estelle Erwich 

Principal's Senior Award (Male):

William Fay

Principal's Senior Award (Female):

Adriana Meijaard

Paul Bell Excellence Award (Female):

Lia Sanchez-Ramirez

Paul Bell Excellence Award (Male):

Alexander Yagoda

Senior of Distinction (Male):

Daniel Toll 

Senior of Distinction (Female):

Juliana Bonavita
Summa Cum Laude
Braulio Gonzalez

Joaquin Bierman

Luis Gonzalez 

Manuel Nuñez

Julio Rego

Brianna Sarria

Kevin Monjarrez

Ana Capiro

Christopher Brazda

Samantha Machin

Estelle Erwich

Mindy Miranda

Johanna Ramos

Allyson Turino

Aleksander Aguilar

Daniela Berrospi

Lia Sanchez-Ramirez

Melanie Giquel

Kylie Coulombe

Camille Eynard

Ana Rodriguez

Jonathan Mesa

Alexander Yagoda

Isabel Jaen

Ellie Morris

Jonathan Rodriguez

Leo Ramsey-Watson

Bowen Murley

Yazmin Quevedo

Dayanna Ortega

Sofia Alfonso

Kluivert Suquino

Sophia Martinez

Katherine Saladrigas

Daniel Toll

Chris Bobadilla

Adriana Meijaard

Mercedes Debesa
Congratulations to all students who received an award. Your dedication, loyalty, hard work, and diligence do not go unnoticed.
Always Remember, Go Cavs!
About the Writer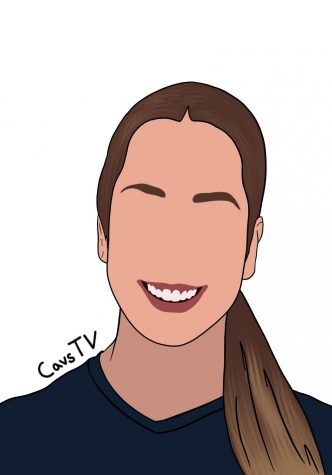 Natalie Abrahantes, CavsTV Co-Editor-in-Chief
Natalie Abrahantes is a senior in the International Baccalaureate (IB) program at Coral Gables Senior High. In her last year at Gables, she is extremely...