Athlete of the Week: Nicolas Saliamonas
Hang on for a minute...we're trying to find some more stories you might like.
For the past few years, Nicolas Saliamonas has always tried to support his eldest sister by attending her badminton games. When he first stepped into Gables as a freshman, Saliamonas decided to follow in his sister's footsteps and join the school badminton team, as he saw when he was growing up that it was a unique and exciting sport to play. On the week of March 18 through March 25,  Saliamonas received Athlete of the Week honors for finishing second overall in the men's singles division in Friday's Youth Fair Badminton Invitational.
Saliamonas is constantly inspired and motivated to exceed his expectations because of his coach. This gives him the motivation to keep working for his goal in addition to enjoying the game. In order to manage his time wisely, Saliamonas tries to stay organized and focused in school so he will not fall behind on his academics. Recently, Saliamonas came from Sweden, since he was attending a gap year. Throughout this time, he was part of the drama and dance club.  When he is not focused on school he likes to spend his time playing Fortnite with his friends.
Saliamonas to this day, cherishes the time that the team decide to go out and eat at Big Cheese and Wall's ice cream after a long day at districts. The day was full of laughter and accomplishments between his teammates and him. This made Saliamonas realize the feeling of what being in a team really feels like and is something he was always hold dear to him.
Q:When and what inspired you to play badminton?
A: My eldest sister, Gabrielle Saliamonas, joined the Badminton team 3 years ago  which really inspired me because I saw her play a couple of games and it seemed really fun and like a sport that anyone can join.
Q:Are you involved in any other extracurricular activities?
A: I was just in Sweden doing a gap year, so I was doing the dance club and drama club, but last year when I was here the full year I was in Best Buddies.
Q:What do you do when you're not focused on your academics and badminton?
A: I usually play Fortnite.
Q:What do you love most about being part of the badminton team?
A: We have a really good coach known as Coach Campagna also known as Coach Pepe Caliente and he really inspires me because he teaches me the way to play and he has really good motivation and he keeps me wanting to play the game and win more.
Q:How do you balance athletics with academics ?
A: Badminton practice is not that often so its not that difficult and since I'm a sophomore, school isn't that difficult yet so I just try to stay focused and organized in school so I have time to get home and start doing my homework right away.
Q:How does it feel to be chosen as athlete of the week?
A: Its pretty exciting because I wouldn't expect a badminton player to be chosen as Athlete of the Week.
Q:What is one memory that you've experience with your team that you still cherish?
A: Last year after districts we went to Walls Ice cream to do a ice cream eating contest and before that we went to Big Cheese to eat pizza and we were all messing around and had a ice cream challenge where we where we tried to eat 20 flavors and 20 toppings. It it was really fun because we were all together laughing.
Q:What do you hope to accomplish this season?
A: My goal is to hopefully get first or second in  districts so I can go to GMAC and also get 1st or 2nd in GMAC.
When Saliamonas realized he received Athlete of the Week, he was really stunned since Badminton is such a unique type of sport. Saliamonas hopes to make it to districts with his teammates and receive first or second order to make it to GMAC. Make sure to congratulate Nicolas Saliamonas and the badminton team for their hard work and dedication.

About the Contributors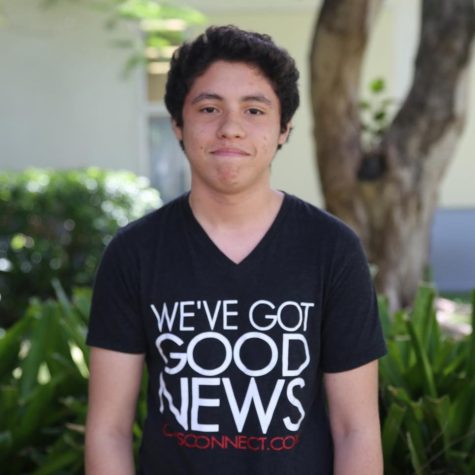 Miguel Lemus, Staff Writer
Miguel Lemus is a junior in the International Baccalaureate (IB) program at Coral Gables High School.  Lemus is excited to see what the school year will bring. He was inspired to become part of the Cavsconnect family his sophomore year when all he wanted was to come out of his comfort zone and become more involved in the Cavalier atmosphere. Lemus enjoys writing and hopes that as a staff writer he can polish his journalistic skills. He is really excited to once again be part of the CavsConnect team and believes that it will give him the opportunity to gain new friendships that he will cherish forever. In his free time, Lemus enjoys photography and volunteering at the Coral Gables Museum. Although some may view Miguel as reserved, when you get to know him he is very friendly and amusing to be around. With only two years of high school left, he hopes to make his junior year  one of his most memorable years yet.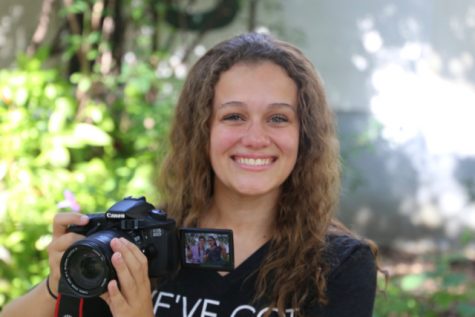 Cameryn Padron, Multimedia Editor
Cameryn Padron is a senior in the IB program. Cameryn is starting her fourth year working for Cavsconnect and her second year as the new Multimedia editor. Outside Cavsconnect, Cameryn has been captain of the junior varsity volleyball team and apart of the Varsity Volleyball team. She loves to take pictures, hang out, and watch movies. Cameryn is a very creative and happy girl. Academically, her favorite subjects are Chemistry and Math. She is a part of four clubs: NHS, IBHS, Gables Earth, and NSHS.
Cameryn would love to study to become a dentist after she graduates. She has one older brother in college. She lives with her mom, dad and three small dogs. Cameryn loves her photography squad and enjoys covering events with all of them. She would love to make new friends and acquaintances over the course of her journey at high school. Cameryn is ready to continue her adventure as a photographer and learn the ways of videography. One day she will pass on her role to someone even greater. She hopes to keep Cavsconnect great again.