My strange addiction: highlights edition
Everyone has their own little addictions that bring people joy. Some are completely normal, while others, not so normal. highlights staff members share some of their quirky addictions
October 5, 2020
The members of the highlights staff have a wide variety of "strange addictions." From former boy bands to burnt foods, highlights has it all. Get to know the staff and their out-of-the-ordinary obsessions.  
---
Cristel Cantarero – One Direction
One Direction was one of the most influential and popular boy bands of the 2010s. Whether their music seems enjoyable or not, it is safe to say most members of Generation Z know at least one of their songs. Sophomore staff writer Cristel Cantarero, a One Direction superfan, talks about her over the top 1D obsession.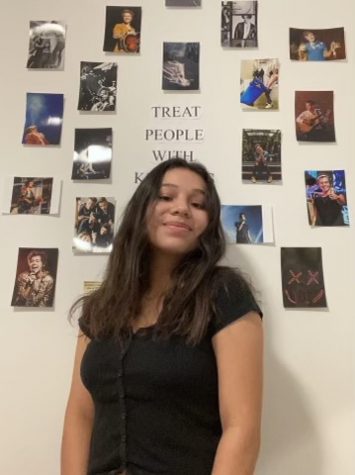 "My obsession started when I saw them perform 'What Makes You Beautiful' on iCarly, [a popular show that appeared on Nickelodeon]" Cantarero said. 
She has been a fan for nearly a decade. Cantarero's admiration from the group stems from their ability to do math, sing and dance. People have expressed concern for her addiction, as her family and friends worry she invests too much time researching the band.
"I most definitely could not live without my obsession with One Direction," Cantarero said. 
Unfortunately to everyone's dismay, One Direction broke up in 2015 after five years of being in the band, shortly after Zayn Maylik left the group. Many One Direction fans were feeling quite directionless after their breakup, but on the contrary Cristel has a positive outlook on their split. 
"It's an 18 month break in my eyes, so I'm at one," Cantarero said.    
Arianna Peña –  80's Style
The 80s take a human form in senior and highlights editor of The Scene Arianna Pena with an electric 80's wardrobe and passion for punk rock music.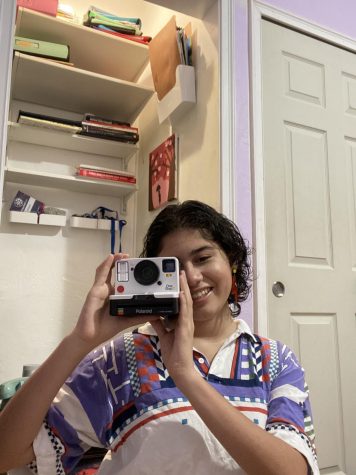 Peña is very obsessed with the 80s, but she wouldn't call this an unhealthy obsession. She spends hundreds of dollars annually on clothes, vinyls and posters, just anything that reminds her of the 80s. 
 "The neon colors, the movies, the music, the movies, the threat of nuclear war, the fashion I – just love it!," Peña said.
Peña's favorite part of the 80s are the movies, including classics such as 16 Candles and The Breakfast Club, which she claims are so corny it's impossible not to love them. Since childhood, the decade's culture has been a major part of her identity, as her parents would always play 80's music, rather than the then popular 2000's music. 
"I think it would be so cool to just avoid everything that is going on now and see what life was like back then," Peña said. 
María -José Cestero – Chaptstick
Chapstick, popularized by the VSCO girl trend in summer 2019, is staff writer María José Cestero's strange addiction. Although having chapped lips is something most avoid, Cestero goes above and beyond to ensure she is never caught in this predicament. She has an expansive collection, with many different flavors and brands. One of her favorite brands is Carmex, however she enjoys most flavors of Chapstick.  Cestero applies the product upwards of 25 times a day and always carries one in hand. 
"I hate the feeling of having dry lips, I could never live without Chapstick," Cestero added.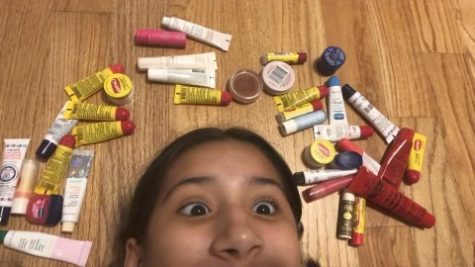 Although Cestero is obsessed with Chapstick because she loves the feeling of moisturized and healthy lips, many have expressed their concerns for her obsession, considering the amount of product she has and the amount of money she spends on them.
"I have 30 Chapsticks so far and will probably get more in the future," Cestero said.
Cestero's obsession with Chapstick is a bit extreme as she has stated "If I could marry Chapstick, I would." At the very least, her addiction is slightly healthy, considering that she will always have healthy and moisturized lips. 
Grace Rodriguez – Roblox
Online video games are a popular way to stay entertained while maintaining social distancing. With the coronavirus outbreak, many teens have taken to video games to play with their friends and have some fun during quarantine. highlights social media manager Grace Rodriguez's favorite video game, in particular, is Roblox.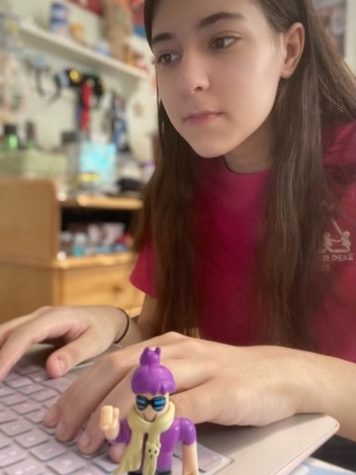 Although other games have risen in popularity due to current circumstances, such as Minecraft, Fortnite and Call of duty, Rodriguez chooses to play Roblox above all other games. Her obsession with Roblox started a few summers ago when she was bored and thought it would be something fun to try out. 
"I saw a lot of memes of it and wanted to see what it was about," Rodriguez said. 
Rodriguez devotes hours towards the craft as she uses it to de-stress from academic and social pressures. In fact, she once spent $50 to buy in-game currency and stayed up all night playing. Rodriguez calls her obsession unhealthy, it's all she thinks about during the day. She usually plays out of boredom and spends hours upon hours playing, sometimes playing from the moment she gets up until she falls asleep. 
"I don't even know if I'd be able to survive without playing Roblox for a week, it has become my only personality trait," Rodriguez said. 
Emilys Gil – Online Shopping
As quarantine started and people were cooped up in their homes, online shopping became a solution to traditional retail shopping. Senior staff writer Emilys Gil developed an addiction for purchasing products off of Amazon during her spare time.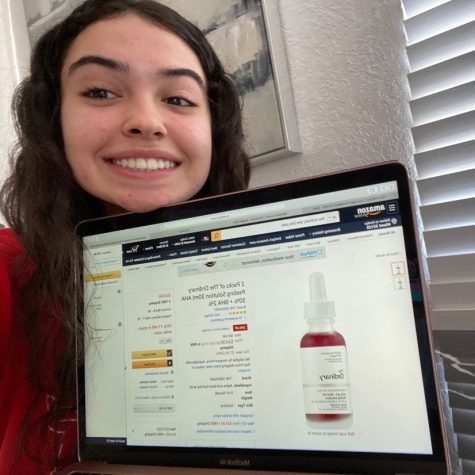 In addition to relieving the anxiety Gil has of going to the store and researching for clothes in the midst of a pandemic, it is also done from the comfort of her own home. "I do use the majority of things I buy because I tend to be conscious of where I spend my money," Gil said. 
However, she has received criticism for her addiction, particularly from her mother. 
"I don't think that I can go without online shopping, especially because we live in such a technology obsessed world and it's so much more convenient for someone who deals with anxiety —it helps me avoid those uncomfortable situations," Gil said. 
If one thing is clear, is that online shopping is a viable solution for Gil that takes the stress out of shopping and makes it a much more pleasurable and rewarding experience. 
Gregoire Winston – Burnt Popcorn 
Food addictions are a pretty common addiction. Being obsessed with foods such as bread or fruits isn't quite odd, but highlights Co-Online Editor Gregoire Winston has a particularly strange addiction: burnt popcorn. 
Popcorn by itself is an excellent snack that can be paired with almost anything, however, Winston elevates his popcorn by burning it.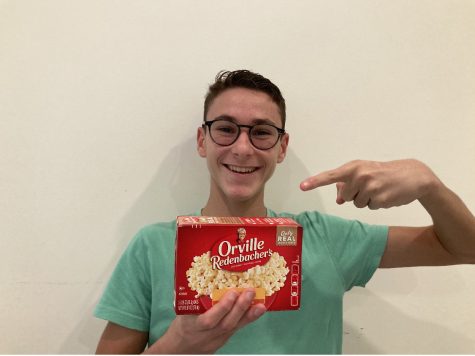 "Having burnt popcorn compared to traditional popcorn allows you to get the smokiness you would not originally get," said Winston. 
Winston claims his addiction stemmed from his family, since both his brother and father enjoy eating burnt and crispy food.
"I like to eat crispy food, it's a pretty unique texture and I really enjoy getting that extra flavor in meals," Winston added. 
His burnt popcorn addiction is something he likes to keep private, since it is quite an uncommon. However, it is frequently brought up among the highlights staff, since Winston typically eats the most burnt popcorn in room 9220. 
"It is not something that frequently comes up in conversations, I keep it to myself the majority of the time," Winston said.