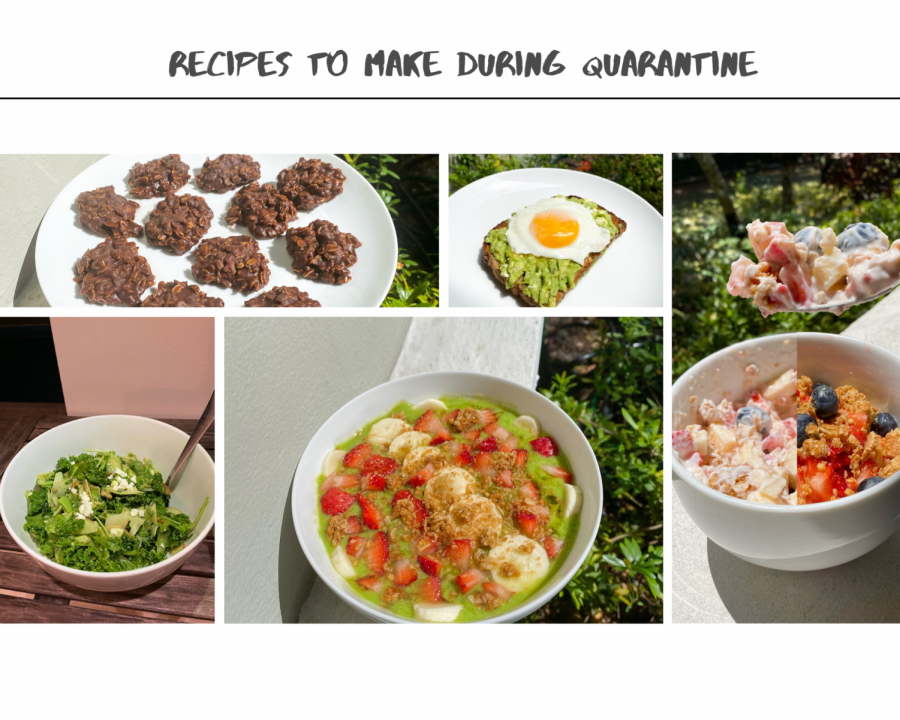 highlights quarantine kitchen
May 1, 2020
Looking for some quick and (mostly) healthy treats during quarantine? Featured below are a few favorite recipes, which are sure to satisfy between meals or late night cravings. No need for special equipment or skills to complete these classic yet innovative dishes. Ranging from  ultra healthy foods to familiar comfort foods here there is a dish for everyone.
Kale salad
Ingredients: 
1 cup of kale

Barbara Borja/ highlights

½ an apple 

½ an avocado 

2 teaspoons of olive oil 

1 lemon

½ teaspoon of salt 

3 tablespoons of feta cheese 

2 teaspoons walnuts

½ a tomato

¼ cup of carrot shavings
Instructions:
In a serving bowl, add the one cup kale or greens of choice.

Cut avocado (cubed), cut apple into thin slices, and place them in the bowl.

Add other toppings of choice such as tomatoes or carrot shaving (optional) . 

Add a drizzle of  olive oil, salt and squeezed lemon as desired to the bowl. 

Mix ingredients together to combine. 

Garnish with feta cheese and walnuts.
Avocado toast
Ingredients: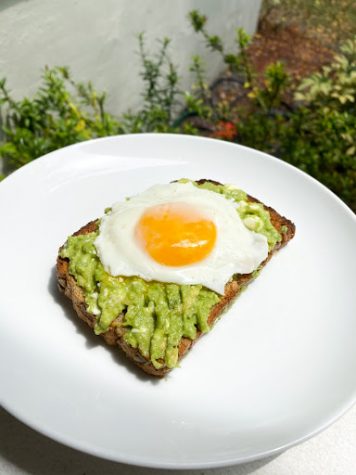 1 slice of bread   

½ of an avocado 

2 teaspoons of olive oil 

Half a lemon

Salt + Paper 

2 tablespoons of feta cheese 

Paprika 

Garlic powder

1 egg
Instructions: 
Begin by toasting your bread of choice.

In the meantime, take  half of  an avocado and mash it in a bowl with a fork.

 Season the mashed avocado with olive oil, lemon, salt, pepper, paprika and  garlic powder.

Once the toast is ready, spread avocado mixture evenly onto the toast.

  Place olive oil in a small pan, on medium heat. Then crack an egg on to the heated pan, adding a pinch of salt to season. 

Allow the egg to cook on for about 2 to 3 minutes. 

Remove egg from pan and place on top of the previously prepared toast.
Yogurt and fruit bowl
Ingredients: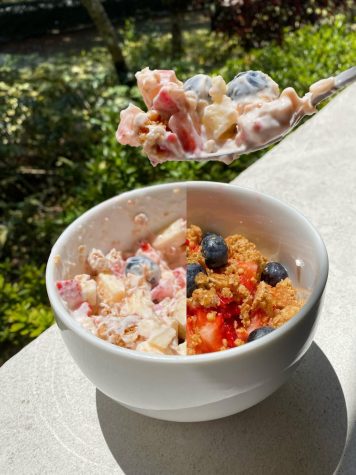 1 cup of vanilla greek yogurt 

Apples  

Strawberries  

Blueberries 

Mango 

Banana

Granola or Nature Valley bar

Honey

1 teaspoon of any  fruit jelly
Instructions: 
Place the cup of  yogurt into a bowl.  

Cut your selection of fruits (apples, strawberries, blueberries, mango, and bananas) into small pieces and place on top of yogurt. 

Add granola or use crushed Nature Valley bars for crunch.

Drizzle honey or fruit jelly for extra flavor.
No-Bake Cookies
Ingredients: 
4 cups of oats 

Barbara Borja/ highlights

½ cup of butter 

½ cup of milk 

1 cup sugar

⅔ cup of peanut butter

¼ cocoa powder or ½ chocolate chips 

1 ½ teaspoon vanilla extract
Instructions 
Combine butter, milk, sugar, and cocoa powder in a medium-sized saucepan over low heat.

Stir ingredients until butter has melted. 

Increase heat to medium, and while stirring constantly, bring to a boil.

Add peanut butter and vanilla extract, stirring until peanut butter is completely combined and melted into the mixture.

Add oats and mix until fully coated in chocolate.

Add spoonfuls of the mixture to a parchment paper lined cookie sheet 

Allow to cool and harden before serving
Smoothie Bowls
Ingredients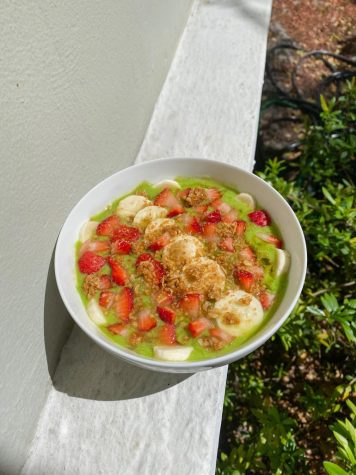 ½ cup of frozen fruit

½ cup of  Fresh fruit 

½ cup of Kale  

1 cup of Orange juice

2 tablespoons of peanut butter 

2 tablespoons of Greek yogurt 

¼ cup of Ice 

Granola 

Honey 
Instructions
In a blender, add frozen fruits, fresh fruits, kale, orange juice, peanut butter, greek yogurt, and ice. 

Blend until combined and when a thick consistency has been created. (Do not over blend)

Pour out smoothie base into a bowl

Add sliced fresh fruits of choice (ex: bananas, strawberries, blueberries, apples…) on top of the base.

Garnish with granola and drizzled honey to taste.