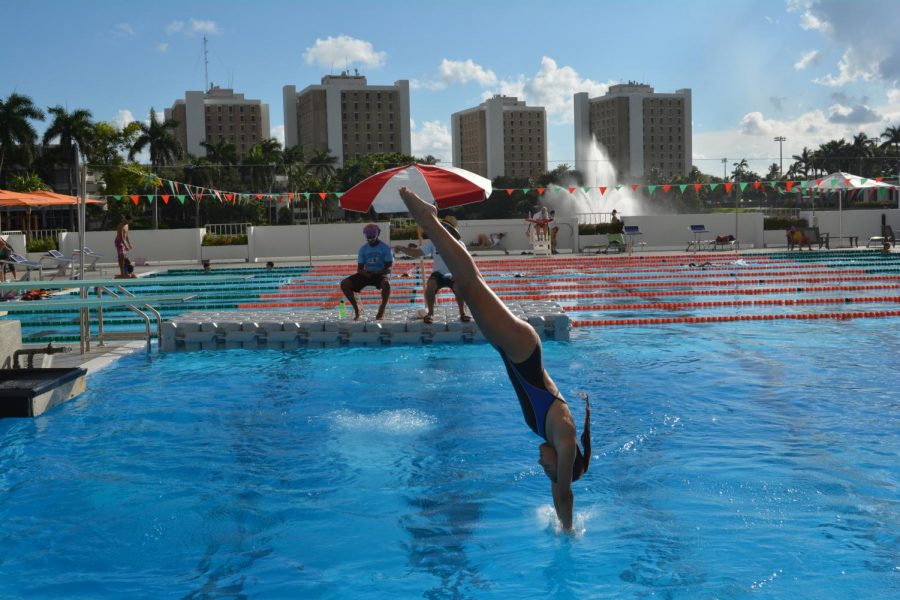 Cristina Abello: Diving into Success
September 14, 2018
Although she may seem like an average freshman, Cristina Abello dedicates her time to a unique and distinct sport: diving. While it is still not mainstream, diving has developed into one of the most attractive sports in the world.
Until two years ago, Abello would have never imagined that one day she would become one of the best divers in her age group. At twelve years of age, she had already proven to be a great athlete, excelling in soccer, triathlon, swimming and gymnastics.
"I didn't even know diving was an actual sport until two years ago," Abello said. "I always thought it was a hobby people do for fun or that people were simply referring to scuba diving."
However, Abello's sporting lifestyle completely changed after she suffered from a serious elbow injury. Because she was no longer able to perform in any rigorous sports, Abello was on the lookout for a new athletic direction.
"I broke and dislocated my elbow while doing gymnastics on a trampoline. After the injury, I spent a year in physical therapy," Abello said. "I also had many limitations of the movements I could make with my arm, causing me to stop all sports including gymnastics."
After having recovered, Abello's friend introduced her to diving. Soon after that, she started practicing at the University of Miami.
"At first, I thought diving was super cool," Abello said. "But over time, I realized it would require a lot of training and commitment if I wanted to become a good diver."
On Mondays and Wednesdays, Abello practices from 4:30 to 6:30 p.m. at the University of Miami pool. Usually, she starts her workouts with dryland, in which she does ab and leg exercises for thirty minutes to an hour. After finishing that, she practices her dives at the pool.
Her favorite part of the workout is the trampoline, where she gets to practice a variety of different dives and flips in the air. She also loves perfecting her dives on the platform boards, located at the five-meter height, the seven-meter height, and the ten-meter height.
Through her years of diving, Abello has looked up to one person: her former coach Wally Layland. An ex-diver at the University of Miami (UM), Layland has three All-American titles at the National Collegiate Athletic Association Championships. From the start, Layland coached Abello, and they soon grew very close. However, after graduating from UM in May, Layland moved to Fort Lauderdale, where she plans to get her yoga license. Nevertheless, they have kept contact through social media and Abello hopes that she will visit Miami in the future.
"For me, Wally Lyndal is an incredible diver who has been through a lot," Abello said. "She's always reached her dreams and has showed me that anything is possible as long as you try."
While she is not shooting for the Olympics, Abello hopes to continue diving throughout high school and college. She has already placed third in her age group District Championship last year, and aims to bring in more trophies and medals in the future.
"In the end, I dive because it's fun while helping me exercise," says Abello. "I want to stay committed to the sport so that I could improve myself and get better in competitions. I hope to continue diving in college."