Issue 1: Breadth vs. Depth
In all stages of educational development, students can choose between pursuing a specific focus or broadening oneself over several subject areas. In this debate between specialization and generalization, one will find that there are merits to both.
February 12, 2018
Leila Iskandarani & Alejandra Orozco / highlights
Forty years ago, Theodore Schultz, the former chair of economics at the University of Chicago, argued that higher education gave students the chance to discover their talents. In the modern curriculum, students are caught between two paths of opportunity. Presented with the option to either demonstrate complete devotion towards a field of study or choose a broad supply of knowledge, high school students are faced with a tough decision in advancing their education. In comes the conundrum where students must choose between generalizing and specializing. They may opt for a breadth of knowledge spanning over several subjects, thus making them a generalist, or a depth of knowledge in one restricted field, making them a specialist.
Students may find themselves unsure of which path to pursue. Thankfully, secondary schooling does offer some aid in this deliberation in the form of core classes with a wide variety of electives, helping with dents make a more informed decision on a future study or profession and improving match quality between a student's interest and specialization. However, the debate between specialist versus generalist hardly ends after high school. The debacle persists past entry into the professional world. It is a crucial decision to make throughout several points in a student's lifetime, and there is no "wrong" choice. Both paths have their merits and both offer equal opportunity for success.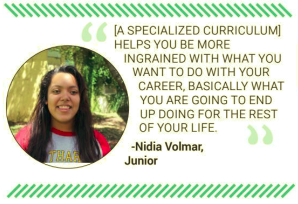 Generalization is something to strive for before trying to settle down in one field. The notion that students must "broaden their horizons" perfectly encompasses the idea of generalism in a high school environment.
In a study done by the National Bureau of Economic Research, researchers analyzed the effect of early generalization and early specialization on students.  Two countries with vastly different education systems— Scotland, where students are required to study several different fields during the first two years of higher education, and England, where students begin higher education in a specified course of study— were studied.
The researchers found that Scotland's approach brought about better match quality and fewer education mismatches. The difference in field switches was also 6 percent less in Scotland than in England. In this sense, secondary school requirements like core classes and mandatory electives can be beneficial to students, as they provide students a broader scope of knowledge, thus decreasing the chances of future career changes.
From a generalist standpoint, a student's interest in his or her field of study is imperative to their academic and professional success. According to a study conducted by University of Wisconsin and Vanderbilt University professors, interest in a topic enhances learning, which leads to better performance and achievement by promoting attention, recall, task persistence and effort.

Student interest is also important in its own right, as students have an incentive to learn when they enjoy what they study.
This is why generalization is a great boon for certain undecided students—  it allows them to touch upon various fields. This often improves match quality, their course selection and the trajectory of their education after high school.
Generalists also have a diverse set of advantages in the professional world. For one, generalists tend to have more transferable skills, which prove to be useful in periods of technological change. For example, in start-up companies, generalists tend to be better because it is a job that requires more flexibility and creativity. Furthermore, according to a University of Pennsylvania professor Phillip Tetlock, generalists are better at predicting the outcome of issues, even outside their specific area of expertise. They also tend to be the leaders and managers within organizations, as they are able to aid and understand an entire team. Their broad array of knowledge also makes them indispensable to start-up companies with limited staff.
The main drawback of becoming a generalist is the risk factor involved, sacrificing high starting wages for occupational mobility. Generalists also outlive their usefulness as a company matures and acquires experts in every necessary field, thus weeding out the need for flexible employees.
For those who develop a specific interest early on, the benefits of specialization are magnified. Students who choose a career path quickly have more time to focus on a single subject, allowing them to acquire field-specific knowledge sooner.
It is this skill acquisition that makes the early specialist stand out to universities and employers in a crowd of similar individuals. Many universities have implemented "Individual Major" programs in an attempt to tailor students' coursework to a specific topic of study. These programs have achieved much success in centralizing each student's focus, highlighting their individual fortés.
The most notable advantage to specialization is higher pay. According to the United States Department of Labor, out of U.S.'s 20 top paying jobs, 17 of them are specialist positions. Companies also tend to most rely on specialists' expertise, giving them more negotiating power and value to the company as a whole. In an age of constant employee reliance, many professions also prefer specialists because of their technical knowledge.
Despite the benefits, specialists also suffer from career inflexibility, confinement to a job title and intense competition, as there are countless individuals competing for the same position. Another notorious drawback of specialists is the poor match quality due to their lack of knowledge in other subjects.
Specialization should not be an overly arduous task for students, though it can easily grow into a difficult process. This is largely due to the pressure imposed on students to pick a career path sooner rather than later. In their quest, for quick, in-depth knowledge, some students dive prematurely into a narrow curriculum, limiting their future skill set, intellectual curiosity and, according to the British Psychological Society, career mobility. The poor match quality between a student's interest and his or her field of study also increases the likelihood of an education mismatch, where students' future occupations will not reflect their education.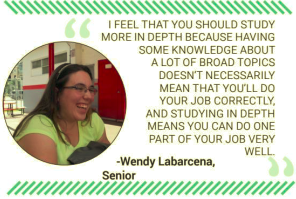 Should they have the interest, students also have the option of pursuing a vocational education. They may aspire to achieve success in specific occupations such as culinary arts, justice and electrical engineering. Vocational schooling also allows students to bypass prerequisites and focus purely on their chosen trade. This extra time afforded to students would theoretically ensure success in their chosen field. The extra time and focus is valued so highly that there are even vocational secondary schools, focused on helping students assimilate into the real world as rapidly as possible. It is because of the unusual nature of vocational schooling however, that it is pivotal that students find a balance between pursuing their career and acquiring a varied base knowledge.
Because several students are pressured into specializations early, those who choose a vocational career unsure of their interest will most likely endure a career switch. Unfortunately for them, career switching is not a viable option due to their limited skill set. The Stanford Rural Education Action Program (REAP) has studied vocational schooling in China and has confirmed the risk associated with this method of education. Despite the increase in funding of vocational schools by about $21 billion annually, students who opted for vocational schooling were more likely to drop out compared to students who opted for a more traditional schooling. It is crucial, especially for the sake of students looking into vocational careers, that secondary school systems find a balance between specialization and generalization.
Balance is the basis for a successful education as well as career choice. Especially in the high school scenario, where students are not given much opportunity to choose their schedules and only get such freedom with their electives. Even though branching out in high school is important, students should not expect their diverse skillset to be of long-term use.
It is important that students stay within the realm of their interests as well, as this is where they will find the most success. A student's knowledge on carpentry will not aid them in a computer science field.  It is the continued interest in a small variety of subjects that drives people to do more.
Whether in high school, college, or in the professional world, there are merits to both generalists and specialists. Both groups are not mutually exclusive, and it is very much possible to enjoy the benefits of both. Students should not necessarily devote themselves to one track, rather it is crucial to use insight of both. Even above the all-knowing generalist and the technically savvy specialist, it is the balanced individual— the specialized generalist or the generalized specialist— who flourishes, walking the tightrope between breadth and depth.