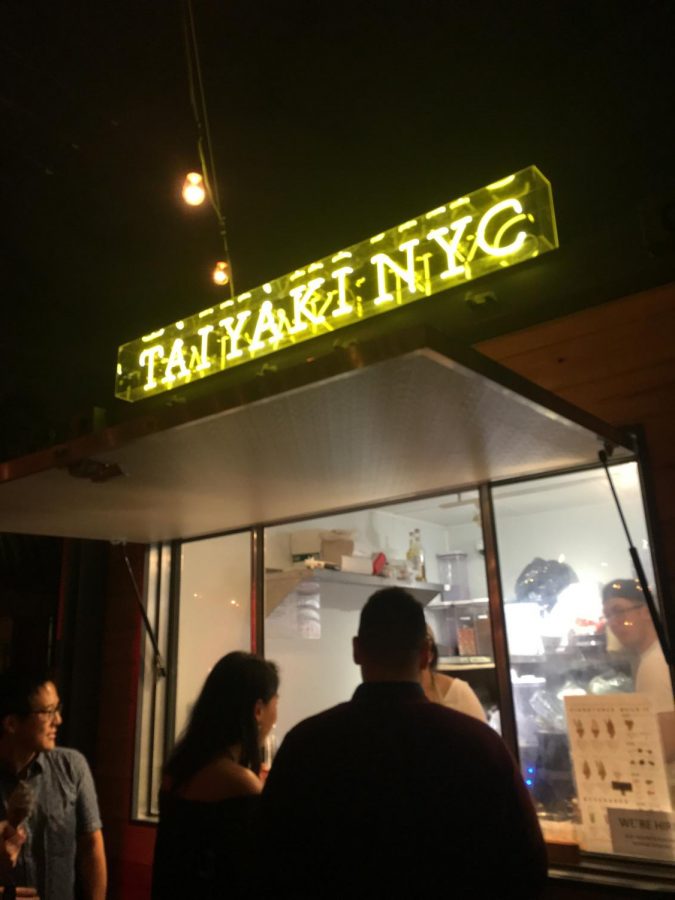 Alexandra Torres / highlights
From Japan to New York to Miami, taiyaki, or fish-shaped waffle cones that have a cake-like consistency, have been served in multiple locations around the world. These ice cream cones are popular in Japan, and have recently made their way across the Pacific to the United States in the Japanese restaurant Taiyaki NYC for a little over a year now.
On Dec. 16 of last year, Taiyaki NYC made its debut in Miami, opening a location at 143 NW 23rd Street and serving the same traditional ice cream cones that have been seen all over NYC and social media alike. The trendy and culturally immersed restaurant sits in a quaint patio in the heart of Wynwood, surrounded by six other Asian restaurants that together form a recently opened Asian marketplace called 1-800 Lucky.
Traditional Japanese taiyaki are hollowed out cakes in the form of a fish and are usually filled with chocolate or red bean paste, so adding the ice cream was something Taiyaki NYC came up with for an added twist.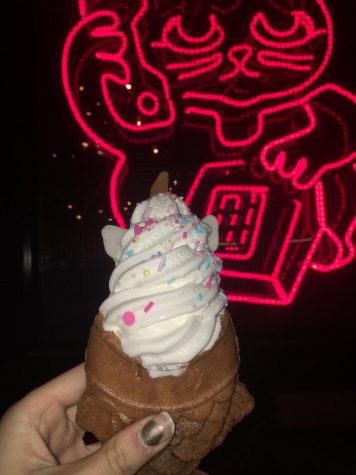 Taiyaki NYC's iconic cones are filled with sweetened red bean paste and are served with all sorts of soft-serve ice cream flavors, from vanilla and chocolate to matcha and black sesame. They offer a variety of signature ice creams such as "The Classic," a vanilla ice cream taiyaki cone drizzled with chocolate sauce topped with crushed oreos and a wafer stick, and the "Matcha Better," a matcha ice cream cone drizzled with strawberry sauce topped with matcha powder and mochi on a stick. They also offer their customers the option to build their own ice cream cone as well as the option of getting an ice cream cup instead of a taiyaki cone. Additionally, Taiyaki NYC caters to the vegan crowd with a dairy-free taro slush that is served in a signature unicorn floatie and topped with vegan whipped cream and cotton candy sprinkles.
Taiyaki NYC is open 7 days a week from 3 p.m. to 11 p.m., with the exception of weekends when they extend their hours to 1 a.m. Their prices range from five to ten dollars, with their cheapest item being a cup of ice cream, and their most expensive, the taro slush in the optional unicorn floatie.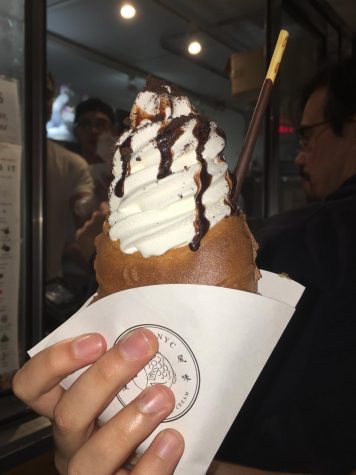 Although the NYC location is still much more popular, the Wynwood location is quickly catching up, with hour-long lines that wrap around the block and hundreds of pictures of fish-shaped ice cream cones all over social media. Despite the multitude of people waiting to get their ice cream, Taiyaki NYC bakes their cones fresh for each new order.  
According to employee Kelvin Loke, the Wynwood location's most popular desserts are the "Straight Out of Japan," a matcha and black sesame ice cream swirl topped with a mochi and a wafer stick, and "The Unicorn," a signature ice cream that can be ordered in any of the five flavors and is topped with sprinkles and a unicorn horn and ears.  
"I love how it's so unique; definitely like nothing I've ever seen before in Miami," freshman Sara Rabell said.  "When I traveled to Japan, I saw taiyaki being sold on every street corner, but this is the first time I ever saw it served with ice cream, and it goes together perfectly."
With their five different and unique ice cream flavors and dozens of toppings straight from Japan, Taiyaki NYC offers a sweet twist to the classic Japanese delicacy, delighting ice cream lovers all over the world.