Coral Gables Sues Facebook and Instagram for Information on Critic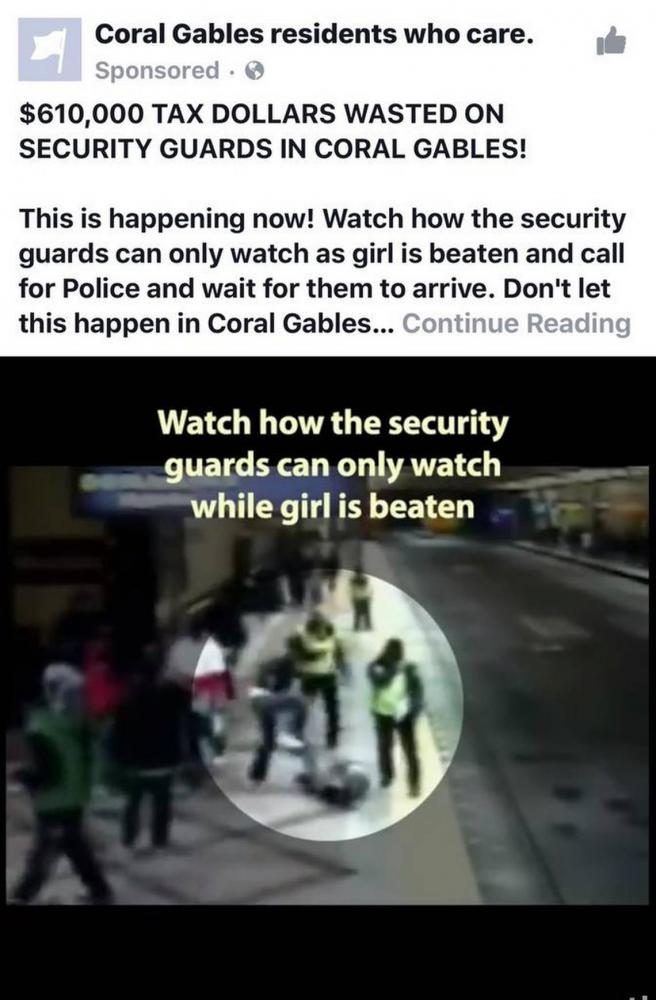 Dilan Denham, highlights contributor
August 29, 2017
In May, an anonymous Gables critic posted a video of a girl getting beaten up and stomped on by another girl while three security guards watched without intervening.  Shortly after, an investigation was underway to find out what happened. The anonymous accounts, called "Coral Gables Residents Who Care" on Instagram and Facebook, posted a video captioned: "$610,000 tax dollars wasted on security guards in Coral Gables." Many People were upset due to the fact that the city's lengthy recruitment program is a tedious process, resulting in a lack of policemen. Security guards were hired during the 2016 elections due to recent spikes in carjackings to compensate for the shortage of policemen. Yet the number of unfilled policemen spots has only gone down and it is now reported to have 17 unfilled policeman spots, meaning the city is in need of trained policeman with experience rather than untrained security guards. Not too long after the video was posted, investigations uncovered that the incident happened seven years ago in Seattle and was nowhere near related to the city of Coral Gables.
People from the city were outraged and a lawsuit against Facebook and Instagram was quickly put in action by the city's attorney's office. The city wanted to find out who posted the false accusations about Coral Gables as well as their address. The anonymous poster who was trying to defame the city through slander is also thought to be the suspect for sending emails on this same subject. The emails directed to many of the city's residents urged them to  complain about the city's security guard and the waste of their tax money. The official who sent the lawsuit; city attorney Miriam Ramosis, is also suing the publisher for using the city's logo without authorization. The cease-and-desist letters that were sent to Facebook and Instagram threatened a $500 fine per day until they remove the post. Not too long after the cease and desist letters were sent, the posts where deleted by the social media services. Facebook and Instagram did not get fined due to the quick deletion of the posts off their platforms.
"The city is very concerned… about any ad that makes a false or misleading depiction or indication that something happened in Coral Gables that didn't," City Attorney Craig Leen said.
Though there have been no recent developments on the lawsuit since then, a Miami-Dade judge has given Facebook and Instagram until September to give a response back to the complaint.