Exceptional Field Trips for Exceptional Students
With a student body of nearly 3,500 students, Coral Gables Senior High is made up of a diverse group of students. Having students from different social, economic and cultural backgrounds, Gables makes sure to welcome all of its Cavaliers.
One of the many ways the school does this is through its Exceptional Student Education (ESE) program. These services are designed to help students with disabilities and special needs on their journey to becoming mature adults by the time they graduate from Coral Gables Senior High.
In this school, the Exceptional Student Education department is run by 17 staff members, including Ms. D'alemberte and Ms. Herrera.
Mrs. Feeney, Mrs. Pooler, and Mrs. Brown, however, are the teachers in charge of the field trips that the students in this program get to participate in. These faculty members take the students in the program to public places where they can practice social skills and learn how to selflessly function in the real world.

"
It is a really great program and I think the field trips are an awesome way to help the kids"
— Freshman Massimo Aguila
On an average field trip, students will take a trip to popular shopping locations like Walmart, Dadeland Mall, or the Dollar Tree store. They are encouraged to bring lists of household items that they might need and go shopping as they explore their environment. Through specially designed exercises, they learn how to be responsible and independent.
By doing this, the kids practice their decision-making skills, doing things such as choosing between quality and cost or devising how much money they can spend on the things they need in order to save enough cash to afford what they want. The kids usually have one hour to complete their tasks. Afterward, they are allowed to have thirty minutes to relax and enjoy the experience, while still honing their communication and collaborative skills.
"I think it is amazing that they get to go out and develop in the world with the company of their teachers," junior Nicolas Cruz said.
Once their leisure time is over, the students and teachers stop to eat lunch. They bring meals from home or spend the money they previously saved to buy a meal from their location, which is another way fiscal accountability is instilled in the pupils. After this, both the kids and the adults take the bus back to Gables and review the lessons they learned.
There is a lot of emphasis placed on Community-Based Instructions, which are assignments related to the field trip that are devised as a way to keep track of progress and record the concepts students are trained to understand for future use. For example, during a field trip to Target superstore, students would compare brands of items like water, chips, and cereal to evaluate which is the best deal and write their observations down in their journals.
"For Community-Based Instructions, we leave the school around 9:30 in the morning and we return at 1:00 in the afternoon. We usually have a location that we go to and I give them an activity that they have to do there," Mrs. Feeney said.
Along with their education-based adventures, ESE students also have recreational field trips. For instance, on Oct. 31, they will be attending the Super Wheels Halloween Buddy Dance. At this event, they will celebrate Halloween with a party where they can interact with ESE kids from other schools. For many high school students, it is important to be social and have fun with other kids they can relate to. This party will help them celebrate their uniqueness and provide them a chance to have fun.
These programs are vital to schools because they provide grand opportunities for youth that need help adjusting to new things. Having experience dealing with the world and making decisions inspires these kids to become independent. All in all, these field trips have aided those who are physically, mentally, socially, or emotionally challenged and continue to positively impact this group of people in numerous ways.
About the Contributor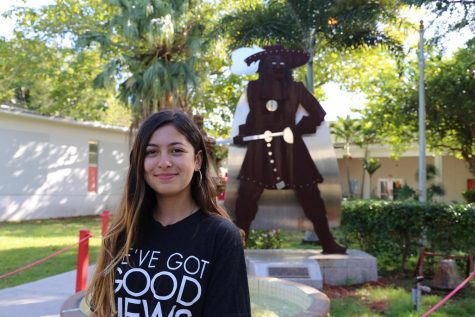 Sofia Cruz, Staff Writer
Sofia Cruz is a freshman entering the International Baccalaureate (IB) Program. Sofia is coming from Coral Gables Middle School, where she played for the...