A Word of Advice on College Applications
Natalia Rodriguez, Yeileny Lopez, Reviews Editor, Opinion Editor
May 2, 2018
Hang on for a minute...we're trying to find some more stories you might like.
The mere mention of a dreaded two words, college applications, is enough to make any junior stressed. With the end of the year fast approaching, it will soon be time for the junior class to apply to their dream colleges and universities, thus inevitably beginning the college selection process. So why are so many juniors recoiling at the mere thought of college applications? The simple answer is rumors and misconceptions. While it is true that the college application process is lengthy, tedious and not to be taken lightly, hundreds of thousands of high school seniors go through it each year with great success.
Despite everyone's college application experience being unique to themselves, there are many steps that every applicant has to go through. So after finally completing their own college application process by committing to a school on Decision Day, several seniors agreed to share their thoughts on the college application process and approaches they took to make everything a little less stressful.
"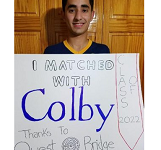 The most useful tip would be to make sure you have enough time for everything and don't be afraid to ask for help from anyone. Teachers and such are usually more than willing to write a letter of recommendation or revise essays; it's all just a matter of asking."
— Lior Colina, Colby College
"
The hardest part about the whole process was writing the supplements, but I found it useful to reuse lines from supplements that could be applied to other supplements to save time. I also highly recommend using the Chrome auto-fill feature because it makes it so much easier to avoid having to fill in every little thing each time."
— Catherine Healy, University of Florida
"
The hardest part of applying to college was probably the financial aid part; depending your situation it can become very complicated if your parents are separated or get picked for verification. They ask for a lot of documents that I had never heard of. Best advice is probably to start in the summer and get your things done as early as you can."
— Stephanie Revuelta, University of Miami
"
There were a couple of tricky things about applying to college. First, was deciding where would be a good fit and then figuring out how to pay for it. I had to reject my dream school because I couldn't afford it and it was pretty sucky. I think that everyone has a unique experience when applying to college and there is always something we want to change. If I could do it all over again, I would definitely try much harder on my ACT and SAT so that I could be eligible for more scholarships and be able to afford where I wanted to go. Useful tips I think I would suggest would be thinking about essay ideas early on so that you can start getting it revised and polished early on. I would also always keep Ms. Stack's motto in mind, "You will grow where you are planted.""
— Katie Molina, Florida International University
"
I think the hardest part of applying to college had to be trying to figure out where I was applying to. If I were to do it all over again, I would look into more schools than I originally did. When applying to college the most useful thing I could say is that finding your school is going to be challenging, but possible. Keep in mind that college is expensive so you shouldn't try to spend so much money especially if you're trying to pursue a Master's degree. Staying local is okay. I'll be attending The Honors College at Miami Dade College (Wolfson). It's a small program at Miami Dade that only hosts 75 kids per campus (Wolfson, Kendall, North and InterAmerican)."
— Kassandra Luis, Miami Dade College
"
I think the hardest part of applying to college was that it was expected of me to know how to fill out applications like this when I had no clue what some terms meant and I had never done anything like that. For future seniors, the best advice I can give you guys is to not procrastinate because if you do, you are going to have a bigger headache. I remember dreading to do my applications so I left them until last minute, which only gave me more anxiety and stress. "
— Isabella Hernandez, Florida International University
"
The hardest part about college apps was all the pressure that everyone put behind it. The SATs, the Common App, all of those things were so sensationalized, and it all passes by so quickly— so just enjoy it while you can. If I had to do it all over again, I would just be less stressed about it and trust the process a bit more."
— Camila Blanco, Mount Holyoke College
"
The hardest part for me was dealing with all of the school work and other stuff while worrying about my college applications. It was a lot to do, and I didn't get into my dream school but I wouldn't do anything differently than what I did because I did everything that I was told to do. If you get rejected from a certain school, don't get upset; what matters is that you put your best self out there and tried your hardest in all aspects of the application."
— Marta D'Ocon, Miami Dade College
"
For me, the hardest part about applying to college was the many emotions I felt and the 'not knowing' aspect of the process. If I could do it all over again, I would do a better job of planning. Also, having a planner and finding ways to de-stress honestly saved my life during the very stressful time!"
— Alyssa Lamadriz, Florida State University
"
The hardest thing when applying to college was definitely figuring out how to present yourself to schools– this is in terms of essays and your general application. You need to figure out a way to show yourself off in the best possible way without actually being a show off. That's a thing many people mess up on. They are very humble and modest in their applications but readers want distinctive things from applicants, so not showing your strengths makes you far less competitive in the college race. Different schools are looking for different things, and I overcame this by putting myself in the position of the readers and thinking about what they would think/like when they see an application."
— Virgil Alfred, Dartmouth College
"
The hardest part was knowing where to start off at first, but Ms. Stack certainly helped a lot with things I didn't even know we were suppose to do throughout the whole process. My advice to future seniors is to apply to as many scholarships as they can, at the end of the day it doesn't hurt to try and maybe you get something unexpectedly that helps you."
— Adrianna Cabrera, Florida International University
All in all, there is nothing to fear when it comes to college applications. While it may feel like a long and arduous process, there are ways to make it a little easier which will ultimately go a long way. The best things in life come from working hard and taking your time, so treat the application process as the first step to a brighter future. And if you need a few extra words of encouragement, as Ms. Stack always says, "You will grow where you are planted."