YLC: A Life Changing Experience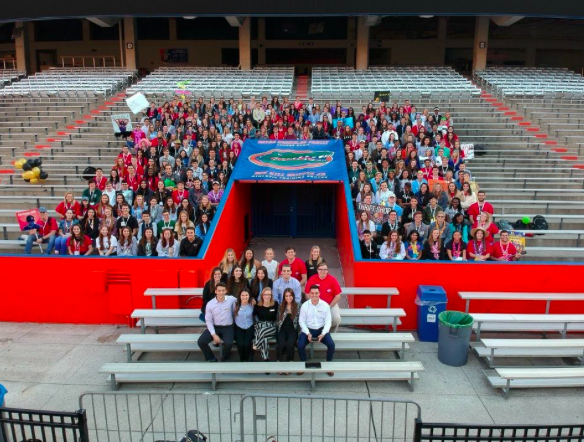 Hang on for a minute...we're trying to find some more stories you might like.
The weekend of Feb. 2 eight Gables students traveled to Gainesville to take part in the annual Youth Leadership Conference hosted by the University of Florida (UF). The purpose of this conference was for students to interact with fellow leaders from all over the state and collaborate in order to broaden their leadership skills through multiple workshops and meaningful activities. Students Orestes Garcia, Emily Simon, Dylan Carol, Thomas Harley, Adriana Meijaard, Cristian Ochoa, Alyssa Lamadriz and Jesse Zambrano proudly represented Gables throughout the weekend.
Shortly after the students arrived, they were separated into groups that varied by musical themes such as The Beatles, Grease or Beyonce, to name a few. Seeing as this was their first encounter with their respective group members, this came as a shock to the students because they were not aware that they were going to be split up. However, this allowed the students to meet new people from different backgrounds and bond with them for the rest of the weekend.
Before beginning the workshops, students gathered in one of the university auditoriums to listen to guest speaker Darryl Ross, a motivational trainer, give advice on how to see the bigger picture in all situations and to always think outside the box when it comes to leadership. Ross also spoke of the importance of self-confidence and the hardships one might face in the path of success. Nevertheless, these hardships were to be viewed as a part of life and were to be taken as motivation to continue fighting for one's goals.
As students left the auditorium, they were guided by their Student Group Leaders (SGL) to take official pictures in the university's famous football stadium, the Swamp. After the pictures, the groups walked back to campus where they would begin the first workshop of the weekend. The night concluded with a tailgate party where all students, as well as Group Leaders, gathered to dance the rest of the night before walking back to the Holiday Inn, the hotel where all students slept for the weekend.
Early Saturday morning, the students traveled to Lake Wauburg to enjoy several team building exercises outside in the crisp, cold weather. All of the activities planned by UF students were meant to force the students to work together in order to accomplish the tasks. These activities showed the importance of communication from each group member and how several minds work better than one. After this outing, the students would continue participating in workshops on-campus for the duration of the trip.
"YLC was honestly such an amazing experience for me. It was eye-opening to see just how much of an impact you, as a leader, can have on others in a matter of days. I learned so much about myself and about leadership as well while having fun and building great relationships with new people. I definitely recommend for others to try the YLC conference themselves," junior Cristian Ochoa said.
These workshops consisted of group activities that made the students not only work together to find solutions, but also to explore each of their individual definitions of leadership. Throughout these workshops, students learned of the adversity many of their peers overcame throughout their lives. Activities, like the line of privilege, allowed students to realize the advantages they have had growing up and their unawareness to the struggles other might have faced.
Aside from the line of privilege, students also heard from five UF Student Group Leaders who shared heart-breaking stories during a candlelight activity. The events in these stories greatly impacted their lives but allowed them to grow as individuals. Therefore, they decided to share these obstacles to show the students that no matter what horrible situation may appear in life, they should never be discouraged.
After what can be described as an emotional afternoon, the students once again gathered in one of the ballrooms to enjoy a night of music, dancing and snacks. Slowly the realization that the weekend was coming to an end began to creep into the minds of all the students, and Sunday morning came as a sad time to many as they began to pack their bags for their trip home.
"This weekend served as one of the best experiences in my life. I did not know that I could grow so much spiritually and as a leader only five hours away from my home. I gained new friends and new ways to live life," senior Alyssa Lamadriz said.
The students walked down the Reitz Union steps one last time to enjoy a closing ceremony in the Grand Ballroom. During the brunch, awards were handed out to commemorate the hard work and dedication of both the directors and student leaders. The award for the best group was announced, and the Red Hot Chili Peppers, which included CavsConnect's Jesse Zambrano, accepted the recognition with grace and passion.
From crying on the shoulders of the Student Group Leaders to relying on each other to accomplish the workshops, the bonds created this past weekend are unforgettable. To say the conference reached its desired goal of motivating the students to work on a better version of themselves and their skills would be an understatement. The chosen few who attended are grateful to Ms. Suarez, Activities director of Coral Gables, for organizing and sponsoring the trip and Ms. DePaola and Mr. Ochoa for providing the transportation to and from Gainesville. To say the least, the students who attended this conference are already counting down the days until next year's YLC weekend.

About the Contributors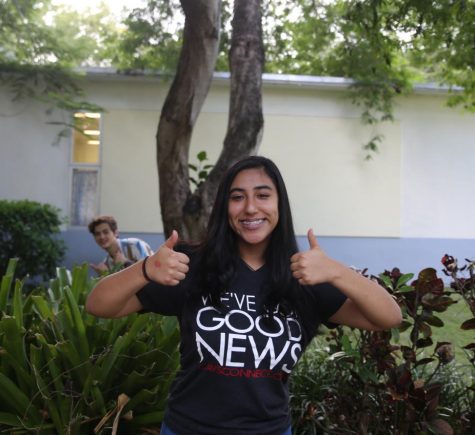 Jesse Zambrano, Spotlights Editor
Jesse Zambrano is a junior in the International Baccalaureate (IB) program. When she arrived to the US, it was clear to Zambrano how important it was to emerge herself into a new culture and its customs. She quickly picked up the English language allowing herself to better understand her classes and school work. After she began to master the language, Zambrano quickly rose to the top of her class and did not stop there. In high school, she began to join clubs and sports while staying on top of her school workload. She is currently Vice-President of the IB Honor Society, Treasurer of her Junior Class Board and Junior Representative for Key Club among other things. However, her passion for writing brought her to CavsConnect where she will continue to work on the staff as Spotlights Editor. She is greatly looking forward to continuing balancing her academic life and extracurricular activities as her high school years progress. Zambrano has learned she enjoys being involved and claims it to be the highlight of some of her days. She loves lending a helping hand wherever it is needed as she takes pride in always being kind, compassionate and helpful.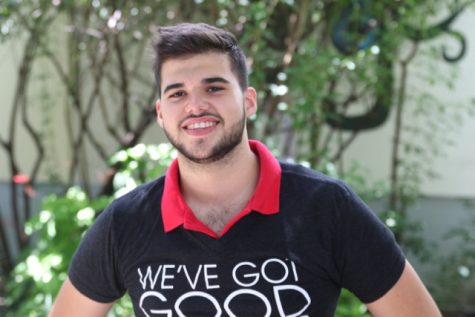 Orestes Garcia, Staff Writer
Orestes Garcia is a rising senior in the Health, Public Service and Law Academy at Coral Gables Senior High. Orestes is a humble and cooperative guy, who is looking forward to his last year of high school. He moved from Cuba to Miami last year towards the end of his sophomore year. Although the move was difficult for him, Orestes believes he has finally found his place here at Gables. A few of his goals are to become fluent in English and become a Cardiologist. As a new Spanish staff writer, Orestes hopes to attract more Spanish-speaking students to the CavsConnect website because he wants them to feel included and involved at school. Outside of CavsConnect, Orestes is a part of National Honor Society, Key Club, and the Cancer League where he shows off his love of giving back to people. On his free time, Orestes loves listening to music, watching sports, hanging out with his friends, and play baseball.