Business as Usual with Khareem Oliver
Khareem Oliver began his company, Find or Found, with one question in mind: "How can I help others?" Inspired by his passions for animals and aiding his community, Khareem was able to create a business that would help not only pets but their owners as well. Find or Found aims to use an app and QR codes in order to reunite pet owners with their pets if they were to wander too far from home. Khareem has been successfully running his company for about two years, and wishes to expand his business as much as possible.
Q: What is your name, grade, and academy here at Gables?
A: My name is Khareem Oliver, I'm a senior at Coral Gables Senior High, and the academy that I'm in is the Academy of Finance.
Q: What is the name of your company, and what do you offer?
A: My company is called Find or Found. Find or Found is a smart application and a website that allows pet owners to find lost pets, and it does that with the help of tags that we sell to owners which have a [QR codes] on [them], and every time you scan it, it will send the owner a GPS notification.
Q: What motivated you to start your company?
A: Ever since I was little I've always loved animals, and then once I entered high school I took a dual enrollment entrepreneurship class, and that's what actually inspired me to start my own business.
Q: How long have you been running the company? Did anyone help you start it?
A: For about two years. Yes, I would say the actual class here, the dual enrollment class, actually helped me, and along with NIFTE (Network for Teaching Entrepreneurship), they're a group that usually helps kids like me, and they help them start up their business.
Q: What do you wish to achieve through your company?
A: I just want to make sure that every pet makes it home safely, and we just want to offer peace of mind to pet owners — just to make sure that they won't ever have to worry about losing their pet.
Q: What are your goals for the company?
A: So my goal for the company is to make sure that every pet makes it home safely.
Q: Future Business Leaders of America (FBLA) has a business plan competition, do you plan on participating in it? What inspired you to compete at such a high level?
A: Yes I do. I would say the skills that I have thus far, ever since my sophomore year, the classes that I've taken until now, I think I'm ready for it.
Q: Are you considering continuing your business throughout college?
A: Yes of course. One reason why I want to keep doing it is because it'll help me financially, and the people around me.
Q: Aside from managing your company, is there anything else that you enjoy doing in your free time?
A: Yes, I would say hanging out with friends, volunteering at non-profit organizations that I volunteer for that help pets.
Oliver will compete in FBLA's 'Sales Presentation' competition on Dec.1. As a young entrepreneur, Oliver aims to continue helping others and hopes to take his app to new heights.
About the Contributor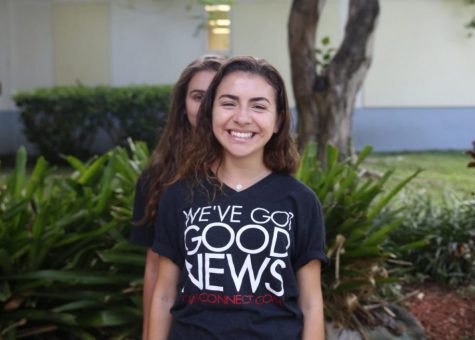 Natalia Rodriguez, Reviews Editor
Natalia Rodriguez is currently a senior in the International Baccalaureate (IB) program here at Gables, and is excited to continue editing for CavsConnect...