See Your Candidates Clearly: Class of 2020
Hang on for a minute...we're trying to find some more stories you might like.
The school year is off to a great start for the freshman class with the freshman class officers election just around the corner. Six candidates set out on the campaign trail, hoping to earn the votes they need in order to be elected. In the election, Cameron Payne, August Field, Daniella Berrospi, Joaquin Bierman, Richard Smithies and Luis Gonzales are running to represent the class of 2020.
Q: What is your name, the position you're running for, and academy at Gables?
Cameron Payne: I'm Cameron Payne, I'm running for freshman class president, and I'm in the IB program.
Joaquin Bierman: My name is Joaquin Bierman, and I'm running for Vice President of Gables, and I'm in the IB program.
August Field: I'm August Field, I'm a freshman, and I'm running for VP.
Daniella Berrospi: My name is Daniella Berrospi, I'm running for Vice President, and I'm in ninth grade and in the IB academy.
Richard Smithies: I'm Richard Smithies, I'm running for secretary, and I'm in IB.
Luis Gonzales: I'm Luis Gonzales, I'm running for secretary, and I'm in the IB program.
Q: Why did you decide to run for freshman class board?
CP: I decided to run for freshman class board because I really hope to get my class involved and have everyone be as outgoing as they possibly can, and help them achieve that goal.
JB: I decided to run for freshman class board simply because I'm a concerned student, I care about the way our education is run, and I care about the facilities that make up Gables.
AF: I wanted to get more involved with my school, and become a leader.
DB: Well, after being at Gables for two months, I started to realize there are lots of things that should be changed, and I believe by being the change you wish to see, you can make a big difference at Gables, because Gables is a really good school with really great people and it just deserves better.
RS: Because I think I can make a change at this school, and I have prior experience.
LG: I think it is a great opportunity to show Gables what I can do for the community, like to have some fun activities for the students, and make a better place in Gables.
Q: What do you think you can offer Gables as an officer, what sets you apart?
CP: I can offer hard work and creative ideas along with my class board, and what sets me apart is I've been involved with Gables for a while and I've seen different things that have happened, things that I might want to bring back that aren't here anymore, or different ideas based off of those things.
JB: I think. I believe, honestly- that I can use my skills and political leadership in order to work towards a more student-oriented educational environment.
AF: I'm a very social person, so I think we can unite together and have awesome things to do (more activities) and make it great.
DB: What I want to bring to Gables- and to student council, and to the ninth grade freshman body- is change. There are things that Gables is like very- Gables is a very good school, and they're known for their sports, and they're good for their academics; they're known for many great things. I believe that the people deserve a little more: being entitled to more festivities, more fun, more activities.
RS: I mean, I've been taking student council for about two years in middle school, and I changed a lot of things, like the school uniform, so I think I can do that at Gables.
LG: I think that my attitude, the way I plan things, and the way I organize things can help Gables be a better place for everyone. I think what sets me apart is the optimism that I have and the aim to do things.
Q: What are your plans once you get into office?
CP: My plans are to work with my co-officers to create the best freshman year we can for the class of 2020.
AF: My plans are to get the best class trips, and to have awesome treat days.
DB: I plan on bringing about change, and I plan on incorporating the student body's voice into student council rather than just making the decisions alone.
RS: Make everyone happy, making treat day a great experience for everyone.
LG: What my plans are first to try to get more events for students to participate, try to get more people involved in things.
Q: Are you involved in any other activities at Gables?
CP: Uh yes, I'm in the student activities program, I'm in Key Club, Best Buddies, Gables Earth. I am going to a FIU simulation with my Human Geography teacher in just a week or two. I'm also on the basketball team, and I'm running for class president.
JB: Uh yeah, I'm in the Speech and Debate club, FBLA, the Lock and Key club, and the Model United Nations club.
AF: Yes, I'm a photographer for CavsConnect, and I really enjoy that, and I plan to join the badminton team, and I'm also on the reserves for the soccer team.
DB: I actually plan on becoming more involved in IBHS, and I recently signed up for National English Honor Society, and I am in the Italian club.
RS: I'm joining SECME.
LG: Yeah, I'm on the swimming team,  I run cross country for Gables, Mu Alpha Theta (which is the math club), IBHS, I'm in Interact, and FBLA.
Q: Is there anything else that you'd like to say about yourself?
CP: I hope that we can work together to create a great year and  everyone's happy with what our officers can do.
JB: Go Cavs, and represent!
AF: Seal the deal, vote for Field!
DB: I'm a very motivated person, and I think that by electing me as your student vice president, that would be a great choice.
RS: Vote Smithies for Secretary, I think that I'm a great choice.
LG: I think that I'm really optimistic, I'm really organized, I really care about Gables, and I really like this community, so I think that I will do a really good job as secretary.
We hope these candidates the best of luck on their campaigns, and success in any future endeavors.
About the Contributor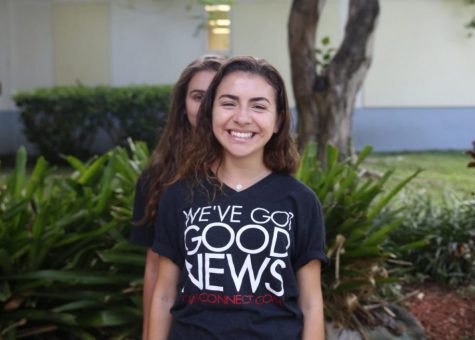 Natalia Rodriguez, Reviews Editor
Natalia Rodriguez is currently a senior in the International Baccalaureate (IB) program here at Gables, and is excited to continue editing for CavsConnect...