When All is Said and Dunn, 'Twere Dunn Too Quickly
Hang on for a minute...we're trying to find some more stories you might like.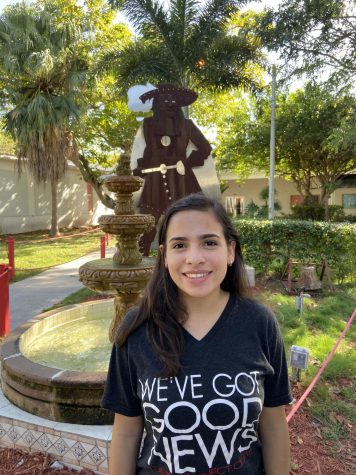 More stories from Jimena Romero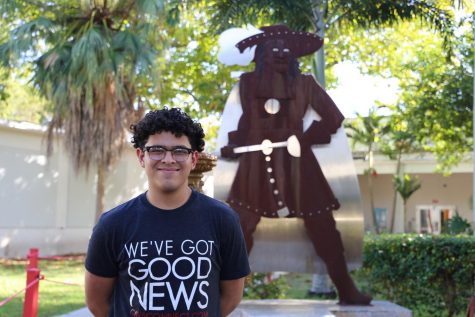 More stories from Kluivert Suquino
Coral Gables Senior High is known for having one of the most powerful International Baccalaureate (IB) programs in the district. There is no question that the program's success is attributed to the empowering teachers who are committed to providing students with an education that goes above and beyond. Mr. James Dunn has exceeded the 'above and beyond' for 16 years, teaching Cavaliers new ways to think and learn about the world around them.
Mr. Dunn, the International Baccalaureate Theory of Knowledge and Dual Enrollment American Government & Intro to Political Theory teacher, is known for his enthusiasm and engagement in profound classroom discussions in room 9309. As his career clock nears midnight, Mr. Dunn looks forward to his retirement while looking back at his teaching career with bittersweet adoration.
Seniors who were lucky enough to have been taught by Mr. Dunn joke that he is part of the graduating class of 2020, since both parties will be departing from the Cavalier family after the 2019-2020 school year.
"Often, my friends and I would eat lunch in Mr. Dunn's classroom. During these times I would engage in short discussions with him about abstract concepts necessary to write our Prescribed Titles, which were extremely helpful. Through these discussions, I can also say that he is, without a doubt, one of the greatest people I have ever met. He always greets his students with a smile and often a joke. He is incredibly kind and young at heart, that is why he is graduating with us," senior Alejandro Vazquez said.
Mr. Dunn has been passionate about philosophy ever since high school. During the old days, he had enough freedom to focus his attention on social sciences and English classes. After working in career fields dealing with business and insurance, Mr. Dunn considers himself versatile and skilled in those areas.
In an ideal world, Mr. Dunn would be teaching as a college professor—more than likely in a philosophy class. He describes his reality as the 'plan B' of his dream, teaching high school students epistemology and political theory instead.
While he was close to making his dream a reality, Mr. Dunn became interested in the different magnet programs offered to high school students and stumbled across the International Baccalaureate program at Gables.
The rigorous program allowed Mr. Dunn to teach like a college professor while working in a high school environment. Mr. Dunn was interested in the idea of high school education through college-style classrooms early on.
"
Mr. Dunn is an undoubtedly brilliant and passionate individual who keeps the spirit of the Socratic Method alive and accessible outside of a college classroom. His blog is so funny and reminds me of his great humor and the quotes he employs. Gables is losing one of the most amazing people ever"
— Alumna Angie Lopez.
"I see the K-12 models as just having a kid with an empty cranium. You crack it open and stuff units of knowledge in there. I truly believe kids have a power that is largely latent and as a teacher, I have to ignite that power so it starts to work on its own," Mr. Dunn explained.
With his career clock ticking, Mr. Dunn wishes to maintain his connections with his former students and colleagues. Keeping in touch may seem easy with all of the popular social media platforms nowadays. For Mr. Dunn, Facebook and the other carbon copies are just not enough.
With the help of a former student, Mr. Dunn created and launched his own personal blog, When All is Said and Dunn. The legendary blog that everyone talks about has been up and running for a little over a year now. The name of the blog is just one of the many puns Mr. Dunn has created with his last name, kind of like his blog username—an ode to Shakespeare's "Macbeth." Writing as "Tweredunnquickly," Mr. Dunn is able to communicate with those he once worked with and have the occasional philosophical discussion with those who dare challenge him in his favorited realm.
The blog was originally created for students who aspire to be more than the "typical high school student," and seek to learn more about the world they live in and their role in a broader scope. However, his audience now also consists of the WordPress blogging community.
The blog is composed of fourteen different categories where Mr. Dunn not only shares his way of looking at life, but also his experiences and unique jokes. Mr. Dunn tries to keep his followers as updated as possible, but his main focus is in the classroom setting, which is why he posts once a week during the school year. Luckily, his followers can be updated about three times a week during the summer.
"Using a spoonful of sugar makes the medicine go down [philosophy on the blog] because I want to talk about pretty deep, dense kinds of things in a bite-sized way. Then, I lighten it up with some humor and my general sarcastic approach to the world," Mr. Dunn said.
After spending 16 years with high school students, Mr. Dunn is glad to have lived this stage of his life and is grateful that he received so much knowledge and so many skills from his students. Even when his career clock strikes midnight, he won't be Dunn teaching. During his retirement, Mr. Dunn plans to continue teaching, writing and communicating with his former students and colleagues through his highly revered blog. When all is said and Dunn, 'twere Dunn too quickly.
About the Contributors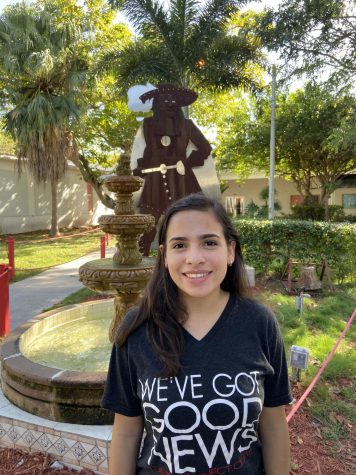 Jimena Romero, Staff Writer
Jimena Romero is a dedicated senior enrolled in the International Baccalaureate career-related program. She is now starting her third year as a CavsConnect...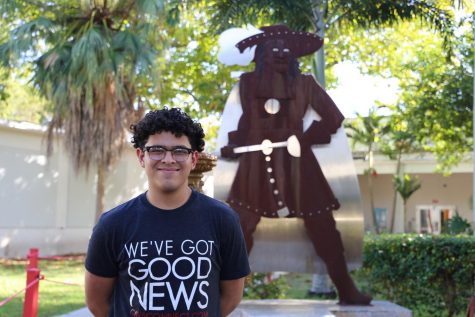 Kluivert Suquino, Sports Editor
Kluivert "Kly" Suquino is a senior in the International Baccalaureate (IB) program at Coral Gables Senior High School. This is his first year in CavsConnect...