In a world where differences in culture can create barriers between people, there are those who rise above these challenges to foster unity and understanding. In an era marked by cultural diversity, junior Michelle Hernandez has taken it upon herself to bridge the gaps through her own non-profit organization, Elia Tase's Hope Inc. Through her dedication, she strives to create connections among students from diverse backgrounds.
Hernandez's fascination with cultural diversity and unity originated from her grandmother, a Cuban immigrant who saw the United States as a place where different cultures could assimilate and learn from one another. Inspired by her grandmother's ideas, Hernandez began to look for ways to spread this cultural awareness in middle school through a cultural outreach program, sewing the seeds for her future.
"As a Cuban immigrant, she was faced with a lot of prejudice because of the way she looked, and she thought that America could be so much more. She felt that the key to understanding cultural differences is communication and inclusion. Because of her, we strive to communicate not only with different communities but with our own to educate them on different perspectives," Hernandez said.
During her time as a freshman at Coral Gables Senior High, Hernandez created Elia Tase's Hope as an officially registered non-profit organization in Florida in May of 2022. Along with her friends and future directors; Monica Estopinan, Madonna Junco and Isabelle Paret, Hernandez used her organization to realize her grandmother's dreams and encourage cultural unity among students from all over Miami.
"As a part of our project about the culture in Miami, we wanted to include the Miccosukee, but it was very difficult to find resources online about their culture and tribe. I decided to host an email interview with Chairman Talbert Cypress, who was completely excited and stayed in contact with us. His kindness and responses prompted me to continue my work with the Miccosukee and continue spreading awareness about their culture," junior Hernandez said.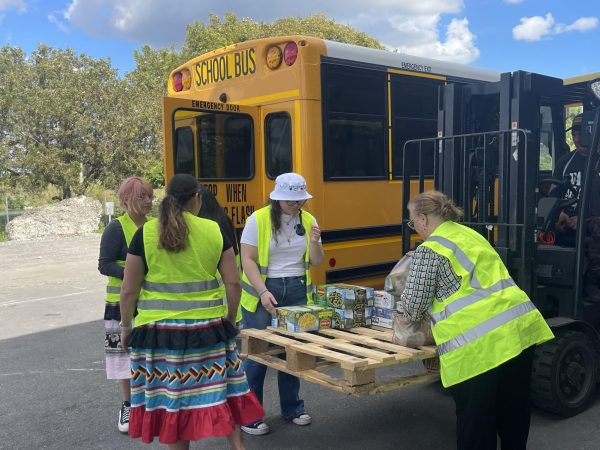 During her sophomore year, Hernandez organized food drives with local organizations like Farmshare, Camillus House and St. Vincent De Paul through the National Honors Society and Interact as a collaboration with her organization. These food drives yielded over 1,500 pounds of canned goods for the Miccosukee, encouraging Hernandez to pursue an expansion to her organization.
Continuing the path of awareness in her third year, Hernandez expanded Elia Tase's Hope Inc. even further – recruiting interested students to join her cause. In addition, she contacted other clubs at Gables like the International Baccalaureate Honors Society and Gables Earth to participate in additional events as the year progresses.
As Hernandez collaborates with clubs, she offers community service hours in exchange for donations and participation in events like her food drives. After receiving approval from the Business Council to host a community-wide event, she sets up flyers advertising it in and outside of Gables, including a location where students can visit the Miccosukee and learn more about their culture. When the event is over, the Miccosukee reservation helps her take any donations to the designated local charities.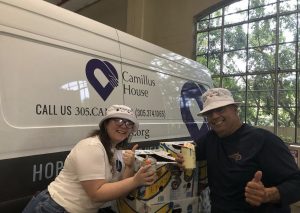 "I've always enjoyed making a difference in the world and loved helping others, I've always got the chance to meet many new faces and make great friends. I honestly think everything is going amazing as we work to bond and help the local native tribes," junior Matthew Castano said.
Hernandez has initiated talks with multiple South Florida Native American tribes and colleges like Saint Thomas University to prepare future projects and events. For instance, as a part of a cultural fair hosted by District 9 School Board member Luisa Santos, "A Night in D9," Elia Tase's Hope Inc. will have the opportunity to present at Saint Thomas University on their goals. Students from STU and Gables will be invited to visit and volunteer at their booths, learning about the various different cultures in Miami through other booths while encouraging members of the community to look into Elia Tase's Hope and their mission of cultural inclusivity.
Among the organization's other projects, Hernandez is in the prospect of working with Chairman Cypress and the Miccosukee Native American School to create a recreational tennis clinic for students on their reservation. Inviting students from Gables to play tennis at the reservation along with Miccosukee students, a cross-cultural interaction encompasses the teachings of playing the sport. Additionally, Miccosukee residents plan to answer any questions on their culture and heritage, fostering connections for those curious in an engaging way.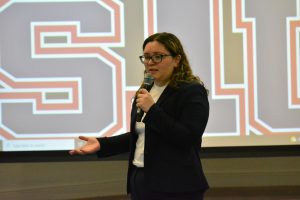 "I definitely want students and people in Miami to become more culturally aware of our beautiful city, especially the Native Americans who truly found our land. I think people should keep in mind that there are cultures all around us and that we should be able to celebrate each and every difference that we have and come together in unity," Hernandez said.
With an optimistic view of the future, Hernandez is determined to continue her spread of cultural awareness and expand Elia Tase's Hope Inc. to the fullest potential. Through her unwavering commitment, she paves the way for a future where differences are celebrated, not as obstacles, but as sources of strength and enrichment toward cultural appreciation.