It is July 20, 2012, and the deciding Game 5 of the National Basketball Association took place at the Kaseya Center between the Miami Heat and the Oklahoma City Thunders. With star-studded athletes scoring the net such as former Heat players LeBron James, Dwayne Wade, Mario Chalmers and Chris Bosh, Shane Battier's performance was nothing out of the ordinary. Being known as the "ultimate glue guy" for his versatility, Battier delivered a three-point shot from 25 feet, continuing the high stakes of OKC 56 – MIA 67.
Contributing to securing the win for the eventual championship in the upcoming quarter, Battier's basketball journey extends farther than the marked rectangular floor. Turning his career into philanthropy efforts such as the creation of a non-profit organization, the former NBA player now continues to inspire, not just on the basketball court but also through the lives of others.
With the Class of 2027 receiving their orientation on Oct. 10, a surprise came to campus. Through expanding the influence of his program in Miami, Battier, in an enthusiastic voice of stating "Good morning Cavaliers," brought liveliness in the auditorium to students applauding him for his basketball dunking years.
"I didn't know that someone from the NBA was going to present to us. Honestly, I think we were all just expecting a brief of events, but having Battier come and actually give us scholarship opportunities was amazing as well as getting to know his backstory," freshman Rachel Velez said.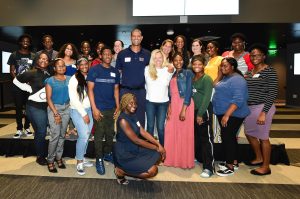 Before speaking to the underclassmen about his achievement of success, Battier told his story of growing up on the outskirts of Birmingham, Mich. Attending Detroit County Day, Battier became a star athlete due to his dedication and passion for basketball. Winning the title of Mr. Basketball in 1997, his skills in scoring attracted the attention of top colleges across the country, with Duke University offering Battier to play at a collegiate level.
"I loved sports, I liked to compete, but really I just liked to play with my friends. Growing up, I was always an outcast because my dad was black and my mom was white and I was a foot taller than everybody else, and I was the poorest kid around. I realized at a very young age that when I helped my friends win in sports, especially basketball, they loved me and I was accepted. For me, sports is a way to be loved, feel that emotion and be accepted," Battier said.
Choosing to attend Duke and be trained under head coach Mike Krzyzewski, Battier helped lead his team to win the National Collegiate Athletic Association championship in 2001.
 Mastering basketball alongside the national win, Battier won multiple titles as national player of the year, from the Naismith, Associated Press, Sporting News College Player of the Year and trophies such as the John R. Wooden, the Oscar Robertson and Adolph Rupp.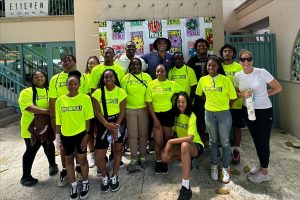 "It was a dream. I grew up in Detroit, I loved the Detroit Pistons, and as far back as I can remember, it was my dream to play in the NBA. I stayed healthy, I had amazing coaches who taught me how to work hard – I worked every day. So when my friends would go to the mall or hang out and play video games, I was on court practicing, and I sacrificed a lot of my childhood because I wanted to be the best and I achieved my dream," Battier said.
Becoming an outlier as a graduating Blue Devil, Battier's journey of entering the NBA professional world came true. In that same year, Battier was drafted by the Memphis Grizzlies, where he quickly established himself as a force in the league, as a defensive guard.
"You're never satisfied. As amazing as it was to get drafted by the Memphis Grizzlies in 2001 as the sixth pick, as soon as I got there I didn't say, 'Oh man I made it, I'm good.' Instead, I was focusing on my aspirations to stay there like, 'Now I wanna start for my team, now I want to play 10 years in the NBA, now I want to win an NBA championship.' When you have success, you just want more success, and I didn't stop to take in all the accomplishments that it took to get into the NBA in the first place," Battier said.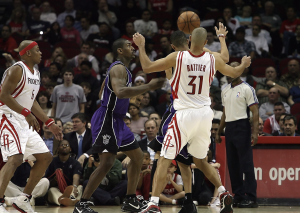 Eventually transferring to the Houston Rockets in 2006, Battier also represented the U.S. national team for the International Basketball Federation, placing third in Japan. Returning to the Grizzlies in 2011, Battier signed on with the Miami Heat later that year, where his basketball career would take on another level.
"In the NBA Finals in 2013, I hit six three-pointers, and this game after the worst shooting slump in my entire career, where I doubted myself a lot and I wondered if I could ever have a game where I would make six-threes. To do that in Game 7 in the NBA Finals, literally the most important game in my entire career, I was very proud at not only making six three-pointers but staying mentally and continuing to believe, to work and trust my process," Battier said.
As Battier's basketball career grew, his desire to create a difference in the NBA grew. Recognizing his vision of the importance of education, Battier, along with his wife Heidi Battier, founded the Battier Take Charge Foundation, which is dedicated to providing resources and educational opportunities for underprivileged students to achieve their dreams.
"I was very proud of my career. I didn't want to play anymore and I reached all my goals in basketball. I've always been about people and helping other people, and so now I spend a lot of time with the Battier Take Charge Foundation to try to help some amazing people who can reach their potential through college education," Battier said.
Through recruiting innovative people and pouring the same dedication on the basketball court, Take Charge offers four different programs that each aim to help elevate students from costs for college, as well as the importance of choosing the right candidate. Being founded over 13 years ago, in 2021, the foundation has granted over $650,000. Now expanding that reach through Gables, the Take Charge team expresses their desire to bring freshmen Cavaliers into the loop.
"Our GUIDE program is partnered with high schools such as Miami Central High, Booker T. Washington High and now Gables. We review all applications from both programs and then narrow down from there. Then, we have an interview process that includes the team at Take Charge and a few board members. The main thing we look for in our scholars is leadership. We want super-motivated students who have big dreams. We want to help them accomplish everything. Again, we are a family and will do everything we can to help all of our students," Take Charge Executive Director Newell Fleming said.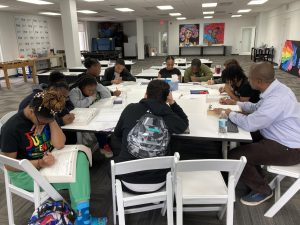 Within the foundation, Take Charge sponsors three events – Cabernet with Battier, Funcky Pickle and Battioke – which all raise money for scholarships by connecting the community.
"I've reached many of my goals personal and professional a direct result of being involved with the Battier Take Charge Foundation. If you are the type of person who is motivated to better your circumstances and create the life you want to live, I highly recommend applying for the GUIDE program. The support and resources I got from GUIDE were invaluable, and I know that I can always rely on the Take Charge team to help me reach my goals," Take Charge Program and Operations Manager Raqqya Aside-West said.
Through it all, from basketball star to philanthropic advocate, Battier, along with his Take Charge team, helps touch the lives of students, just like his own potential reached his. Using his platform to make an impact, Battier attempts to inspire the '27 Cavaliers how no dream is too big to accomplish if there is motivation to make a difference.