Passing a human brain into the hands of his students, Mr. Molina watches their smiles turn in amazement as they feel an organ just like their own for the first time. Getting a feel for science inside this color-covered classroom, he holds a plethora of tools of knowledge, from his own understanding to a range of microscopes and other apparatus. From his years in the athletic department to his current position as an International Baccalaureate Biology teacher, Mr. Molina has spread his passion for education both on the field and inside classrooms.
On Sept. 19, the Miami Dade County Public Schools social media accounts announced the "Teacher Tuesday" title to Mr. Molina on Facebook and Instagram. Thanks to Gables' Information Technology specialist, George Lopez, for first noticing the post, Mr. Molina was made aware of the surprise recognition given to him.
Within hours, family members, graduates and anyone who knew him were flooding his messages with congratulations. Students around the school were quick to repost the same Instagram post, brimming with pride and gratefulness for their educator. Having achieved the culmination of success, the amount of love he received illustrates the impact he has made at Gables.
View this post on Instagram
"I am looking at this image on Twitter, going 'Oh my god, what is this?' I was shocked because I had no idea how it even happened. I do have to say a little bit proud because I got noticed for something I do. You work hard and go home tired, so it makes you feel pretty good to get recognized when you think no one is paying attention," Mr. Molina said.
Starting in March of 1993, Mr. Molina stepped into the role of Head Athletic Trainer at Gables. For 15 years, he guided students throughout their athletic careers. Working with dedicated athletes, from Hall of Fame stars Frank Gore and Jonathan Vilma to nationally-ranked athlete Daniela Sanchez, Mr. Molina saw his passion for connecting with the younger generations at an early start. Strategizing and cooperating with his athletes in a streak of success, he made the collaborative wins his favorite part of each sport he coached
After careful consideration of his life, both personal and professional, Mr. Molina took the risk and switched to teaching in 2008, an area unexplored for him. He attributs his leap of faith to the newly-found desire to prioritize life outside of school hours.
"I was looking at my family and my kids were young and they were growing up, and I was kind of missing everything. So I started to feel a little bit of burnout in the middle of everything. I decided then maybe it was time to transition into something else. I was at Gables, and I loved it here, so I transitioned into teaching," Mr. Molina said.
The first subject Mr. Molina taught was Earth Science, where he touched on everything from the formation of rocks to planetary systems for six classes. However, after just two weeks of making the switch, his classes were already filled to the brim with another unfamiliar course to him, biology.
"I was a chapter ahead of the Honors and IB students. I would spend nights working and teaching it the next day. I had never worked so hard, but, my class were the greatest kids of all time. When these freshmen became seniors, I had the greatest time," Mr. Molina said.
Even as a rookie, Mr. Molina began to see the joys in connecting with his students, not only by leading their education but by learning from them himself. Since he started teaching, he established a more personal connection with the young adults sitting in front of him and took comfort in interacting with them, in hopes of promoting the importance of the individual. With a program as onerous as IB, he aspires to excite confidence in his students, encouraging them to believe in themselves.
"Every now and then, when he's done putting up the slides, Mr. Molina will give us time to read and talk to us on a more personal level. His making jokes and talking about things that have nothing to do with the class gives it more of a relaxed vibe and makes it a more conducive learning environment. But, he gives us a lot of responsibilities, when it comes to doing things by ourselves. Right now, we're correcting our quizzes and tests, so we are in charge of checking our answers and why we put those, which I think helps us with critical thinking," senior Lorenzo Londono said.
"I like talking to them, walking up and down. When they are going through the PowerPoints, I talk about anything other than science. Not everybody is a science kid, so I think showing them that they are important and that it doesn't matter that this is not their strongest subject is more important than the subject itself. I don't worry so much about students learning biology and I know that sounds weird, but it's more that I want them to enjoy coming to my class and want them to learn everything there is to learn, not just biology, but being in high school in general," Mr. Molina said.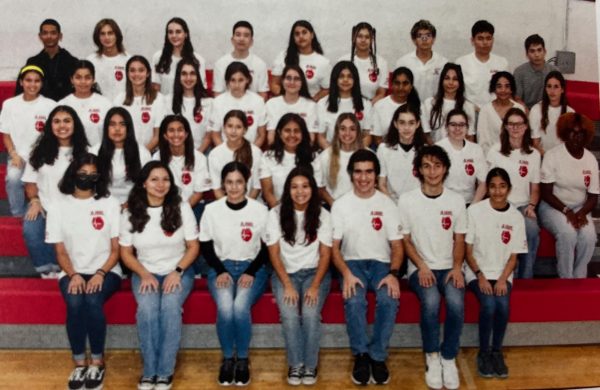 Among the many students that touched Molina's heart was Andrea Jaime, one of the IB Biology students that he taught two times in her high school years. Dedicating years of studies to explore the biology and medical field, Jaime was a dedicated student both at Gables and Georgetown, determined to become a doctor.
A few years after her passing, in 2019, Gables alumnus Yasmin Quevero gave birth to the idea of a medical club at Gables. After heavy discussion with Mr. Molina, Jaime's family and friends and approval by Mrs. Suarez, Andrea Jaime Medical Leaders club came to life. With every meeting, he honors the memory of Andrea Jaime, her passion and the impact her name still carries. With everything from structure labs and lung models to current Doctor of Medicine guest speakers, Mr. Molina gives his students yet another means of learning and confidence.
"Students have these actual people that are in these medical programs and doing these things that students feel are so far away and out of reach. With the COATS program, they bring human organs and show them to the kids and talk about them. It's very hard to learn it from a book and then hold it in your hands, so it blows a lot of them away," Mr. Molina said.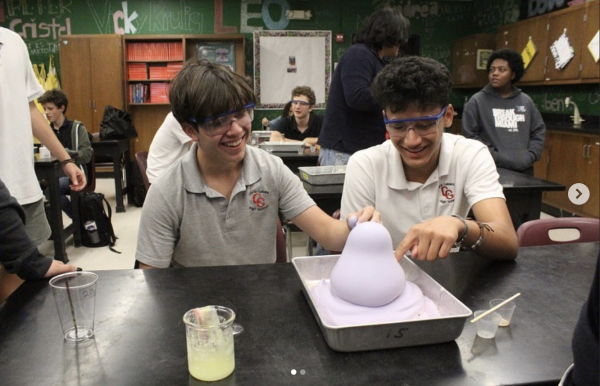 When Mr. Molina stepped into the shoes of the National Science Honor Society club sponsor, he took a different approach to how science can be fun, regardless of the student's own passions. Opening their eyes to the endless realm of science, he plans labs and experiments that are enjoyable. Leading everything from making ice cream to using dry ice to make bubbles, Mr. Molina explains the unknown wisdom behind everyday things.
"Mr. Molina is always trying to do activities that relate to what we're learning in class, whether that be doing a lab on heart rate, where he has someone doing jumping jacks running up the stairs to measure their lung capacity or things like that. In my junior year, we did a mesocosm, which is a tiny little environment inside of a container that we had to create a self-sustaining environment where we had to keep it alive as long as possible without adding or taking anything out of the container an extended period of time, and that was kind of my introduction into biology," senior Emily Kardjian said.
After seeing his impact both district-wide and throughout his community, Mr. Molina plans to continue focusing on the personal and professional growth of his students. Bringing out his unique teaching style, he achieves a year-round high passing rate with the excitement of students passing their IB scores. Bringing successful figures into his classrooms, Mr. Molina molds the minds of his students to believe in themselves for a successful path.
"Mr. Molina is an incredible asset to our building. From the hands-on labs that he does to the support that he provides to the kids in school and everything he does after school with the medical leaders, I think he's really encouraging our kids and is a great role model to them. The knowledge that he has, starting off as an athletic trainer and transitioning into teaching, he is able to provide that real-world experience; he has lived it," Mr. Ullivari said.