In a world where many seek refuge from the rigors of academia, some individuals rise to the occasion, not only embracing the challenges of learning but also sharing their wisdom with others. Senior Brayan Mendoza has taken it upon himself to do just that, establishing his own tutoring program at Coral Gables Senior High to offer his expertise to fellow students. Through his dedication, he illuminates the path to education, leaving a lasting impact on those he guides.
Mendoza started his tutoring journey two years ago when he was just a sophomore. Although he did not always plan to tutor, he began to aid his friends in reviewing for International Baccalaureate Chemistry work, hosting study sessions where he would help his comrades prepare for upcoming quizzes and tests. As Mendoza studied with his classmates, he quickly realized his passion for tutoring and decided to explore it further.
"At the time, I was not even taking any IB Chemistry classes, but I've always loved the subject and found it extremely interesting. I would sometimes see my friends struggling with some parts of the class, which I get, and I would always try to help them out to the best of my ability. After that, I decided to switch to chemistry and took everything from there," Mendoza said.
Going into his junior year, Mendoza knew that he wanted to take tutoring to the next step. Getting into contact with IB Chemistry teacher Ms. Kiely, he expressed his desire to provide tutoring for other students in her classes. Getting approval from Ms. Kiely to initiate science tutoring, Mendoza then began to place posters and flyers on classroom doors with his contact information, making himself available to students to study chemistry before and after school.
"[Brayan] is very eager and passionate about what he does. He's always trying to be resourceful and he uses his own time to take students under his wing and help them with chemistry. Students always come back to me better than they were before, and his tutoring definitely plays a big role in their improvement," Ms. Kiely said.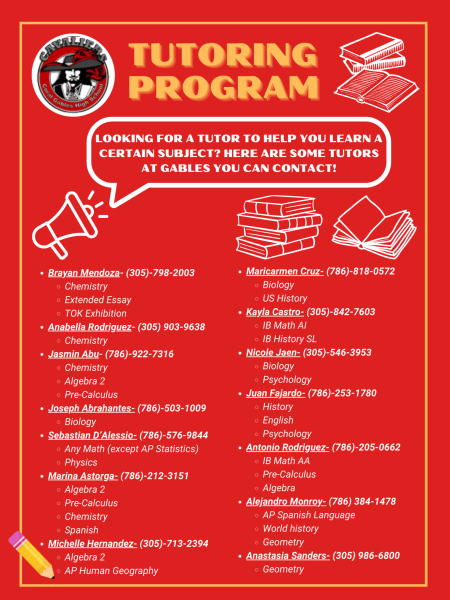 As the year progressed, Mendoza also expanded his program to other subjects, recruiting volunteers who were proficient in their subjects and incorporating them into the program. As a result of this development, the program has grown to include the many subjects Gables offers like math, science, language arts and history. Continuing the growth of his well-established tutoring program into his senior year, Mendoza hopes to recruit more tutors as the tutoring program expands across Gables throughout the following months.
"One of our main goals is to collaborate with other clubs for tutoring as well. Clubs like the French Honors Society and the Italian club could provide us with a platform to help even more students. At the same time, we're also currently partnering with clubs who already have tutoring programs, like the math club, to extend our reach as far as possible," Mendoza said.
Getting into contact with interested students through a group chat, Mendoza and the rest of the tutors meet after school on campus to help them learn about the subject they are struggling with.  Taking their time with each student, the tutors address each of their needs individually and work to help their tutees to better understand certain topics. These sessions are done based on the needs of the students, meaning that these tutors are available to them both on campus and outside of school.
---
Alongside the tutoring program, Mendoza also balances his responsibilities as the Treasurer of Membership for Interact. Through his involvement with Interact, he has been able to promote the tutoring program and reach out to students all throughout Gables. In addition, he is also a member of the IB Executive Council, aiding students through their journey towards their IB Diploma one step at a time.
"The first thing I noticed about Brayan was that he is energetic and proactive, always on top of everything and always offering a helping hand. At club fair, he even volunteered to dress up as a shark for Interact, which I think shows his personality of being someone you can talk to but also someone who you can laugh with," junior Tiffany Beh said.
Before entering Cavalier college-bound status, Mendoza aspires to leave his mark on the students of Gables. What began as a simple study session among friends expanded into a fully-fledged chemistry tutoring program for anyone in need. Preparing for the program after his graduation in late spring, Mendoza hopes to grow it as much as possible and utilize all his resources to guide and inspire academic excellence for the future generations of Cavaliers stepping onto school grounds.