Weckel Twins Follow their Family with Engineering Majors
Life gets in the way, but siblings are permanent.
May 17, 2023
The Weckel twins cherish a similar history of teachers, classes and an interest for their family's occupation within mathematics. Although Robert points out their differences, Christina thinks otherwise; they both grasp a passion for engineering. As the class of 2023 spreads out into the nation's top colleges, the Weckel siblings will continue to call Florida their home. While Robert will be attending Santa Fe College to study electronics and computer systems, Christina has committed to the University of Central Florida in order to pursue civil engineering. Growing up in the same household, the twins head into their respective futures, hoping their friendship remains intact.
"I disagree with my brother. He is one of those Macho Men, like whatever. We grew up very close, and we talk about a lot of things since we are constantly around each other," senior Christina Weckel said.
Future Gator and Innovator Robert Weckel
It is only natural for teenagers to ponder about their futures, especially when it comes to selecting a college major. Roaming the halls of G.W. Carver Middle School, senior Robert Weckel began tracking his potential interest for technology long ago. This upcoming fall, he will attend Santa Fe College in Alachua County, Fla, a collaboration college with the University of Florida's computer engineering program, where he expects to transfer after three semesters. 
Posting good grades and a Scholastic Aptitude Test score of 1320, Weckel never considered an out of state school because of the costly tuition and distance from home. After qualifying for the Bright Futures scholarship, the Cavalier set his eyes on "the Swamp".
"I didn't really see any reason to go out of state. From the beginning, UF was my dream school," senior Robert Weckel said. 
For three consecutive semesters, Weckel will be required to take prerequisite math courses like Calculus before transferring to UF. Santa Fe's engineering program consists of 32 credits that can be fulfilled as early as Weckel's sophomore year. In addition, he must maintain a 2.5 grade point average throughout his tenure.  
"
Robert is really smart. He can look at a problem and think about it analytically. I think he is going to make it really far as an engineer. I am excited that he is pursuing a career in STEM, because he is definitely very good at math,
— Ms. Zuniga
Weckel's passion for engineering stems from his aunts and uncles, most of whom graduated college with Science, Technology, Engineering and Math related degrees. Despite some incentive to follow in their footsteps, he was internally motivated to explore new avenues through his education. In 2019, Weckel volunteered with STEM Camp Miami, a summer workshop that assists eight graders with their science fair projects, demonstrating his interest in that field.  
"Well, my family has a history of math-related professions. I've seen my family of engineers. They are all successful engineers and I look up to them, but that didn't necessarily determine what I liked," senior Weckel said.
Making his way through courses like International Baccalaureate Biology and English, Weckel identified certain subjects that did not interest him, thus gearing him towards a STEM career. However, mathematics was always in the back of his mind; by junior year, Weckel demonstrated his sharp ability for deducing equations and solving for "x". 
"High schoolers don't seem to realize how important math is. Anything you buy in the grocery store or online has been designed with a lot of math to determine that dimension's volume. It is extremely useful," senior Robert Weckel said.
Engineers work in numerous settings, but Weckel plans to obtain a bachelor's degree and specialize in computer engineering. Whether his job involves software in automobiles or testing microchips, the Cavalier enjoys the idea of testing the most advanced products. 
"Technology is cool. I really think that the basis of technology, which is a transistor, pretty much runs all electronics. It controls the flow of electricity, right? So pretty much everything that has on or off switches uses work," senior Weckel said. 
Although his path remains largely undecided, Weckel has chosen to remain patient for his next chapter. For now, he looks forward to encountering new colleagues with a similar passion for engineering. 
"I want to become a better person, more knowledgeable and successful in the field that helps society as a whole. And to just be happy, that is my main goal," senior Robert Weckel said.
About the Contributor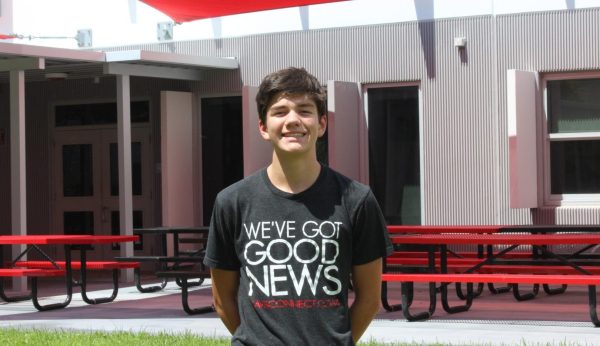 Andres Rodriguez, CavsConnect Sports Editor
Andres Rodriguez is a junior and retains the title of CavsConnect Sports Editor. Studying in the International Baccalaureate program, Andres is looking...
Leave a Comment
Supervising Projects of the Future, Christina Weckel Becomes a Knight
Who does one aspire to be when they grow up? Christina Weckel and other high school seniors across the nation have begun to answer that same question. Unveiling an interest for Science, Technology, Engineering and Math, Weckel draws the line back to her mother as her source of inspiration. She is prepared to forge new paths at the University of Central Florida this upcoming fall, where she intends to study civil engineering.
"Civil engineering is a broad profession that can split off into different things like construction, structural and waterways. I chose this major since there are a lot of options," senior Christina Weckel said.
The younger twin by 15 minutes, Weckel mustered her passion for STEM by seeing her family in action. Her mother tends to clients and hires companies to repair any structural damage to a building. Weckel's father, on the other hand, specializes in Heat, Ventilation and Air Conditioning which requires more manual work.
"
Christina has always been dedicated, she comes in ready to learn. This was not an easy class, IB Chemistry. So I really admired that she would still prioritize it and always put her best forward, you know, like, make sure she asked questions when she was last not be not feel shamed or embarrassed if she didn't understand something go out of her way to find time to study in between classes or after a test in another class.,
— Ms. Kiely
Sometime in high school, Weckel noticed a potential interest for mathematics by meeting teachers like Ms. Prado in the International Baccalaureate Analysis and Approaches class. However, it was fundamentally because of her mother's occupation that she began to delve deeper into civil engineering.
"I mean, [my career path] is something that I can easily talk about with my mom. She would be able to help me later on and just like, give me advice on what I should do," senior Weckel said.
As of right now, Weckel is keen on learning how buildings are modeled and using design programs to plan construction. Civil engineers play an important role in means of transportation but the Cavalier prefers blueprints and overseeing projects of the future. Keeping an eye out for any internships during college, Weckel is currently uncertain where her STEM path will take her.
"Well, I think civil engineering is an important part of modern day life since it creates buildings, roads, bridges and even airports. So, it plays a big role in transportation," senior Weckel said.
Narrowing her options to in-state schools, Weckel filled out the application to UCF and was notified of her acceptance early in November. Throughout the four year civil engineering program, she will take prerequisite courses such as Calculus I, Calculus II and other math classes. On the verge of receiving her high school diploma, Weckel is grateful for IB and the college readiness it provided.
"Math wise, Ms. Prado is an amazing teacher and she really helped me like math and understand it more. And chemistry too I mean, it is not so much math but I enjoy being around Ms. Kiely because she is kind and really helpful," senior Weckel said.
One step ahead her peers, Weckel intends to join a club and interact with other students at UCF. She is also looking forward to gaining some independence from her family, by partaking in the off-campus excursions of Central Florida.
Striving for her bachelor's degree in engineering, Weckel plans to relish every second of life with family, friends and most importantly, her brother.
"Some people think it's a big deal if twins go to different colleges but I don't think it changes anything. I'm still going to talk [with my brother] and that's awesome," senior Weckel said.
About the Contributor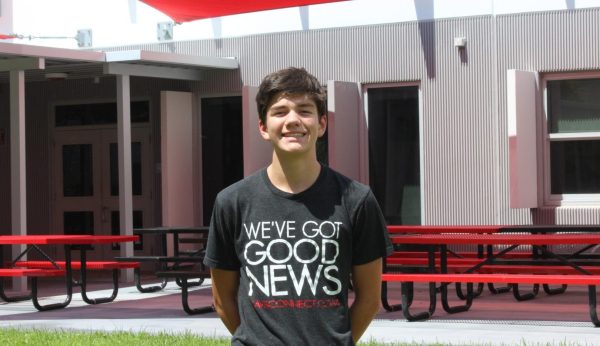 Andres Rodriguez, CavsConnect Sports Editor
Andres Rodriguez is a junior and retains the title of CavsConnect Sports Editor. Studying in the International Baccalaureate program, Andres is looking...
Leave a Comment