Honoring an Educator's Legacy of Excellence at Gables With the Norm Anderson Award
How an unwavering commitment leads to remembrance
It was a warm summer day in 1955 when freshman Norman Anderson first entered the halls of Coral Gables Senior High. As he walked through the maze of classrooms and lockers, he had no idea that the pride of being a Cavalier would resonate with him. After three years of wearing crimson, black, grey and white colors, from being a varsity player in the football team as an offensive guard to being in a fraternity at Gables, Mr. Anderson forged a successful experience in his high school career. It was only fitting that, more than two decades after he walked across the stage to receive his high school diploma, Mr. Anderson would return to his alma mater.
Through honor and commitment as a true Cavalier, Mr. Anderson was exemplified by receiving a personalized award of hardship and commitment.
The "Norm Anderson Legacy Award," named in honor of Gables' former assistant principal Mr. Anderson, is presented annually at the awards ceremony. This award is among many distinctions bestowed upon students who have shown leadership qualities. As students were called up to receive their award, senior Mia Cabrera was the 2022-2023 recipient of the "Norm Anderson Legacy Award," demonstrating her leadership skills among her peers.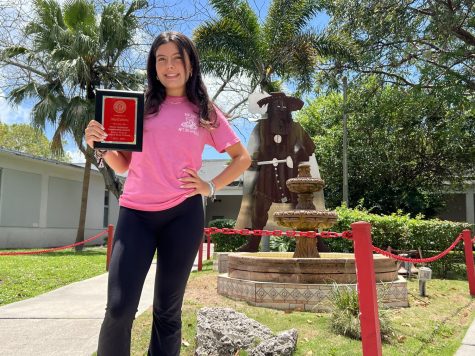 "I was honestly really shocked. Nobody knew what they were getting, so I was really surprised because I had no clue which award I was going to get. When they called my name for the award, I was super honored, because I knew it was such a good award to get," senior Mia Cabrera said.
As a token of appreciation, the Andersons also awarded Cabrera an additional $200 in monetary funds.
"I couldn't think of anyone more deserving than that lady. Gables was extremely good to me, so I wanted to return something in the favor and it seemed a good way to tie," Mr. Anderson said.
Recalling how Mr. Anderson achieved an award starting as a high school Cavalier, he was always an adventurous spirit that took him to new heights, from climbing trees to sitting atop the dome in the auditorium, even being in an illegal fraternity known as Gentry.
"
I'll tell you the truth. I didn't know the award was named after me for a couple of years. But really it's an honor, it really is. I'm honestly touched,
— Mr. Anderson
"In those days, we had three main boy fraternities and each fraternity had about 35 to 40 students. At the time we used the term 'illegal' loosely since we weren't breaking laws but we weren't suppose to be belonging into groups. We'd pattern ourselves after the college fraternities. We did the whole thing, from having a band, a special dance for our group and driving around with our cars to different drive-ins around the school. It was good times," Mr. Anderson said.
Through his foster of love for football, the excitement of the football championships was what truly brought Mr. Anderson's Cavalier experience together.
"Throughout my high school experience, the city football championship was always between Miami Edison Senior High, Miami Senior High and Gables. If we won the city championship, we would win the championship for the State of Florida, and every two to three years, we would win the national championship. We'd line up with pep rallies every week. Somehow we'd get everyone in the Outdoor Ample Theater drive-in space and get the whole student body in," Mr. Anderson said.
Being trained under football coach Nick Kotys, Mr. Anderson's team was able to win a mythical national titles in 1956 based on ankings from analysts in media.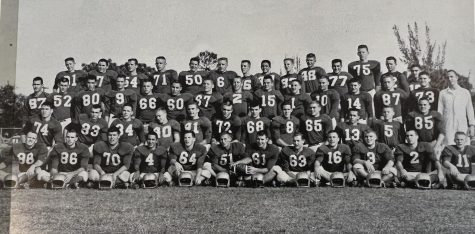 After graduating in 1958, Mr. Anderson would receive an athletic scholarship to play at the University of Florida, continuing his football career as a defensive tackle. Graduating with a master's degree in mathematics, Mr. Anderson left his Gators' alma mater and come back down to Miami as a math teacher at Miami Senior High in 1963. In 1964, Mr. Anderson moved to South Dade Senior High; a year later, he transferred to South Ridge Senior High and eventually to Shenandoah Middle in 1974. Despite his successes in becoming an educator in South Florida, Mr. Anderson never forgot where he came from. With his heart remaining at Gables, he finally joined the Cavaliers once more as an assistant principal in 1975.
"One of the things he always talked about was, 'Keep it simple, don't complicate things.' He used to do the curriculum and was a fun-loving person, just very comical guy joking around, but very bright and you could always go to him for help. When I was running the athletic department, when I would go to all the football games, I would always see him there," Mr. Finora said.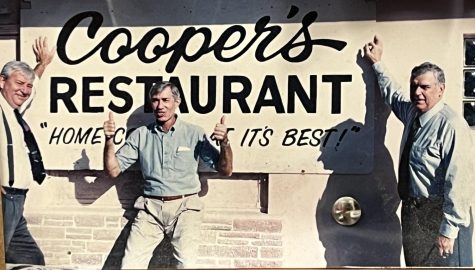 During Mr. Anderson's time as an assistant principal, he observed the widespread replacement of city lights throughout Coral Gables. However, his observation would become a hands-on endeavor.
"In the central patio, they are two lights. The city of Coral Gables at the time was changing from street lights to electric lights and we were having a problem with students from Miami High coming over at night to steal our United States flag. So we figured we'd put a flag pole inside the patio at the front entrance behind the fountain," Mr. Anderson said.
To accomplish getting a flagpole, Mr. Anderson sought out a solution by contacting a fellow friend from Florida Power Light & Company in order to acquire an old city street pole. Upon receiving permission from city officials, Mr. Anderson, accompanied by weight training professor Mr. Hudak and his weight training students, carried the street pole two blocks away from the school on Segovia St., carrying it across the road and into school grounds in the central patio.
Seeing how Gables changed when he was a 1950s high school student, Mr. Anderson witnessed the desegregation of his own school throughout the 1970s and 1980s, as multiple black students were able to transfer and become Cavaliers for the first time.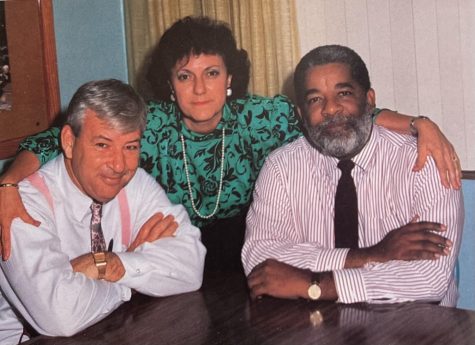 "When we integrated the school, all of a sudden the nearby black school, George Washington Carver School, closed and there were 500 black students arriving at school when in previous years there were only one or two. That itself was very difficult, but I can say that we had outstanding students. I think we had one of the more easy transitions than other schools around us at the time," Mr. Anderson said.
Reflecting on helping lead a school of over 3,000 students until 1998, Mr. Anderson is thankful to have had the teachers and principals guiding him through the process of becoming an administrator.
Living in Miami for a few years after his retirement, Mr. Anderson's daughter asked him to move to Georgia and live with other family members. Now residing in Atlanta for over 25 years, from building birdhouses to furniture pieces, Mr. Anderson spends his time walking around the neighborhood, talking to neighbors and enjoying trimming down grass as means for active work, all whilst his legacy never being forgotten.
"I miss the teacher and the students. I think there's nothing better than going home after work and realizing you had a good day. It was either 'That was fun or it worked out better than I thought.' Then, it is comfortable where you can sit back, relax and say 'Well, we did it,"' Mr. Anderson said.
Leave a Comment
Your donation will support the student journalists of Coral Gables Senior High School. Your contribution will help us cover our annual website hosting costs.
About the Contributor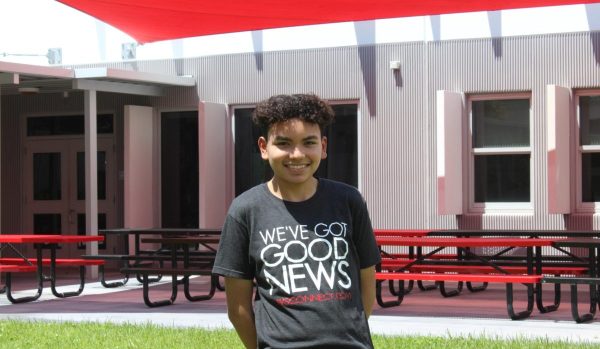 Aaron Rojas, CavsConnect Features Editor
Entering his third year in CavsConnect, Aaron Rojas is the newest editor on the team for Features. As he enters the ranks of rising juniors in the International...