Jake Paz Brings Students into the Loop on the Posse Scholarship
The bell rang on June 8, 2017 and students across Coral Gables Senior High were hollering and gushing in for the summer. As seniors waved their final goodbye to their days as high school students, Jake Paz knew his path in the collegiate life; that fall, he was off to Davidson College on a full-ride scholarship. Former CavsConnect editor and Gables alum, Paz was welcomed into his old stomping grounds to give an in-depth insight to Cavaliers on that same financial aid that allowed him to graduate, the Posse Scholarship.
The Posse Foundation provides full tuition scholarships that seniors receive to attend partner colleges and universities. The schools specific to Miami's Posse Scholarship are Syracuse University, Pomona College, Davidson College, Mount Holyoke, Hamilton College and Franklin and Marshall College. 
"During the presentation, I learned that the Posse Scholarship covered your full tuition and there were 3 stages of interviews before you are able to receive the scholarship if you are chosen," junior Madison Mendoza said.
Currently working as a trainer at the Posse Foundation, Paz's job is to lead the way for students in Miami to have the same opportunity as him. From his love of writing and openness to interviewing students across the school, Paz became an involved and academically successful student during his time at Gables, serving as the International Baccalaureate Honors Society Vice President of Events, National Honors Society secretary and an Interact board member.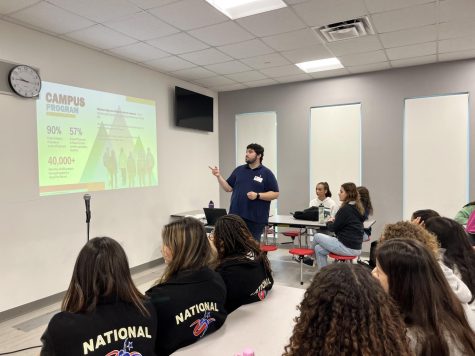 By his senior year, Paz reached the maximum amount of 999 community service hours by volunteering at his local Coral Gables Farmers' Market. His eagerness to be involved within his community made up a big part of what he does today at the Posse Foundation, which includes outreach towards schools that provide the scholarship and mentoring those who become Posse Scholars.
"I thought the presentation was very informative and had a solid explanation regarding the Posse Scholarship. It was interesting to get a perspective from a Gables alum," junior Tamya Wallace said.
As a first-generation college student, Paz wanted explore his options for university with ways to reduce the financial aspect of education. This proved challenging but hopeful, as the possibility of out-of-state colleges opened up with this scholarship.
During his four years at Davidson, Paz was able to spend seven weeks in Ghana, working with an Human Immunodeficiency Virus outreach organization and traveling abroad to Copenhagen for four months, living with a host family. When the COVID-19 pandemic shut down places, Paz decided to virtually intern as a summer camp counselor over the summer break. Working with younger kids who had chronic illnesses brought the revelation of his passion for psychology and working with youth.
"I was able to get a research opportunity through my psych professor, where I was working with kindergarteners who were learning English as a second language, and because it was from Miami and Cuba and no Spanish, I was able to get that opportunity work with those students for three years, which cemented my interest and passion for working with students, whether it was elementary students, high school students or college students," alum Paz said.
Returning to his Cavalier roots after six years, Paz came to create a sense of interest among high school students and demonstrate that they too can apply for the Posse Scholarship. This will provided them with a network of people that support and lift up leaders of this world.
Leave a Comment
Your donation will support the student journalists of Coral Gables Senior High School. Your contribution will help us cover our annual website hosting costs.